Dear Artist,
My twin, James, and I hugged the winding road into Topanga Canyon and hit the trailhead with a couple of film friends. In the snug of the montane chaparral – today a June gloom cloud forest – we tumbled through a steady thread of favourite documentaries, what to do with turmeric, the mating habits of rattlesnakes, how to save a good idea, Nova Scotia, and what defines a cult. Biz talk, real estate, people, and the other go-to topics of contemporary life just never came up. At the summit, Los Angeles miraged out there, beyond the smog. I squinted to picture only the perfect whitecaps at Santa Monica Beach and the coastal sage scrub at my feet. What must that have felt like for pre-industrial summitters?
At 50, Joni Mitchell was writing her 15th studio album, Turbulent Indigo, and Georgia O'Keeffe was painting at Ghost Ranch but had not yet found what would become her permanent home and studio nearby in Abiquiú. She was only just beginning to float animal skulls in the sky above the Cerro Pedernal. Claude Monet finally bought the house he'd been renting in Giverny, and was drawing up plans for a greenhouse and second studio. Margaret Atwood had finished her novel about a painter, Cat's Eye – her follow up to The Handmaid's Tale, with two dozen novels, short stories and poetry collections still inside of her. Bruce Springsteen, a veteran in youth-hot Rock 'n' Roll, was inducted into the Hall of Fame at 50, — and would shortly embark on his creative second act with eight more albums of original material and counting. Dorothea Lange, who'd defined photojournalism for the Great Depression, was teaching photography at what would become the San Francisco Art Institute. She was yet to co-found Aperture Magazine. Carmen Herrera, living on East 19th Street in New York City on her husband's teacher's salary, was still creating for love, only; painting in obscurity, like a million other artists. She would not show publicly for another 39 years. At 50, my Dad, a husband, and father of three teenagers, was still ramping up to an ever-fresher embodiment of his devotion to the Canadian landscape. He was traveling, he was honing his own techniques in acrylic, he was quietly redesigning the world. He was yet to start writing these letters.
In this morning's dispatch from Arthur C. Brookes' How to Build a Life for the Atlantic, he describes the fork in the road that is midlife, and how not to peter out, creatively – what Canadian psychoanalyst Elliott Jaques identified in 1965 in his paper on the working patterns of 30 year-old creative geniuses he cheerfully titled, Death and Mid-life Crisis. Because artists are already in the practice of mobilizing creative evolution, it seems to me the pump for what developmental psychologist Erik Erikson called generativity, rather than stagnation, is already primed. The secret is to keep going. Maybe with more calm — and with all the new skills of mid-life: a bit of mastery, some perspective, less emotional desperation, perhaps, and all that hard-earned crystallized intelligence. According to Brookes, we have a chance here at designing what he's re-named, "midlife transcendence."
"You've had success, lots of fancy friends. You've tasted the good life, you thought it would never end," sang Joni in her James Brown cover of How Do You Stop, on Turbulent Indigo. "One day you're too young, then you're in your prime. Then you're looking back at the hands of time."
Sincerely,
Sara
PS: "As we grow older, we realize just how limiting were our earlier conceptions. Art is something else. Art is fluid, transmutable, open-ended, never complete, and never perfect. Art is an event." (Robert Genn)
Esoterica: Today is, with my twin, James, our 50th birthday. Without much to go on but our own journeys of simultaneous good fortune and hardscrabble, it feels like it might be some kind of primetime. Is this the prime? For both of us, our days are filled with work we love. There is the intensity of some pressure. There is plenty of creative striving. There is gratitude and aspiration. We will mark it in the physical absence of our parents, but on their shoulders. "I've looked at clouds from both sides now," wrote Joni, at the wise old age of 25. "From up and down and still somehow it's clouds' illusions I recall, I really don't know clouds at all." She recorded it for a second time, for her 17th studio album, Both Sides Now, at age 57.
"Keep busy while you are waiting for something to happen." (Robert Genn)
Have you considered a Premium Artist Listing?  With each letter, an artist is featured at the bottom of this page. The Premium Artist Listings are a means of connecting artist subscribers through their work. Proceeds from each listing contribute to the production of The Painter's Keys. 
"If we don't change, we don't grow. If we don't grow, we are not really living." (Gail Sheehy, Passages: Predictable Crises of Adult Life)
Featured Workshop
October 17, 2022 to October 23, 2022
October 17 – 23, 2022
San Miguel de Allende
Painting Mentor – Amit Janco: Artist, Author, Labyrinth Designer, Founder of Heartshops and Retreat on Your Feet (Creativity and Walking Retreats)
Join this 7-day journey through self-expression to unleash your bottled-up creativity, with a brush in hand – and openness in your heart. Calling non-artists too! Each day, you'll stand up to paint; yes, you'll be painting on your feet, and moving about – thereby activating the brain, the body and ALL senses. No need to come with a plan; watch the colors and brushstrokes come alive; and see the magic and mysteries unfold, as you greet your square of paper anew, every day. Our accommodations and studio are in an enchanting former bordello, just a stone's throw away from San Miguel's historic center, with its gardens, cobblestoned alleys and marvelous colonial architecture. Inspiration abounds!
Details at https://amitjanco.com/uncorking-your-creative-core-paint-walk-write-in-mexico/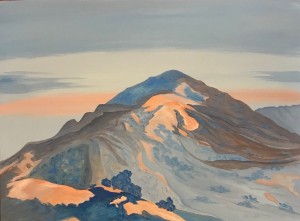 Cow Mountain View
30 x 40 inches
Featured Artist
The move to Northern California spurred my desire to paint the landscape – motivated in part by the fear that I would wake up one day and it would all be gone! I had some kind of doomsday concern, tantamount to extreme climate change or bombs going off like Hiroshima —something drastic.
The Wildfires of 2017 were traumatic, we experienced three on our land that year.
In processing the fire experiences and living with the constant awareness that what happened then can happen again.  I produced  a short film entitled:: From the Ashes – Fire, Survival. and Renewal, about how our community responded to the Redwood Complex Fire 2017.The is film available for free screenings to community fire councils and art institutions.  I am working on part two.
In 2020, largely due to the ensuing California wildfires, we chose to sell our 195 acre place and move back to the East Coast, where our families live and we are creating a new life and farm.
I am still witnessing and interpreting the landscape.
Jaye Alison Moscariello