Dear Artist,
Whenever I offer tips to fellow artists I'm aware that a tip may be valuable to one person and a poison pill to another. Lately, on the speaking circuit, I've been giving a little talk I call, "Two dozen tips for painterly happiness and success." I start by suggesting that we all need to be our own tipsters and some of my so-called tips may not be for everyone. Nevertheless, I have a copy of my current batch printed out to hand around after the event. We've posted this tip-sheet at the bottom of this letter. If you go there, you're on your own.
Curiously, when following other tip-givers who also go from club to club, I often find the eager tip-takers have taken down some wonderfully contradictory tips. Typical is "Before starting, draw your composition carefully," and "Do not draw–go directly to composing with patches of colour and tone." Such are the hazards of tipstering. That being said, here are three tips you may not have heard before:
1. Rather than go with your first choice in a composition, go with your second choice. Your first is likely to be in your comfort zone, but it is your second choice that will stretch your capabilities and expose new creativity. How to do this? Slowly rotate yourself in a full circle, taking every possibility into consideration. Sort out and at least anticipate the potentials of every angle before you start.
2. Pause frequently during the production of your work and reconsider your options. The simple business of strategizing and thinking ahead can save you a lot of downstream angst. If you find yourself too far into your end-game and not in good shape, courageously strike out an over-rendered passage. This audacious act often frees you up for further improvement.
3. Regularly refill your "Patience Bucket." While fresh, energetic, speedy brushing can be desirable, there is often a time to slow down and let things evolve with a more deliberate, tender and measured stroking. A work-in-progress can be your confederate friend. Let him gently speak to you and don't be socially embarrassed if you gently answer back. Your half-realized friend secretly wants to help you win big. I should wind this up with one of my all time best tips: "You are your own best tipster."
Best regards,
Robert
PS: "Beware of geeks bearing formulas." (Warren Buffett)
Esoterica: In the "Zingers" section on page 947 of my book The Twice-Weekly Letters are two consecutive items. Ralph wrote, "I like it because you don't give pat little recipes like some other instructors." Then Phyllis wrote, "I really appreciate all the little tips from time to time." Then there's Henry's contribution on page 943: "Stick to tips, Robert, we are tired of your philosophizing all the time. There is no room for philosophy in this business." I love it when people give me tips.
Two dozen tips for painterly happiness and success
1. Have your paint squeezed out before your mind is in gear.
2. Accept a lifetime of perpetual studenthood.
3. Learn to love the masters and to know who they truly are but don't fall in love with the media that presents them.
4. Appreciate the value of silence and private thought. Value work above words.
5. Alternate your work zones with some form of physical activity.
6. Listen to the music that has been within you from your youth.
7. Constantly ask of yourself and your work "what could be?"
8. Strategize your time, your playtime and your worktime.
9. Build a strong ego and sense of entitlement. Know thyself.
10. Learn to work under all conditions and privations.
11. Work from life, from your own reference, and from your imagination.
12. Accept the gift of a life in art and know it is a high and noble calling–both a miracle and a responsibility.
13. Learn to be your own best critic and counsel.
14. Purge your lesser work regularly.
15. Don't enter too many group shows, contests or competitions.
16. Don't even think about applying for grants.
17. Do take occasional workshops from competent professionals.
18. Have a lifelong mission to enhance the lives of others.
19. If you decide to be commercial, find effective and motivated dealers and galleries in other cities, give them geographical protection, and replace their stock often. Run the commerce side of your business like a mutual fund and don't become dependent on one stock. Follow your nose, not your dealer's. Be prolific. If you want to be an apple vendor you've got to have apples in your apple cart.
20. Know that no matter what happens, most of the joy is in the craft.
21. Know that you're part of a great international brotherhood and sisterhood of artists who are living now and have gone before.
22. Be philosophic about art trends and fashions and the often perceived unfairness of the game. Follow your own nose, it is a good guide for a lot of things in life, and above all know that quality will always be in style.
23. Give generously of yourself, but don't burn up all your creativity by teaching. There is a time to give and a time to sell. Accept your gift. Neither an ogre nor a patsy be.
24. Go to your room.
This letter was originally published as "Tips for you" on May 1, 2012.

Have you considered a Premium Artist Listing?  With each letter, an artist is featured at the bottom of this page. The Premium Artist Listings are a means of connecting artist subscribers through their work. Proceeds from each listing contribute to the production of The Painter's Keys. 
Featured Workshop
June 27, 2022 to June 30, 2022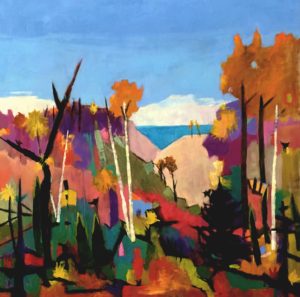 Permission to Paint Expressively Series   Session 1     
June 27-30, 2022
Join Ellie Harold for "Expressive Painting: Color from the Inside Out."  Do you struggle with color? For chromophobics or anyone who would like greater freedom in their use of color, this workshop focuses on activating and applying your innate color sense. Content, process and lightly structured exercises allow you access to a wider range of color expression in the safe space of Ellie's studio, located only 3 blocks from Lake Michigan near Sleeping Bear Dunes. "Expressive Painting: Color from the Inside Out" has the potential to transform not only your art but your life! Details and registration at www.EllieHarold.com.
Featured Artist
My Life "HAS BEEN FULL OF JOY !   …..   I believe the ability handed down to me through my family's genes have blessed me with the gift of happiness as well as a talent that I have used continuously…. since my first memories ….. that of being able to draw almost anything I have set my mind to;  whether it was out of my inner conscience (includes lots of sketching & erasing) …..I call it practice !  Or from photos.   I have drawn anything and everything.
Drawing every day is what it takes!  Being a Portrait Painter,  I rely on using my camera….. it has given me a good sense of Composition….. Balance, proportion and Perspective.  I love painting Portraits of Fishing Boats …. And being a careful photographer,  insures I retain all the important details.  The wood grain of the dock;  the moving water reflecting on the white hulls in sunlight….. Beautiful detail!
"The Details tell the Story"!