Dear Artist,
Recently, Judith Meeks of Toronto, ON, Canada, wrote, "I'll soon be chairing a panel discussion called 'Finding Your Voice.' In your understanding, how do we translate our life experiences into our paintings and express who we really are? We may have good work habits, but how do we become clear about what we want to say? And how much can be done with a conscious plan?"
Thanks, Judith. This is one of those sticky head-scratchers that can cause the loss of sleep. First off, and contrary to what I've said before, plans can actually derail the voice-finding process. Further, you have to know what you mean by "voice." Voice in style is different than voice in cause. Ideally, style develops over time. Cause is based on attitude and issue. With growth and development, causes change. A predetermined voice shackles creativity. To find your very own voice, I think you need to have a few things going for you:
You need to make stuff. Artists who put in regular working hours find their voice. Work itself generates clarity and direction. It's like invention — one thing leads to another. One must only lurk for voice. Unfortunately, along the way, most drop the ball. Like the dilettante inventor of the soft drink "6-up," they just don't stick around long enough.
You need hunger. It can be the hunger for knowledge or for self-knowledge. It can be the desire to find an antidote for some injustice or human miscalculation. Perhaps you need some inexplicable, deep-seated compulsion to keep moving forward.
You need curiosity. Wondering how things will turn out is more powerful than having a pretty good idea beforehand. Wondering if you can do it gives you reason to try. Curiosity is the main juice of "ego-force" that keeps you keeping on.
You need joy. You need to feel joy in yourself and you need to feel you're giving it to others. As Winston Churchill said, "You may do as you like, but you also have to like what you do." A disliked job is soon abandoned.
I'm writing you from a remote anchorage off Grenville Channel on the West Coast of British Columbia. I'm thinking human nature is a mighty puzzle. Every time I go onto one of these islands looking for something to paint, I ask myself the old "What's my voice?" question. One thing for sure, if I go ashore knowing what my voice is, it will be a weak squawk when I get to the spot.
Best regards,
Robert
PS: "Why this hunger to write — I always ask myself — if not the longing to discover what I believe? The pen divines my thoughts." (David Conover in One Man's Island)
Esoterica: "What's my voice?" has to be asked by each individual artist. Committee-free, the artist needs to develop her voice as if on an island. To be a voice is to be a different voice, set apart, unique. How to find it? Go to your island, put in long hours, fall in love with process — your voice will come out of your work.
This letter was originally published as "Finding your voice" on July 23, 2010.
"It's my wish that I can help creative people think of new ways to be creative – to get more joy and understanding from their own unique processes." (Robert Genn)
Featured Workshop
September 5, 2022 to September 9, 2022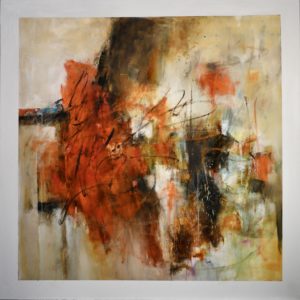 Want to create great abstracts but not sure where to start and how do you know when the abstract painting is done?
Your knowledge of color and design plays a big part in creating an abstract that will stand out from all the others.   It is also important to understand how shapes provide strength to your painting and how your edges add sensuality.  So, how do you put it all together and come out with a painting that is selected for major shows, and sells?
Design: What is considered a strong design? How to create a design that is exciting.
Color: When it comes to color what colors are best and which colors speak to the viewer?
Are there specialized ways to apply your paint to get the "look" you are searching for?
How do you get an inner glow in your abstracts?
What importance do "Quiet Colors" play in an abstract?
Shape: Are all shapes equal?
What are support shapes?
How do you connect shapes to make them interesting?
Edges: How do you do to make edges sensual?

This workshop/retreat will cover the above subjects giving you the ability and power to take your art to a higher level.
Date for this workshop/retreat is September 5 – 9, 2022 in Taos, New Mexico.
Website: www.gwenfox.com
Featured Artist
I am inspired by the language, theory, history and psychology of colour and the interaction of colour , line and form to create individual colour stories within contemporary landscapes. I term these stories "Colour Hieroglyphics."