Dear Artist,
In 1973, when my Dad chose the site to build his studio, he selected the small pad of dirt beside the suburban split-level ranch he'd just bought with my Mother. It was neither a warehouse in an industrial park, or an office in the city, or a sprawling country estate. "It had just enough of a view," he told me. "Open and private enough to keep my head clear, and rich in touch-points: an eagle's nest, a tidal sandbar, and a distant, snow-dusted range of mountains. Not too stimulating as to de-incentivize my own imagination." For him, it was ideal, and he worked there, without changing much but the lightbulbs, for 40 years.
For my Dad, a self-diagnosed Highly Sensitive Person, over-stimulation came in the form of an urban art scene, heavy social activity or too much cross-pollinating with other artists. After trying out some scenarios in his youth, by the time he and my Mum were putting down roots, he knew what was needed. "Small rooms or dwellings set the mind in the right path," wrote Leonardo da Vinci. "Large ones cause it to go astray." If you're feeling like your own conditions are in need of a tweak, here are a few ideas:
Consider the larger environment as opposed to the nuts and bolts of the studio itself. I've found that the mechanics of an actual workspace seem to shake themselves out organically, but conditions such as proximity to nature, light and noise pollution, and support systems can shift dramatically by location.
Can you imagine a sojourn in a foreign place? Switching up work conditions to unrecognizable, or at least temporarily discomforting can make for a hotbed of new thought and language. Don't presume what worked for you in a previous lifetime is what you need creatively, now.
Test your limitations for mobility by embarking on a painting adventure whereby you move locations regularly for an extended period. Have you ever camped and painted? Have you done it on horseback?
If you work in a multi-purpose spot that needs to be kept tidy, see if you can commit to carving out a totally private space of your own, no matter how small. "The rain doesn't reach me, my room is well heated," wrote Paul Klee. "What more can one ask for?"
I haven't met an artist yet who didn't have a dream studio tucked away in her imagination – a symbol, perhaps of other ideal things like ideal paintings and the ideal amount of time and freedom from concerns to make them. There are even some fortunate enough among us who have been able to fashion this tranquility in their lifetime. How do they get there? We are all, possibly, there already. Right at this moment, a child is plopped on the ground. She is grinding out a masterpiece with a crayon.
Sincerely,
Sara
PS: "I hate studio. For me, studio is a trap to overproduce and repeat yourself. It is a habit that leads to art pollution." (Marina Abramovic)
"The room in which I spend most of my life is as beautiful as I can make it." (Alex Katz)
Esoterica: I've lost count of my personal number of studios to date. Let's just say I've wrecked a lot of floors, including the one at the foot of my bed. Currently, I'm painting in a mid-century post and beam not unlike the one I grew up in. These ideal conditions make me think I could not have it better had I dreamt, designed and built it myself, from scratch. We all, also, understand that the work does not begin when the conditions are perfect. "Nothing is ever ideal. You have to work all the same." (Rumaan Alam)
"As far as outdoor work is concerned, a studio is only a garage; a place in which to store pictures and repair them, never a place in which to paint them." (Joaquin Sorolla)
"I believe in deeply ordered chaos." (Francis Bacon)
"Tom did not want a studio in the building. It was altogether too pretentious for him… There was a dilapidated old shack on the back of the property… We fixed it up…and he [Tom] lived in that place as he would a cabin in the north." (Lawren Harris)
Featured Workshop
October 17, 2022 to October 23, 2022
October 17 – 23, 2022
San Miguel de Allende
Painting Mentor – Amit Janco: Artist, Author, Labyrinth Designer, Founder of Heartshops and Retreat on Your Feet (Creativity and Walking Retreats)
Join this 7-day journey through self-expression to unleash your bottled-up creativity, with a brush in hand – and openness in your heart. Calling non-artists too! Each day, you'll stand up to paint; yes, you'll be painting on your feet, and moving about – thereby activating the brain, the body and ALL senses. No need to come with a plan; watch the colors and brushstrokes come alive; and see the magic and mysteries unfold, as you greet your square of paper anew, every day. Our accommodations and studio are in an enchanting former bordello, just a stone's throw away from San Miguel's historic center, with its gardens, cobblestoned alleys and marvelous colonial architecture. Inspiration abounds!
Details at https://amitjanco.com/uncorking-your-creative-core-paint-walk-write-in-mexico/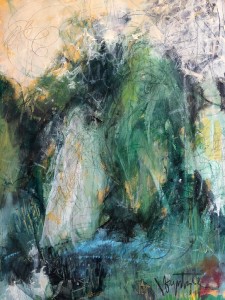 The 23rd Psalm, 2019
30 x 24 inches
Featured Artist
I grew up on a farm in Ohio, and that experience gave me a love of nature and the seasons and a deep belief in personal independence, as well as a love of experimentation. These have been the foundations of my work as a painter. I believe that learning in art or any subject is lifelong, and that the most important lessons we learn are through our personal interests and experimentation. After my husband's death in 2018, I visited Israel the next year, and was inspired by the amazing landscape colors, and especially the old city of Jerusalem, with its crumbling walls, and its deep religious importance. I found my way out of grief by painting the Eight Gates of the old city.