Dear Artist,
From time to time many of us are called on to critique the work of others. In the classic formula, the "critter" stands beside a well-lit easel as the paintings of a roomful of "crittees" are brought forward one at a time. With each presentation the critter may remark on a virtue or two, pick out a fault or two, and hopefully point out a fix or two. The silence while the critter's brain reboots at the beginning of each new presentation can be deafening. For those works not already deemed perfect by the crittee, the most common wish, as far as I can tell, is that only a few minor adjustments will be needed to make it so. At the end of a devastating crit, crittees may dig in, fight back, or try to explain. Others slump in their seats in disgruntlement or disgust. Crittees are not allowed to carry heat.
While occasionally valuable, group crits are a public broadcasting of what might be going on in a painter's brain during a private act. The four main negative points are almost universal: Poor early planning, violation of basic rules, substandard drawing, composition or colour, a lot of faults suggesting abandonment. The last point is often a useful ploy — beginning again almost always beats repairing a failure. Well-considered abandonment is a trusted teacher.
Better artists develop a strong internal critic. While they may let themselves flow, their process includes being tough on themselves with regular full-brain revaluation of work-in-progress. As well as thinking ahead and foreseeing future problems, the process includes deadly vetting at the end. The golden rule: "Crit on your feet as you go." In my experience, artists with highly developed self-critical faculties are often referred to as "talented." Whether in a group or alone, even a simply composed, half-finished painting will have plenty of points, both positive and negative. I use a system of keywords. Keywords can include gradation, homeostasis, flats, symmetry, asymmetry, depth, pattern, cropping, edgemanship, regularity, repetition, counterpoint, etc. These keywords aren't gospel, but they do help the crittee dig deeper rather than dig in.
Best regards,
Robert
PS: "If an artist has talent, he needs no other critic." (Robert Brault)
Esoterica: Some critters are better than others. Critters need to offer practical ways to fix things on the same terms and in the style and media of the crittee. Theoretical and intellectual critiques can prematurely drive folks into nursing homes or chartered accountancy. Stick to points, don't be afraid to recommend abandonment, and never forget Marcus Aurelius: "All is opinion." Try to show your crittees how to crit for themselves — to their own standards. When developed relatively early in life, the art of self-criticism is key to professionalism. It's really the fun part; it's good for the mind at any age and heads off the natural rigidity that can set in during the golden years. Better than waiting for the Jello cart to come down the hall.
"Pictures deface walls more often than they decorate them." (William Wordsworth)
This letter was originally published as "The points of crits" on July 16, 2013.
Have you considered a Premium Artist Listing?  With each letter, an artist is featured at the bottom of this page. The Premium Artist Listings are a means of connecting artist subscribers through their work. Proceeds from each listing contribute to the production of The Painter's Keys.  
"I can live for two months on one good compliment." (Mark Twain)
Featured Workshop
August 8, 2022 to August 12, 2022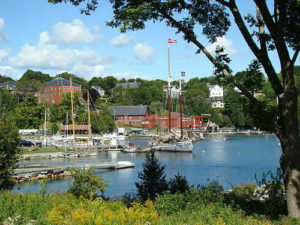 Painting Plein Air on the Coast of Maine
August 8th to August 12th 2022
Adventure-Artists will be painting on the Coast of the United States this summer! This exciting painting and writing opportunity includes instruction and demos of Plein air painting techniques with award winning Artist Sharon Rusch Shaver in inspiring nautical surroundings. Comfortable, en-suite accommodations with balcony views of the harbor, all ground transfers, airport pickup and return, and to painting sites. Join us for a lobster roll or pizza night, and an optional Schooner boat adventure. Walk from your accommodation to the coastal village of Rockport to experience east coast hospitality on your own. $2,950 all Inclusive*, book now for early bird discount! $450 holds your spot. Join us on this next exciting adventure for artists!
Featured Artist
My current exploration is the marriage of wood with epoxy.  This results in stabilizing wood that otherwise has no value and creating pieces that in the past could never have been elevated to art.  I am also using epoxy to elevate the wood in its new environment. Sometimes I use the tension between the wood and the epoxy to give the sense of something peaceful.  The results are platters and bowls that allow the wood and me to express ourselves.