Dear Artist,
While catching up with an artist friend recently, we rambled through a few mechanical subjects: galleries, crating and shipping, contracts, assistants, exhibitions and fairs, pricing, sales, community, stretchers, transportation and studio visits — each a detail of the job, and when gathered together, the components of a dream. As always happens in these moments, it confirmed again my belief that knowledge empowers, and artists do well to share their stops and starts with one another. There is, perhaps, really no such thing as too much encouragement between kindred strivers. Perhaps, more than encouragement, witnessing this striving in another is the most generous thing — more valuable, possibly, than a mouthful of painting tips.
If you're looking for gallery representation, make a shortlist in your area and study each gallery's program and artists. Artist-dealer relationships have the potential to be life-changing partnerships. The challenge is in finding the right fellow traveller — someone with whom you can grow in a shared vision of work and connection. Fine-tuning this match can take a lifetime and, like a garden, needs tending. Through all your stages, try to make professional choices in the service of your work.
How to select materials and move your art from place to place depends on the type of work you do — and the experiences of others can be invaluable. When I moved from New York to California, I asked almost every new arty friend for a recommendation — for canvas, paint, crating, trucking, installing and shipping. In a flash, a team of local business owners congealed into a vital, professional community.
For those wondering about an assistant — for art stuff or administrative stuff — you might also ask around. When my Dad was looking for a special helper, he went to the local high school and asked the art teacher to name his best student, then offered her a summer job. Sam, now an artist in her own right, spent many years as part of our family. During her time in my Dad's studio, she did everything from gessoing canvases, making short films and editing photos –, to programming these letters for you. She brought a fresh energy to the studio, solved every technical problem and even nudged us all in the direction of social media.
Not all artists are jonesing to exhibit. For those who are, or who at least see it as an important part of their creative or career development, there are ever-increasing ways to show, many of which give you a great measure of control and that you can make happen on your own. Exhibiting in a curated space like a commercial gallery or museum needs a champion in the form of a willing partner. Inspiring this dream person to stick their neck out for you is best done by first buckling down and producing the highest quality work from the most thoughtfully developed ideas you can muster. Create, in art, the highest expression of who you are. It only requires your everything. Once you have a special someone's attention, it's time to let them give their everything, too.
Sincerely,
Sara
PS: "The artist is nothing without the gift, but the gift is nothing without work." (Emile Zola)
"I am not young enough to know everything." (Oscar Wilde)
Esoterica: Most important, know that you're in the midst of a lifelong process. It may be early days. Among all these details, keep your eyes, hands and heart on your paintings. My friend and I agree that we will each safeguard the integrity of our work with the best materials we can afford. We'll keep aspiring to fantasy environments and audiences, while being open to new collaborations. We'll share knowledge, but remain true to our personal systems. The art sea is, for the most part, navigated as an epic, solo paddle. It is enriched by acknowledging the paddles of others. "Some people go to priests; others to poetry; I to my friends." (Virginia Woolf)
Have you considered a Premium Artist Listing?  With each letter, an artist is featured at the bottom of this page. The Premium Artist Listings are a means of connecting artist subscribers through their work. Proceeds from each listing contribute to the production of The Painter's Keys. 
"Be both the gardener and the rose." (Author unknown)
Featured Workshop
January 23, 2022 to January 30, 2022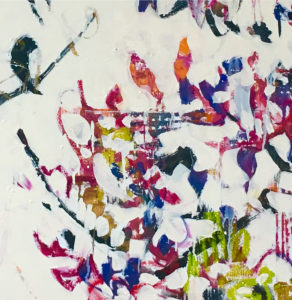 Join Ellie Harold for "Intuitive Painting: Permission to Paint Expressively," designed especially for mature women artists of all skill levels who wish to explore this medium for soulful exploration. The retreat provides attractive accommodations (your own room!) along with lightly structured activities for centering, relaxation and low stress art-making. You'll have plenty of free time to muse, paint, write and reflect while enjoying the colors, textures and flavors of San Miguel. This Retreat has the potential to transform not only your art but your life! You'll return home with a specific art "care plan" to assure support for further creating. Details at www.EllieHarold.com.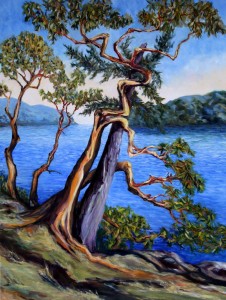 Southern Gulf Islands Afternoon 48 x 36 inch oil on canvas by Terrill Welch
Featured Artist
I am a landscape painter exposing the mystery in an ordinary day.