Dear Artist,
In 1862 James McNeill Whistler painted Symphony in White, No.1: The White Girl. It demonstrates the nuances of a pigment that is basic to our palettes. Unlike the Sargent painting that we looked at before, it has none of the electrifying light and luminous shadow that the use of white allows. This painting has a more "psychological" nature. Perhaps it's the stony flatness, the simple cool-against-warm that is its main appeal.
There are three whites that painters need to know about: Flake white, Zinc white, and Titanium white. Flake's the oldest, most traditional and in some ways the most reliable. Since earliest times it has been manufactured by causing a reaction between white lead and vinegar. Flake white tends toward yellow, mixes well with most other pigments and retains its integrity in all media except water. The history of oil painting would not have been the same without it. For generations courtesans and geishas used it on their faces — until someone figured out that it was killing them. Lead in human anatomy is deadly.
Zinc white is more tricky on the palette. It's less opaque, and while a good mixer, most artists find it gets swallowed by other colours. Found valuable in transparent water-media, Zinc white was introduced by Winsor and Newton in 1834 under the name of "Chinese white." Since 1920, Titanium white has been present on practically every artist's palette. It's a strong, cool, opaque, highly permanent white with great tinting power. Whistler never heard of it. Used sparingly, it makes beautiful tints. Overused, paintings become chalky and dead. As a glaze it lightens all before it, and grayed with percentages of black it becomes a workshopper's dream.
White is a ghost with a spiritual quality — perhaps a mist that addles minds. It's been my observation that, for some reason, the most amazing things are written about "white" paintings.
Best regards,
Robert
PS: "Whistler created The White Girl to study the tonal changes of white on white, and in the process revealed his feelings toward women that perhaps he had not intended. If this painting displays any narrative at all, I believe it is the sad and bitter tale of an artist who cannot find love, and to whom women or relationships of any meaning at all are nothing but trivialities, an artist whose showmanship and extraordinary personality are perhaps a defense mechanism against an internal strife brought about by overpowering or meaningless relationships in his youth." (Paul Hughes)
Esoterica: White is a leap of faith. Without the use of chroma it becomes a challenge to hold areas where tone varies only slightly. The sleeves in the Whistler painting, for example, need to be held with a fussy line. On the other hand, dark areas such as the girl's hair, give the opportunity for an appealing transitional aura.
This letter was originally published as "White on White" on June 6, 2003.
Have you considered a Premium Artist Listing?  With each letter, an artist is featured at the bottom of this page. The Premium Artist Listings are a means of connecting artist subscribers through their work. Proceeds from each listing contribute to the production of The Painter's Keys. 
"Truly color is vice! Of course, it can be, and has the right to be one of the finest virtues. Controlled by the strong hand and careful guidance of her Master drawing, color is a splendid Mistress, with a mate worthy of herself, her lover, but her Master likewise, the most magnificent Mistress possible, and the result is evident in all the glorious things that spring from their union." (James Abbott McNeill Whistler)
Featured Workshop
January 23, 2022 to January 30, 2022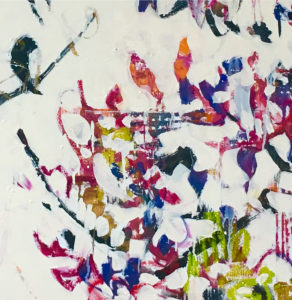 Join Ellie Harold for "Intuitive Painting: Permission to Paint Expressively," designed especially for mature women artists of all skill levels who wish to explore this medium for soulful exploration. The retreat provides attractive accommodations (your own room!) along with lightly structured activities for centering, relaxation and low stress art-making. You'll have plenty of free time to muse, paint, write and reflect while enjoying the colors, textures and flavors of San Miguel. This Retreat has the potential to transform not only your art but your life! You'll return home with a specific art "care plan" to assure support for further creating. Details at www.EllieHarold.com.
Featured Artist
We all need beauty, especially at a time when it appears to many that the world is in chaos.
Painting is the way I view my life, and it helps me keep my mind straight and my eyes on the positive. I look for beauty wherever I go. For that reason, I know that my life will not be long enough to paint all the ideas that I have.
I am painting because the Lord put the passion and desire in my heart to glorify Him in this way.
I have dedicated my life since 1983 to creating a body of work that testifies of His Creation, majesty, power, beauty, life and love.
Light and how we see it on the earth is the subject of all of my paintings.
I paint the landscape because I believe that we can see the Creator in His Creation, if we just look for Him there.
Since all who are sighted may see our surroundings, I believe this is one of the most evident ways we may see Him.
If I were to give a name to my entire portfolio of paintings, I would call it "The Sight of Heaven Touching Earth."This Scripture, Romans 1:19-20, is foundational to all of my work: For what can be known about God is plain to them, because God has shown it to them. For his invisible attributes, namely, his eternal power and divine nature, have been clearly perceived, ever since the creation of the world, in the things that have been made, so they are without excuse."
 Beauty, order, and the possibility to love is all around us—all we have to do is want to see it.