Dear Artist,
"Just like aging wine, a product of creative work acquires quality over time," suggests theoretical physicist Avi Loeb recently in Scientific American. "It is colored by the response of the audience as well as by imitations." What Loeb proposes is that truly innovative ideas, both scientific and artistic, gain strength when shared. By being sent out into the world, they have a chance to be scrutinized, absorbed into the culture and even copied. The world can then measure and contextualize them in the era, giving them the chance to become cultural assets. Perhaps ideas are meant to ripen — or the world is — allowing new thought to emerge as new truth, over time. You might even say letting your ideas live in the world offers the world the chance to catch up.
The rub, of course, is that sharing creative work can be terrifying for the sharer, especially when the work is untested or high-risk. Failure, problematically defined as a lack of applause or a long, slow burn, is a thing we've short-sightedly labeled as weakness, rather than just unpleasant. In a world of blustering blowhards, what happens to the quiet offerings of artists and thinkers who don't naturally geyser with the ego force or blind compulsion to polish and present their private discoveries? Art must be shared to be encountered and measured so that it might ultimately enrich the human experience.
Loeb rattles off a list of those whose brilliance was initially dismissed, then later recognized as breakthrough — among them Alfred Wegener's theory of the continental drift in 1912, rejected by geologists for 40 years until plate tectonics were recognized; Fritz Zwicky's 1933 discovery of "dark matter," which took the astronomy community 40 years to accept; and Cecilia Payne-Gaposchkin's 1925 doctoral thesis about the sun's surface consisting mostly of hydrogen — dismissed for years and then, after almost 40, lauded as "the most brilliant Ph.D. thesis ever written in astronomy." All were shared, then simmered in a world not yet ready for them.
Perhaps new ideas, being new, don't just take time to be understood, but require it? "The initial circumstances are reminiscent of an admirable infant," says Loeb. "It is fascinating for a scientist or an artist to watch the interaction of their creation with the world, just as it is for parents to watch their children."
Sincerely,
Sara
PS: "The products of the creative process are surprising at first in all venues of human inventiveness." (Avi Loeb)
Esoterica: Every early piece belonging to what we now know as art movements began its public life as clutter in the Salon des Refusés. How close you want to be to the leading edge is part nature, part self-nurture. It behooves you to step onto the dancefloor. What the rest of us think of what may one day become our cultural treasures, and in what time frame, is only a small and for now, irrelevant part of who you are as an artist, today. In this sense, there is no time. Stick to what is propelling you towards your personal discoveries. Revel in the stillness. If there is, indeed, a formula that may or may not include a ripening of 40 years, that half of a lifetime is just long enough for your untainted inspirations and hard-scrabbled discoveries to blossom and arrive — in time, and timeless.
Have you considered a Premium Artist Listing?  With each letter, an artist is featured at the bottom of this page. The Premium Artist Listings are a means of connecting artist subscribers through their work. Proceeds from each listing contribute to the production of The Painter's Keys. 
"Time is not a thing that passes…it's a sea on which you float." (Margaret Atwood)
Featured Workshop
January 23, 2022 to January 30, 2022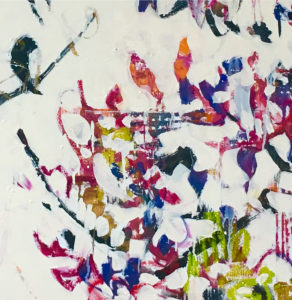 Join Ellie Harold for "Intuitive Painting: Permission to Paint Expressively," designed especially for mature women artists of all skill levels who wish to explore this medium for soulful exploration. The retreat provides attractive accommodations (your own room!) along with lightly structured activities for centering, relaxation and low stress art-making. You'll have plenty of free time to muse, paint, write and reflect while enjoying the colors, textures and flavors of San Miguel. This Retreat has the potential to transform not only your art but your life! You'll return home with a specific art "care plan" to assure support for further creating. Details at www.EllieHarold.com.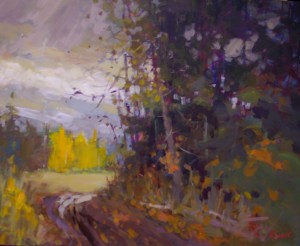 Turn In The Road
24x30 acrylic
Featured Artist
My art represents an artistic journey that has been on-going for more than thirty-five years with help and guidance from many wonderful artists. Now, with years of plein-air painting experience, study and solo exhibitions, I believe that my current work has reached its highest level, reflecting the depth of my absorption in the wonder and beauty of the world around me.  I have learned that, as an artist, I will never stop looking for better ways to express my feelings in art and that struggling to more fully understand myself is integral to my painting; a philosophy that was part of every workshop I taught. Still is.