Dear Artist,
A recent book, Cancer and the Art of Healing co-written by Dr. Marilyn Hundleby and Sherry Abbott, catalogues a variety of activities — painting, singing, writing, photography, journaling, quilting, etc., that have positive effects on patients. "Art helps teach resiliency," says Hundleby, a clinical psychologist who has followed the results of art's therapeutic value as practiced in Edmonton, Alberta hospitals for nine years. "Art puts the everyday aspect of their healing journey into perspective," she says.
Those of us who enjoy relative wellness can adopt the wisdom of this therapy. Researchers have found that art has the ability to rebalance and reunite the mind, body and spirit. As well as improving the quality of life, art can actually prolong it. This is due to the shift in outlook that occurs when we create. Busy hands help healing.
While Dr. Hundleby puts emphasis on the group aspect of the creative cure, a great deal can be self-taught and self-realized. In my many years of observing what I call "the transformation to the creative mode," I've seen many latent creators quietly and effectively do it on their own. As a by-product, some petty phobias, health issues and perceived limitations are tamed or beaten. This success comes with the understanding that we are taking part in something greater than ourselves. It's easy to place art into the pantheon of humanity's more evolved pursuits. It's too bad that so many wait until things are terminal before they come to this realization. But for many the penny just drops and people realize that, philosophically speaking, times are terminal right now.
Art instructors particularly need to look out to those curious and often puzzled faces and realize that many students have a challenging transition ahead of them. It's going to take a bit of character. For those of you who might try this at home, here's what you need to do:
Ask yourself what you'd really love to do.
Teach yourself new ideas and new habits.
Use your mind and your hands simply for joy.
Measure life's progress by creative jobs done.
Raise expectations and the level of work quality.
Monitor the way you feel and what you're learning.
Best regards,
Robert
PS: "Do every act of your life as if it were the last." (Marcus Aurelius)
Esoterica: Finally moved to a nursing home in their nineties, Grandma and Grandpa sat at a work table with a dozen others who were making Valentine boxes. Being the locally available artist as well as the son-in-law, I had been summoned there by Grandma because she thought I might be able to give her some advice and generally help out. What I found was someone who was thrilled to be able to cut out an accurate heart after so many years of not using scissors for that purpose. I had the same breakthrough — and my glue-work that day was positively brilliant.
This letter was originally published as "Terminal creativity" on June 9, 2006.
Have you considered a Premium Artist Listing?  With each letter, an artist is featured at the bottom of this page. The Premium Artist Listings are a means of connecting artist subscribers through their work. Proceeds from each listing contribute to the production of The Painter's Keys. 
"Life is your art. An open, aware heart is your camera. A oneness with your world is your film. Your bright eyes, your easy smile is your museum." (Ansel Adams)
Featured Workshop
January 23, 2022 to January 30, 2022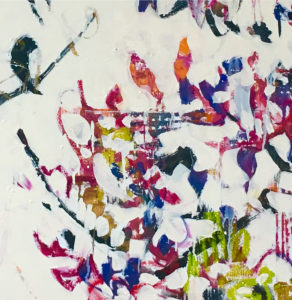 Join Ellie Harold for "Intuitive Painting: Permission to Paint Expressively," designed especially for mature women artists of all skill levels who wish to explore this medium for soulful exploration. The retreat provides attractive accommodations (your own room!) along with lightly structured activities for centering, relaxation and low stress art-making. You'll have plenty of free time to muse, paint, write and reflect while enjoying the colors, textures and flavors of San Miguel. This Retreat has the potential to transform not only your art but your life! You'll return home with a specific art "care plan" to assure support for further creating. Details at www.EllieHarold.com.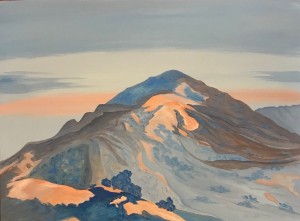 Cow Mountain View
30 x 40 inches
Featured Artist
The move to Northern California spurred my desire to paint the landscape – motivated in part by the fear that I would wake up one day and it would all be gone! I had some kind of doomsday concern, tantamount to extreme climate change or bombs going off like Hiroshima —something drastic.
The Wildfires of 2017 were traumatic, we experienced three on our land that year.
In processing the fire experiences and living with the constant awareness that what happened then can happen again.  I produced  a short film entitled:: From the Ashes – Fire, Survival. and Renewal, about how our community responded to the Redwood Complex Fire 2017.The is film available for free screenings to community fire councils and art institutions.  I am working on part two.
In 2020, largely due to the ensuing California wildfires, we chose to sell our 195 acre place and move back to the East Coast, where our families live and we are creating a new life and farm.
I am still witnessing and interpreting the landscape.
Jaye Alison Moscariello