Dear Artist,
When Eric Carle was a little boy, his father would walk with him in the forest near their Syracuse, N.Y. home, where they'd explore the bugs and worms that scurried from beneath pulled-back tree bark and overturned rocks. Afterwards, they'd replace the little creatures' hiding material. Eric, enchanted with these noble worlds, carried this happy memory into adulthood. He'd been working in the promotions department as a young graphic designer at the New York Times when a children's author saw one of his drawings and asked him to illustrate a book. Thrilled with this project, Eric decided he wanted to tell stories, too.
When he was six, Eric's mother, a German immigrant suffering from homesickness, moved the family back to her hometown of Stuttgart. It was 1935, and Eric's father was drafted into the German army and imprisoned by Soviet Forces in 1945. Eric, who was 15, was conscripted by the Nazis to dig trenches on a 400-mile defensive line in western Germany. His father returned home in 1947 devastated and emaciated. After studying art in Stuttgart, Eric gathered $40 and moved back to New York. Once there, he himself was drafted into the U.S. Army during the Korean War and sent to Germany to work as a mail clerk.
By 1969, Eric had returned to America and was freelancing as an illustrator. He'd been punching holes in a stack of paper when the idea came to him of a bookworm who eats a book over the course of a week. The pages would include holes for children to poke their fingers through. When he showed the idea to an editor, she, not fond of worms, asked if he might change his protagonist to a more "likeable" hero. Eric pivoted to a caterpillar who eats his way through increasing quantities of fruit, moves on to decadent desserts and gourmet deli snacks before getting a stomach ache, then switches to leaves, pupates and emerges as a butterfly. He called his story, The Very Hungry Caterpillar.
Sincerely,
Sara
PS: "Children need hope." (Eric Carle)
Esoterica: Eric's creative process involved channelling himself at six. He painted colour onto tissue paper with his fingers and sponges, then cut and collaged it with wallpaper glue onto an illustrator's board. He folded eight sheets of paper into 32-page "dummy books," where he could design a "story in pictures." He laid transparencies with text over his illustrations, limiting himself to 200 words. If he lost confidence in an idea, he'd put the pages away in a box. If the idea reignited his imagination at a later time, he'd work on it again, sometimes over years, until it became a thing worth sharing. The Very Hungry Caterpillar, Eric's third of approximately 70 published books (he said he'd lost count at some point), has sold over 55 million copies since it was first published in 1969. "I often think of myself when I was little," he said. "I had a lot of feelings, philosophical thoughts — at the age of 6! The only way I got older and wiser was that I got better trained. But that brain and soul were at their peak." Eric Carle passed away on May 23, 2021 at his studio home in Northampton, Massachusetts. He was 91.
"What answer to the meaning of existence should one require beyond the right to exercise one's gifts?" (W. H. Auden)
Have you considered a Premium Artist Listing?  With each letter, an artist is featured at the bottom of this page. The Premium Artist Listings are a means of connecting artist subscribers through their work. Proceeds from each listing contribute to the production of The Painter's Keys. 
"Some children have said to me, 'Oh, I can do that.' I consider that the highest compliment." (Eric Carle)
Featured Workshop
January 23, 2022 to January 30, 2022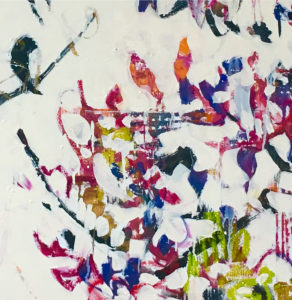 Join Ellie Harold for "Intuitive Painting: Permission to Paint Expressively," designed especially for mature women artists of all skill levels who wish to explore this medium for soulful exploration. The retreat provides attractive accommodations (your own room!) along with lightly structured activities for centering, relaxation and low stress art-making. You'll have plenty of free time to muse, paint, write and reflect while enjoying the colors, textures and flavors of San Miguel. This Retreat has the potential to transform not only your art but your life! You'll return home with a specific art "care plan" to assure support for further creating. Details at www.EllieHarold.com.
Featured Artist
Essentially I am representational painter, with a real appreciation for the design aspects of abstract art.  By emphasizing strong shape relationships and connecting bands of textural color, I am able to paint the natural world in two dimensional patterns while striving to create interesting three dimensional compositions.  Andrew Wyeth, a realist who has influenced my work, painted very abstract watercolors that helped him explore the possibilities for unusual compositions.  Like him, I value the drama of a strong composition, solid drawing, complex textures, and sumptuous, rich color while attempting to ground the painting's design in essential, free form shapes.  Past Masters who have shaped my artistic direction are: Joaquin Sorolla, John Singer Sargent, Richard Diebenkorn, and the California impressionists. Richard Schmid is a contemporary painter whose instruction has contributed greatly to my ability to capture the light, intimacy, and subtle textures of the hidden landscapes.
I have found painting landscapes in the field to be an adventure of the mind, spirit, and body. It is a personal record of a distinct moment in time that captures an emotional response to a physical reality. Nature is exciting, unforgiving, yet always spiritually rewarding. I am grateful to be able to share this natural beauty with fellow wanderers hoping to discover those special moments.