Dear Artist,
Yesterday, Chris Bingle of Stroud in Gloucestershire, UK, asked about signing paintings. She recently turned down the purchase of one because the artist had signed her name "quite high on the lower left in a thick, black stylized script. It jolted the eye and brain," she said. "I knew it would bother me."
Chris signs her own work "in a colour a few degrees darker than the background." Simple and understated is Chris's thinking. I agree. I like my name to be neat, legible and not too intrusive. It's a personal preference, but I'm here to tell you there's more to a signature than meets the eye. Like paintings themselves, they carry a meta-message about the artist.
Think of the range of signatures you know. They may give impressions of strength, weakness, haste, ignorance, naivety, stiffness, contrivance, carelessness, obscurity, egocentricity, humility, commercialism, etc. Just as handwriting experts speculate on the nature of the writer, viewers pick up information from a few innocuous letters and flourishes. Some artists, consciously or unconsciously, bring their signature into harmony with their work. If you look around, you'll also see signature styles that are in contrast to the style of the work. Concerned with the toil of their personal process, they may sign cursorily to convey the impression of bravura. Painters with bravura, on the other hand, may sign neatly to magnify the contrast. I've noticed that the size of my signature fluctuates with the size of my current feelings of prowess. Signatures are a window to the machinations of personality.
Mysterious, cryptic and illegible signatures aside, many artists simply want to be known as fellow humans — folks with consistent first and last names and sometimes an initial or two. These days, whether a mouthful or a singular moniker, your name needs to be somewhat distinct for Internet purposes. Singular can be problematic. "Vincent," for example, has been taken. In my case, I like them to know my first name as well as my last. When strangers call me "Robert," I know they know my work. Everybody else calls me "Bob." But then again, you are you, and your signature is part of your entity. It's your life. Sign your life as you would live it.
Best regards,
Robert
PS: "Prince, you are you by accident of birth; what I am, I am of myself. There are and there will be thousands of princes. There is only one Beethoven." (Ludwig van Beethoven)
Esoterica: Chris also wanted to know about the current fashion of not signing work at all. Or if at all — on the edge or the back. People look at these works with puzzlement and ask, "Who is this person who is unable to identify himself?" Actually, some artists feel good about doing this. It seems to me that front-signing is a simple, time-honoured convention worth caving in to. I like the company. Bending down with a small sable, I figure if Titian, Turner, Tissot and Toulouse-Lautrec did it, it's gotta be okay.
This letter was originally published as "Signing your life away" on November 2, 2007.
Have you considered a Premium Artist Listing?  With each letter, an artist is featured at the bottom of this page. The Premium Artist Listings are a means of connecting artist subscribers through their work. Proceeds from each listing contribute to the production of The Painter's Keys. 
"I'm able to sign my name to the paintings. That is really a blessing." (Margaret Keane)
Featured Workshop
January 23, 2022 to January 30, 2022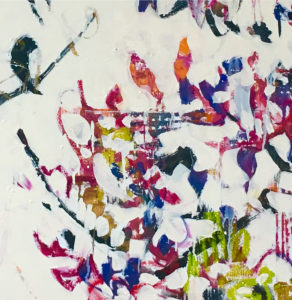 Join Ellie Harold for "Intuitive Painting: Permission to Paint Expressively," designed especially for mature women artists of all skill levels who wish to explore this medium for soulful exploration. The retreat provides attractive accommodations (your own room!) along with lightly structured activities for centering, relaxation and low stress art-making. You'll have plenty of free time to muse, paint, write and reflect while enjoying the colors, textures and flavors of San Miguel. This Retreat has the potential to transform not only your art but your life! You'll return home with a specific art "care plan" to assure support for further creating. Details at www.EllieHarold.com.
Featured Artist
The way that I interpret what I see
is my Way.
I paint, because it's the most satisfying way that I've found
to be myself.
Fish swim.
Birds fly.
I paint.
Boldly.
On canvas,
with acrylics.