Dear Artist,
Ellen Winner, Professor Emerita of Psychology at Boston College and Senior Research Associate at Project Zero, Harvard Graduate School of Education, studies learning, thinking and creativity in the arts. As part of her role as founder and director of the Arts and Mind Lab at Boston College, Dr. Winner studies how we look at art, what art does to us and how we determine what art is. Essentially, she works at the center of our cognition of the term, "art." Dr. Winner suggests rather than asking if something is art, we should, instead, be asking when something is art.
As part of her studies, Dr. Winner tested people's ability to distinguish between abstract paintings made by artists and those made by preschoolers and animals. Her team paired 30 works made by masters including Hans Hofmann and Willem de Kooning with the daubs and swooshes of young children, elephants and chimpanzees. Each pair of paintings was similar in palette and brushwork. Participants were asked to choose which in each pair was better, which they liked more and which was done by an artist rather than an animal or child. Sometimes, the works were shown one at a time instead of side by side, and other times the researchers fastened misleading labels, to see if the participants could be tricked.
In each experiment, Dr. Winner's team discovered that people unschooled in abstract art preferred the artists' works, and they did it at a rate significantly above chance. These unlikely and sudden modern art buffs were also totally unfazed by the mislabelling. Add to this that the team then turned the paintings over to a computer learning algorithm, which differentiated in no time the works done by artists — at the same rate of accuracy as the human participants.
Sincerely,
Sara
P.S: "It is the spectators who make the pictures." (Marcel Duchamp)
Esoterica: Next, Dr. Winner and her team showed a group of new participants the 60 paintings in succession, but asked only which works looked intentional and which had the most structure. The works by artists consistently won. The team arrived upon a clear discrimination: marks made by preschoolers and animals appear random. This is supported by the finding that random-looking stuff by human artists scores low on the structured and intentionality scale too, and is thusly mis-identified as the work of children or animals. Dr. Winner's conclusion is that people can see, or perhaps even sense, with what she calls "aesthetic intuition," an artist's mind and intentions — her plans. Another word for this, perhaps, is imagination. It explains, in part, what's going on when we look at non-objective works of creativity, like abstracts. "People see," says Dr. Winner, "more in abstract art than they think they see."
"Anything can be treated as art or not. And when we treat something as art, we attend to it in a special way — for example, noting its surface formal features and its nonliteral expressive features as part of the many meanings of the work. Maybe we can't define art, but we can specify what it means to adopt an aesthetic attitude. And while elephants and chimps may make "art," and while birds may make "music," I am confident that humans are the only creatures who step back from something they are making to decide how it looks or sounds and how it should be altered — in short, to adopt that aesthetic attitude." (Ellen Winner)
Ellen Winner's 2018 book, How Art Works: A Psychological Exploration is available, here. 
"A thing in itself never expresses anything. It is the relation between things that gives meaning to them and that formulates a thought. A thought functions only as a fragmentary part in the formulation of an idea." (Hans Hofmann)
Have you considered a Premium Artist Listing?  With each letter, an artist is featured at the bottom of this page. The Premium Artist Listings are a means of connecting artist subscribers through their work. Proceeds from each listing contribute to the production of The Painter's Keys. 
"Art's whatever you choose to frame." (Fleur Adcock)
Featured Workshop
January 23, 2022 to January 30, 2022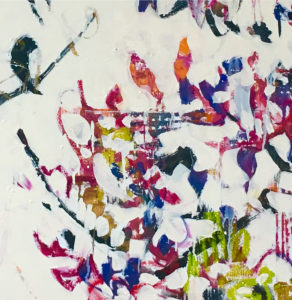 Join Ellie Harold for "Intuitive Painting: Permission to Paint Expressively," designed especially for mature women artists of all skill levels who wish to explore this medium for soulful exploration. The retreat provides attractive accommodations (your own room!) along with lightly structured activities for centering, relaxation and low stress art-making. You'll have plenty of free time to muse, paint, write and reflect while enjoying the colors, textures and flavors of San Miguel. This Retreat has the potential to transform not only your art but your life! You'll return home with a specific art "care plan" to assure support for further creating. Details at www.EllieHarold.com.
Featured Artist
My aim as a painter is to bring to life a slice of the world as I experience it. Light, color and form are my vocabulary.