Dear Artist,
Recently, Mark Winkelstein wrote, "A friend passed away and I have been trying to assist his family in the best means of selling some of his originals. He is the fairly significant Hungarian-Canadian painter Gyula (Julius) Marosán (1915-2003). Any suggestions would be appreciated."
Thanks, Mark. This is a problem a lot of families are faced with and not everyone is aware of the options and pitfalls. There are two main objectives inheritors often have for their departed–further fame and further fortune. Maximizing cash flow may mean building posthumous fame. If a deceased artist has worked with galleries or has had a substantial lifetime collectorship, these vested interests can be an aid.
In the case of Mr. Marosán, several galleries already are keeping his spirit alive. Seeking advice from galleries is the place to start. It's common for dealers to make offers — often lowball — on "the works" or to cherry-pick and pay cash for a selection. This is actually not a bad way to go as the dealer will be motivated to control and build the prices of a finite supply. Here are a few things to think about:
Put aside personal and particular works that need to be kept in the family. With dealer consultation, eliminate substandard works and destroy them. If family members wish to be participants in potential profits, they will have to work out a legal agreement with the dealer. This can be expensive and destroy a dealer's incentive.
Consider setting up a memorial website to honour and display the better works. Consider gifting a few choice pieces to museums. (In the Marosán situation, consider museums in both Hungary and Canada.) If no private dealer or public gallery connections can be made, consider slowly letting the works out through commercial auctions. Stop doing this if hammer prices become embarrassingly low. While commissions can be higher than in auction houses, also give consideration to leaving paintings on consignment with selected galleries. A thoughtful gesture is to make certain works available to charity fundraisers. No profit there, but you'll make a genuine, life-affirming gesture that might have pleased the deceased.
Best regards,
Robert
PS: "Full lasting is the song, though he, the singer, passes." (George Meredith)
Esoterica: It's important for living artists to be constantly weeding. Destroying substandard work is not only good for the heirs, it's good for the artist: nothing worse than mediocrity in sight. Burning, while illegal in some jurisdictions, is best. I do it quietly on cold, sentimental nights as a ceremony of sacrifice in the fireplace. Further, a quick note in the will, "Destroy all unsigned art," saves everybody a lot of trouble and anguish. Remember, it's always nicer to enjoy a few brilliant friends than to endure a crowd of dullards.
This letter was originally published as "What to do with Grandpa's art?" on May 22, 2009.
Have you considered a Premium Artist Listing?  With each letter, an artist is featured at the bottom of this page. The Premium Artist Listings are a means of connecting artist subscribers through their work. Proceeds from each listing contribute to the production of The Painter's Keys. 
"Love is not in our choice but in our fate." (John Dryden)
Featured Workshop
January 23, 2022 to January 30, 2022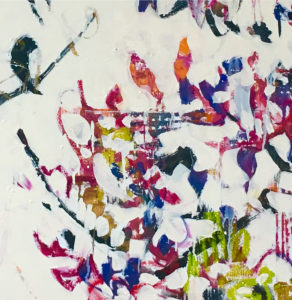 Join Ellie Harold for "Intuitive Painting: Permission to Paint Expressively," designed especially for mature women artists of all skill levels who wish to explore this medium for soulful exploration. The retreat provides attractive accommodations (your own room!) along with lightly structured activities for centering, relaxation and low stress art-making. You'll have plenty of free time to muse, paint, write and reflect while enjoying the colors, textures and flavors of San Miguel. This Retreat has the potential to transform not only your art but your life! You'll return home with a specific art "care plan" to assure support for further creating. Details at www.EllieHarold.com.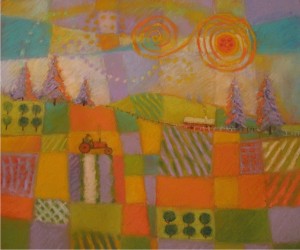 Sunrise Over the Farm #2
original pastel 15 x 15 inches
Featured Artist
Mary's interest in pastel painting began during her years at Whitworth College in Spokane, WA where she majored in art and elementary education. Though she has worked in watercolor and oil as well as calligraphy, her interest has consistently turned primarily to pastel because of the medium's potential for glowing, vibrant color and the harmony achieved in bringing together lights and shadows.