Dear Artist,
Professor Gerard Puccio, who chairs the Department for Creativity and Change Leadership at SUNY Buffalo State College, has developed a creativity training program called the Thinking Skills Model. His seven-step system is designed to challenge the notion that creative thinkers are born and not made, and instead proposes that anyone, over time, can "program" themselves to be creative. The Thinking Skills Model focuses on two types of thinking: convergent thinking, which is the cultivation of practical ideas with the best chance of actually being used, and divergent thinking — the wild, pie-in-the-sky stuff mortals often associate with madness and genius. Apparently, both types are necessary in creative thought and should be fostered in equal measure.
While developing his program, Puccio gathered a few hundred participants and asked them to come up with ways to encourage people to use the Greater Buffalo transit system. He split them into groups based on creative experience and measured their ideas — in quantity, flexibility, breadth and originality, and also noted that the participants with the best solutions had often combined ideas into more evolved and complex concepts or refined earlier iterations. This combining ideas-idea only kicked in with people who had been in the program for a while — supporting the theory that creativity is strengthened with practise.
Perhaps, for artists, this is all a bit obvious. Problem-solving in the studio is in the doing, and should improve over time. The doing is what inspires innovation, evolution, and revolution at the end of the brush. In the slow-burn of fine art, creativity is the main muscle, in need of the daily rigor of exercise and hands-on attention and examination. The committed understand that their ideas, rather than, say, the muse, are what beget more ideas, flowing from one to the next, into a lifelong set of self-built springboards.
Sincerely,
Sara
PS: "Inspiration exists, but it has to find you working." (Pablo Picasso)
Esoterica: For anyone who's keen to sharpen both convergent and divergent ideas, they can try applying Puccio's steps to small and large problems throughout the day. For an artist, any studio quagmire will do. Here are Puccio's seven steps — try them with the goal of creating a "useable" solution, then do it again, but make something totally impractical. You'll likely recognize the Thinking Skills Model as, in fact, the easel process. The other name for it, is "painting."
Assess the situation (blank canvas)
Explore the vision (choose a subject, plan your work, squeeze paint, push brush)
Formulate the challenges (inevitable problems)
Explore ideas (use these problems to discover new understanding)
Formulate solutions (keep going, learn from errors)
Explore acceptance (finish and move on)
Formulate a plan (begin again)
"Creativity can be described as letting go of certainties." (Gail Sheehy)
Have you considered a Premium Artist Listing?  With each letter, an artist is featured at the bottom of this page. The Premium Artist Listings are a means of connecting artist subscribers through their work. Proceeds from each listing contribute to the production of The Painter's Keys. 
"Every act of creation is first of all an act of destruction." (Pablo Picasso) 
Featured Workshop
January 23, 2022 to January 30, 2022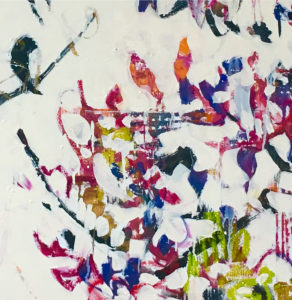 Join Ellie Harold for "Intuitive Painting: Permission to Paint Expressively," designed especially for mature women artists of all skill levels who wish to explore this medium for soulful exploration. The retreat provides attractive accommodations (your own room!) along with lightly structured activities for centering, relaxation and low stress art-making. You'll have plenty of free time to muse, paint, write and reflect while enjoying the colors, textures and flavors of San Miguel. This Retreat has the potential to transform not only your art but your life! You'll return home with a specific art "care plan" to assure support for further creating. Details at www.EllieHarold.com.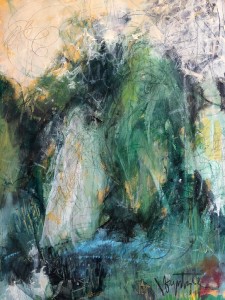 The 23rd Psalm, 2019
30 x 24 inches
Featured Artist
I grew up on a farm in Ohio, and that experience gave me a love of nature and the seasons and a deep belief in personal independence, as well as a love of experimentation. These have been the foundations of my work as a painter. I believe that learning in art or any subject is lifelong, and that the most important lessons we learn are through our personal interests and experimentation. After my husband's death in 2018, I visited Israel the next year, and was inspired by the amazing landscape colors, and especially the old city of Jerusalem, with its crumbling walls, and its deep religious importance. I found my way out of grief by painting the Eight Gates of the old city.