Dear Artist,
After days of working en plein air, I'm realizing once more the compositional problems inherent in the real world. Vacillating, as most of us do, between the truth of reality and the compositional needs of the painting, in the field one tends to go for the truth.
That's where a few days back in the studio can really pay off. The images developed on location are still fresh in the mind, but something else begins to happen. Composition improves.
One of the main problems in location work is the failure of pattern. Jane R. Hofstetter's "Seven Keys to Great Paintings" starts right off emphasizing the early need for pattern. "If the basic shapes of a painting are not well designed and exciting," she writes, "there is little purpose in continuing."
Some things to think about:
It's best to plan your pattern first, not after the fact.
Don't be afraid to use thumbnail value plans as starters.
Think of the pattern as a structure that moves the eye.
The eye moves first to the simpler, larger shapes.
The overall pattern is best when it's irregular and varied.
Avoid predictable shapes — blocks, circles, rectangles.
Avoid equality, kissing shapes and homeostatic effects.
Patterns should move beyond the periphery of the work.
The focal area can be more active, with smaller, sharper shapes.
Viewers' eyes ask to be entertained — pattern is the opening act.
Patterns thrive in lights, darks, and plenty of middle tones.
Add mystery — shapes can be muzzy and obscure.
Yin and yang your pattern — alternate dark and light activity.
Squint at your work, invert it, or look at it in a mirror.
Your work should "read" from across the room.
If, in the early stages, your work is not turning out to have enough pattern, face it against the wall, or bury it and come back later. Very often the simple passage of time will give fresh keys to pattern improvement. As Don Quixote said to Sancho Panza after a particularly vexing passage: "Tomorrow will be another day."
Best regards,
Robert
PS: "As you start your work
These words you'll recall,
Make a pattern of shapes
Big, medium and small." (Jane R. Hofstetter)
Esoterica: Canned reference is practically always loaded with problems. Photos, for example, contrive to kill imagination and stifle the natural development of creative patterns. While "ready-mades" do show up from time to time, they are rare. Art need not be what is seen — but what is to be seen. "Nature," said James McNeill Whistler, "is usually wrong."
This letter was originally published as "Patterns" on June 23, 2009.
Have you considered a Premium Artist Listing?  With each letter, an artist is featured at the bottom of this page. The Premium Artist Listings are a means of connecting artist subscribers through their work. Proceeds from each listing contribute to the production of The Painter's Keys. 
"Seeing abstract value patterns, not just the literal subject, is one of the first and most difficult things for a growing artist to learn." (Jane R. Hofstetter)
Featured Workshop
January 23, 2022 to January 30, 2022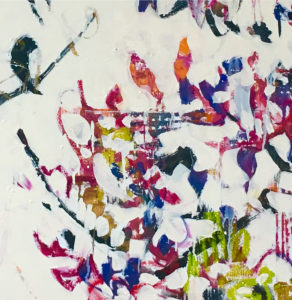 Join Ellie Harold for "Intuitive Painting: Permission to Paint Expressively," designed especially for mature women artists of all skill levels who wish to explore this medium for soulful exploration. The retreat provides attractive accommodations (your own room!) along with lightly structured activities for centering, relaxation and low stress art-making. You'll have plenty of free time to muse, paint, write and reflect while enjoying the colors, textures and flavors of San Miguel. This Retreat has the potential to transform not only your art but your life! You'll return home with a specific art "care plan" to assure support for further creating. Details at www.EllieHarold.com.
Featured Artist
I am inspired by the language, theory, history and psychology of colour and the interaction of colour , line and form to create individual colour stories within contemporary landscapes. I term these stories "Colour Hieroglyphics."