Dear Artist,
"Never underestimate the power of the altered state," said my Dad. While he avoided religion, he did enjoy cracking the door to his studio after a dinner party to catch a glimpse of his devotion through the ecstatic lens of a Côtes du Rhône. Seeing his work in the fully-baked half-light was, to him, a momentary indulgence in self-deception — a sight caught before the cold, clear light of dawn. No, to Dad, the altered state was not boozing while painting. Instead it meant, with the exception of those late-night visions, the natural high that happens when an artist achieves what Robert Henri called, his aliveness; when he becomes an "inventive, searching, daring, self-expressing creature."
How to get there? My Dad summoned his altered state by taking himself into heady, oxygen-rich environments by way of a brisk walk, paddle or tugboat steam; or a meandering drive, perhaps culminating in a local farmer's winching of a bucolically-inappropriate vehicle from a bird-loud pasture. High altitudes were good, too, and mushroomed thickets. He sensed his subjects were hidden in these places, making themselves known only after he became dizzy enough to receive them. I saw him drunk on them, mid-75-kilometres, hiking on the shiny-wet, silvery strand of the West Coast Trail. His sea stacks hovered like mirages in the mist. Now, in my mind's eye, I see them only as he painted them — they belonged to him, so. "An artist comes across the subject matter of his life only a handful of times," he uttered, and dropped his pack. "The object isn't to make art," wrote Henri, "it's to be in that wonderful state which makes art inevitable."
And so what about the hard stuff? University of British Columbia professor of philosophy Edward Slingerland proposes that rather than simply being a vicey joy-ride, alcohol has served as an essential conduit for creativity. In fact, he thinks it's basically responsible for modern civilization. Booze, says Slingerland, helped humans "become, at least temporarily, more creative, cultural, and communal" and "intoxicants provided the spark that allowed us to form truly large-scale groups." Because it impairs the prefrontal cortex, the late-developing brain region in charge of abstract reasoning, behavior and focus, alcohol does have a lot to answer for. Psychologists at the University of California, Berkeley, and Yale have done studies suggesting that creativity in young children comes so easily precisely because of their glaringly undeveloped prefrontals. By temporarily disabling this part of the brain, drinking adults are merely trying to get back to the child-like state. In reasonable doses, a drink can be a social and stimulating thing. The key, as with any accelerant, is in the quantity and frequency and context of use.
Sincerely,
Sara
PS: "I get high on my work. Yep, it's the work that lets you know you're alive. It's the work that makes you brilliant. It's the work that gets you better and better. It's the work that gets you silly." (Robert Genn)
Esoterica: If Professor Slingerland is on to something, then which came first: the booze or the brilliance? I've always enjoyed, from a literary indulgence, the trope of each artform preferring its own intoxicant, and the accompanying lore of its use as a capturer of the muse, or as a dramatic cultivator of artistic tendencies. Do writers, for example, really prefer spirits and cigarettes, while rockers shoot up? Or maybe making art is just painful, and so, like previous civilization builders, we're in need of a painkiller. Regardless, artists would do well to avoid practising the clichés of their heroes, lest they languish in their own, regurgitated clichés. Besides, I haven't found absinthe to be a particularly interesting painting companion in 2021. A painter, afterall, should have a steady hand, and offer the world only her realness. For this reason alone, at least first try getting high by realizing your ideas. If the turps are making you dizzy, get some fresh air — your altered state — your state of awe — could be waiting for you out there.
Edward Sligerland's 2021 exploration of civilization's roots in alcohol, Drunk: How We Sipped, Danced, and Stumbled Our Way to Civilization is available here.
Have you considered a Premium Artist Listing?  With each letter, an artist is featured at the bottom of this page. The Premium Artist Listings are a means of connecting artist subscribers through their work. Proceeds from each listing contribute to the production of The Painter's Keys. 
"You must stay drunk on [your art]so reality cannot destroy you." (Ray Bradbury)
Featured Workshop
January 23, 2022 to January 30, 2022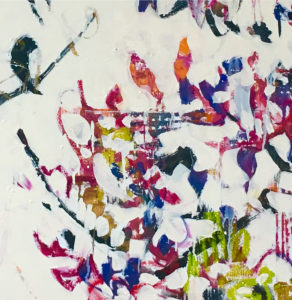 Join Ellie Harold for "Intuitive Painting: Permission to Paint Expressively," designed especially for mature women artists of all skill levels who wish to explore this medium for soulful exploration. The retreat provides attractive accommodations (your own room!) along with lightly structured activities for centering, relaxation and low stress art-making. You'll have plenty of free time to muse, paint, write and reflect while enjoying the colors, textures and flavors of San Miguel. This Retreat has the potential to transform not only your art but your life! You'll return home with a specific art "care plan" to assure support for further creating. Details at www.EllieHarold.com.
Featured Artist
We live in a fractured world. Wars, famine and power games are forcing people to abandon their homes and their way of life in hopes of finding peace. For lack of education or specialized skills, the poor are not accepted into our northern communities. They stay in the camps on the borders of turmoil, separated from local community. Animals are caught in the crossfire. Even the trees and the rocks suffer the agony of imbalance. This chaos is evident in my work. In between the rivulets of paint and the textural accidents I choose colours and forms to suggest a landscape where beauty continues to reign. We can still change the tide and build a new world harmony. Certainly, contemporary will focuses on gold instead of beauty. Yet, beauty is essential to the wellbeing of the planet. She is essential to the survival of humanity.