Dear Artist,
"Zombie Formalism" is a catch-all term for that palatable and interchangeable abstraction seen all over the internet, in the galleries, fairs, home interiors pictorials and coming out of art schools for the last decade. First coined in 2014 by artist and critic Walter Robinson in his essay for Artspace, "Flipping and the Rise of Zombie Formalism," the term attempted to address not an art practice at all; but instead, a collector – a certain kind of deep-pocketed flipper who speculated on young artists making a particular, aesthetically pleasant and decorative, somewhat familiar, art-schoolly painting-type thing. The term whiffed of just enough resentment to be irresistible to other critics and art world denizens, who absorbed it into their own expressions of distaste for the too market-savvy, too intellectually lazy, too feckless, too aesthetically polished work of mostly art school grads.
It's a shifting term, decomposing like a zombie as I write. Don't get attached to this description: Z.F draws from the legacy vernaculars of concrete, Ab Ex, minimalism, colourfield and primitivism; and fetishizes process as a substitute for originality or an idea. Think smudges, lay-by blobs, drips, stains and splatters, plus, at times, grids and stripes and corners, monochromes, layering, dots, stencils, Basquiat pastiches of every variation, including text, de-skilled pop, photo transfers, all applied with some alternative, or shrewd, or arts-and-crafts process so as to not look too slick; like sprayed with a fire extinguisher or dipped in a giant trough, broomed or mopped on, or poured with varathane, Home Depot demo-style, or stenciled, or hammered, or taped, or squeegeed, or screened, or spun, or burnt, or melted, or scraped off, or flicked on, or left to dry in the vicinity of a singed forest, or soaked in a polluted waterway. The process is the story, and described like a meaningful existence, in earnest lingo. The image is most probably arbitrary.
Z.F's offensiveness, at least as much as I can gather from the literature, is that it has been driving a chunk of the market, pervasive at every echelon, and flipped and escalated handily. It is, by all accounts, a product of contemporary art schools and the professional studio assistant layer. It is at once saturating the aggregator sites – both the Walmart-types (their inventory referred to as "crapstraction") and the sanctioned, auction-driven platforms – and reviled by the decor-averse tastemakers who begrudge their aesthetic opinions being eclipsed by its sheer volume and momentum. For artists, Z.F's problem should not be attributed to its commercial success, but rather its missed potential; for Zombie Formalism is page one – "the first thought" – of abstraction; and should therefore be visited only briefly on the way to virtuosity; be that in actual connection, in meaning, or at least some semblance of irony, or a subversive and overwhelming immersion, or obscene beauty, in technical superiority, and in revolution. I am clinging, here, to an archaic notion that painters should be tasked with applying themselves to competency in actual ideas, skill of execution, and communication. Z.F shortchanges them by not demanding this achievement. Perhaps, though, Zombie Formalism's enemies are overlooking the elegant crime being committed in plain sight – that insurrection the critics chronically crave from their creators – which is: breaking painting. (Again.)
Sincerely,
Sara
PS: "Frankly, these days, without a theory to go with it, I can't see a painting." (Tom Wolfe)
"What strip mining is to nature the art market has become to culture." (Robert Hughes)
Esoterica: Don't fret. Zombie Formalism is composting; and morphing into other zombies: zombie illustrative figuration, zombie fifth-wave nudes, zombie instagram content creator art, zombie neo-puerillism, zombie neo-super realism, zombie neo-brutalism, zombie neo-primitivism, zombie performative process art, zombie thirst-trap, zombie blue-chip clones, zombie regurgitated fashion-celebrity-pop, zombie upcycle, zombie collage, zombie-gift-shop-as-museum-survey, and the peak of greed and cynicism, NFTs, every last one of them, a zombie. Still, who's to say that the zombies can't be born of love? "Love," wrote Tom Wolfe, "is the ultimate expression of the will to live." And anyway, "no art goes unmediated by other art," wrote Robert Hughes in his 1991 treatise on modern art, The Shock of the New. "I have never been against new art as such; some of it is good, much is crap, most is somewhere in between."
"I'd rather be a lightning rod than a seismograph." (Tom Wolfe)
Have you considered a Premium Artist Listing?  With each letter, an artist is featured at the bottom of this page. The Premium Artist Listings are a means of connecting artist subscribers through their work. Proceeds from each listing contribute to the production of The Painter's Keys.  
"Looking back at art history, aesthetic importance is measured by novelty, by the artist doing something that had never been done before. In our Postmodernist age, "real" originality can be found only in the past, so we have today only its echo." (Walter Robinson, Flipping and the Rise of Zombie Formalism, 2014) 
Featured Workshop
August 22, 2022 to August 25, 2022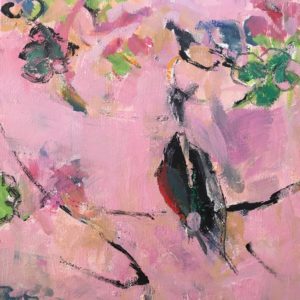 Permission to Paint Expressively Series   Session 2 
August 22-25, 2022 
Join Ellie Harold for "Expressive Painting: Making Your  Marks."  With a focus on intuitive mark-making, this workshop is designed to facilitate a fuller expression of your deepest and most essential artist Self. Content, process and lightly structured exercises give you permission to create the art that wants to be made by you in the safe space of Ellie's studio and the fresh air and cool light of northern Michigan near Sleeping Bear Dunes. You'll return home with a specific art "care plan" to assure support for "Making Your  Marks" in the world. Details and registration at www.EllieHarold.com.
Featured Artist
Creativity has always been my calling however I didn't realize that it would be primarily art related, until later in my life. Passing on knowledge is also a natural aspect of who I am. For me teaching skills to others is both a continuous joy and a personal education.
I love to draw and to paint with watercolor, pastel and mixed media, but I am also intrigued by the process and challenges of printmaking.
To me, figures and busts in clay just seem to come alive by themselves, in their own three dimensional world.
My subject matter is quite varied overall, but my personal favorites are always faces and figures of all types.