Dear Artist, Recently, Judith Meeks of Toronto, ON, Canada, wrote, "I'll soon be chairing a panel discussion called 'Finding Your Voice.' In your understanding, how do we translate our life experiences into our paintings and express who we really are? We may have good work habits, but how do we become clear about what we want to say? And how much can be done with a conscious plan?" Thanks, Judith. This is one of those sticky head-scratchers that can cause the loss of sleep. First off, and contrary to what I've said before, plans can actually derail the voice-finding process. Further, you have to know what you mean by "voice." Voice in style is different than voice in cause. Ideally, style develops over time. Cause is based on attitude and issue. With growth and development, causes change. A predetermined voice shackles creativity. To find your very own voice, I think you need to have a few things going for you: You need to make stuff. Artists who put in regular working hours find their voice. Work itself generates clarity and direction. It's like invention — one thing leads to another. One must only lurk for voice. Unfortunately, along the way, most drop the ball. Like the dilettante inventor of the soft drink "6-up," they just don't stick around long enough. You need hunger. It can be the hunger for knowledge or for self-knowledge. It can be the desire to find an antidote for some injustice or human miscalculation. Perhaps you need some inexplicable, deep-seated compulsion to keep moving forward. You need curiosity. Wondering how things will turn out is more powerful than having a pretty good idea beforehand. Wondering if you can do it gives you reason to try. Curiosity is the main juice of "ego-force" that keeps you keeping on. You need joy. You need to feel joy in yourself and you need to feel you're giving it to others. As Winston Churchill said, "You may do as you like, but you also have to like what you do." A disliked job is soon abandoned. I'm writing you from a remote anchorage off Grenville Channel on the West Coast of British Columbia. I'm thinking human nature is a mighty puzzle. Every time I go onto one of these islands looking for something to paint, I ask myself the old "What's my voice?" question. One thing for sure, if I go ashore knowing what my voice is, it will be a weak squawk when I get to the spot. Best regards, Robert PS: "Why this hunger to write — I always ask myself — if not the longing to discover what I believe? The pen divines my thoughts." (David Conover in
One Man's Island
) Esoterica: "What's my voice?" has to be asked by each individual artist. Committee-free, the artist needs to develop her voice as if on an island. To be a voice is to be a different voice, set apart, unique. How to find it? Go to your island, put in long hours, fall in love with process — your voice will come out of your work.
Honesty is the best policy
by Scott Kahn, NY, USA I went through a period in my twenties which was crucial to my development as an artist. I realized I had to "find my own voice." I was still young and looking at what was "popular" in the New York art world at the time. I realized I had to throw off all derivative elements so that my work would not be "compared" to any other artist or movement. It was a conscious effort. Every time I saw a derivative element, I simply stopped using it and threw it out. This forced me to look within. It was a very organic, and at times difficult, process which took several years. Eventually, I began to accept what I could do and what I couldn't do. I slowly began to realize what my strengths and weaknesses were. I determined to emphasize the strengths and minimize the weaknesses. Although I paint landscapes, portraits, interiors, still life, it is with a language I can call my own. I think it also takes a ruthless honesty with oneself. If one admires or is influenced by anyone else, one is not being true to oneself. I think above all else, this is the key: to be honest with oneself.
A voice she didn't know she had
by Susanne Forestieri, Las Vegas, NV, USA For the last twenty years or so I've painted small intimate images based on my photographs of backstage scenes, family and friends. About a year ago I felt an urge to stop using photographs and approach each canvas or panel with an open mind, as a sort of experiment. Moving, gouging and scraping thick layers of paint with various palette knives, to the accompaniment of flamenco music, I found a voice I didn't know I had.
There are 2 comments for
A voice she didn't know she had
by Susanne Forestieri
Read the whole thing through
by John Smith, Durban North, South Africa When I started reading this letter I was frowning and didn't think I was going to agree but as I read on I found myself agreeing more. Lesson; read things through with thought and then you often learn something. In giving up before the conclusion you almost always lose out. Recently I developed a bad habit of being lazy and skimming or dropping articles after a few paragraphs. Even the mere act of making yourself read to the end strengthens your focus and concentration. Bad focus and bad concentration = bad paintings!
There are 2 comments for
Read the whole thing through
by John Smith
A voice of happy surprises
by Terrie Christian, Plymouth, MN, USA On any given day, I have no plan in mind. Some days it begins as just putting down abstract shapes and colors then "seeing" what they tell me and developing that. Other times a shape that is somewhat representational appears. If it is flowers, I do not count the petals or try to make them "real," but I do repeat the shapes somewhat. I love watercolor and the way it mixes together to give me surprises I could not dream of in my head, but I allow it to happen as I choose my next color. For me, it is all about the fun of playing with the colors and shapes. This is what my voice seems to be. I also love the warped nature of what develops. Part of the fun then is when others view the painting and tell me what they see. Often, people who say they do not like abstracted work tell me they like mine.
There are 4 comments for
A voice of happy surprises
by Terrie Christian
Secret of the unstoppable voice
by Linda Muttitt, Fort Langley, BC, Canada This question got me thinking about what my voice is in my art. What I realized was, it's an expression of who I am in the moment I'm painting, as well as all the depth of what I value and believe. It's the sensory touch points that surround you while you paint. It's just something that can't really be articulated because there's too much to it. Words don't fit. Can't prescribe or order it. That's the mystery of most amazing things in this life. The more I tried to put words to it, the more I realized there aren't any. You end up circling around and around with a whirlpool of words that never quite get there never finding the target. If I want to have my true voice expressed, I just encourage myself to have "all cells and self open," and then move the damn brush. Uninterrupted by intellectual questioning or emotional judging, true voice comes through — it's unstoppable.
There is 1 comment for
Secret of the unstoppable voice
by Linda Muttitt
A voice of lesser importance
by Doug Key, Greensboro, NC, USA To me, finding my voice is just one aspect of my development as an artist. I find myself painting tightly in some works and loosely in others but I don't worry as much as I used to about finding that specific balance between the two. My focus is to make sure I am pulling off visual effects, such as distance, light and shadow. The techniques I use to accomplish the effects, as well as good composition, seem to be more important as I work towards a hopefully successful painting. If my voice comes across, that's great, and maybe it will get someone excited enough to promote or purchase my works.
There is 1 comment for
A voice of lesser importance
by Doug Key
'Work in your garden'
by oliver, TX, USA I've always found that those who try very hard to find their voice don't. At most they become introspective and self-absorbed and seldom manage to create a portfolio of work that consistently reaches beyond the self involved. Those that practice their craft, experiment and work tend to find patterns and methods that appeal to them as they develop. These stylistic tendencies become the tools that become the library with which other layers of meaning, message, joy, sadness, contemplation and indeed political, religious or other messages can be developed. As one goes through life these broader life experiences can be expressed with the developing and evolving tools. The Jefferson Airplane had a song "White Rabbit" one of the lines was "feed your head," Voltaire said "work in the garden," Plato said something about the pure forms or essences. If you work in the garden, feed your head to find the pure forms or essences in the many layers of your work — your "voice" will find itself.
The constancy of change
by Fleta Monaghan, Asheville, NC, USA You can't manufacture a "voice" and what that voice says changes just like we always are changing. It's like that saying, "The only constant is change." After all the tenacious work filled with joyfulness, the hunger and curiosity, there needs to be trust in the creative process and your engagement in it as a lifestyle and life's work. A key turning point might not be your "best work" either, from the critics' standpoint, but a detour off a planned path.
There is 1 comment for
The constancy of change
by Fleta Monaghan
Finding your visual voice
by Dakota Mitchell This subject hits at my very core. In fact, it is so critical to fresh artistic expression that I wrote a book about it. After years of fine art education, workshops, and reading art instruction books, I became very frustrated with others trying to tell me the "right way to paint." Finally, I got so irritated that I felt the need to identify what the actual key points were and how they can apply to the wide range of artistic approaches. To me the first step is to discover your source of inspiration (are you an external or internal artist?) and then identify what you personally respond to in subject matter, art elements, composition and painting process. This is when the heart begins to truly soar. There are images by 30 plus artists and application exercises included in the book that give ample opportunity for the reader to explore his or her interests. The name of the book is
Finding Your Visual Voice
 written by Dakota Mitchell and Lee Haroun and is published by Northlight Publishing. It can be found on Amazon.com or ordered through local bookstores. (RG note) Thanks, Dakota. The reader reviews on Amazon are uniformly praiseful. We've ordered a copy.
There are 4 comments for
Finding your visual voice
by Dakota Mitchell
Finding her voice in the present moment
by Abbie Williams, Nobleboro, ME, USA After almost 40 years of painting I am still chasing my "voice." I've come to the conclusion that finding one's voice is like chasing the Holy Grail. It's illusive at best. Hopefully we as people are always growing and changing therefore our voice is always growing and changing. What if the way and what we are painting at any given time is our true voice? Wouldn't knowing that to be true help us to feel the joy of expressing ourselves in painting at any time in our lives?
There are 3 comments for
Finding her voice in the present moment
by Abbie Williams
No one can explain it
by Lynda Davison, Covington, TN, USA In my head I want to be an Impressionist, but when I paint, it just won't happen. It's as if my brush and the canvas demand realism and detail so I try to reach some kind of compromise. I am attracted to the art of people like Ann Hardy and Elizabeth Pruitt and this is what I want to come out of my brush. But my "voice" takes over and I find myself adding much more detail. There is simply no way to deny one's voice when it comes to producing art. It takes you over and this is why we have so many different artist's interpretations and styles. No one can fully explain why we each do it our way but that inner voice shows up in our bodies of work. It becomes our own way of seeing things and putting them on canvas for others. The art itself reflects our own inner voice, and sometimes it surprises even the artist. And isn't that what art is all about?
There are 4 comments for
No one can explain it
by Lynda Davison
Frozen by fear
by Gail Hersey, Weare, NH, USA I have often felt awkward in social situations. Sit me down with a cup of tea or a glass of wine with a friend or a small group and I'm happy, comfortable, at ease. Put me in a room full of strangers at a party and all of a sudden I feel that prickle of fear run up the back of my neck. My eyes focus on items around the room or on my feet so that I don't accidentally meet someone's eyes and have to think of something to say. I fear that I won't know how to start a conversation or how to keep one going. I fear that I will have nothing of value to say and no one will want to talk to me. I fear that I won't be able to retrieve the words that I need when I need them. Of course, only that last fear has any basis in reality. I do have trouble remembering names and often I have to describe the concept I'm trying to talk about rather than use the word created for it. It's stored in my brain somewhere — it's just that the card catalog doesn't work all that well on demand. The rest of it, the fear of talking to strangers is just fear. So — what's the plan? I don't want to live with this anymore. I want to be free to feel comfortable with new people and in groups. The solution is to change my attitude. I want to take my fear and turn it into curiosity. Rather than dreading the beginning of a conversation with someone that I don't know, I want to wonder who that person is, what are they interested in, what makes them uniquely them. Honestly, all this talk about the weather is boring. I want to know what makes people tick (or tok, or jump for joy) — I've just been too afraid to ask. The same idea can be applied to my art and how I approach working. Do I walk into the studio nervous that I might not be able to work today or that what I do may not be any good? Do I walk into the studio with the expectation that it will be a great day and that I can do no wrong? Or, do I walk into the studio with an attitude of curiosity? Do I wonder — what will happen today? How do I feel? What does it look like when I try this color, this shape? No expectations; only curiosity and attention. By using my curiosity in the studio, I allow myself to play with my ideas. I can try new combinations and techniques without giving that little homunculus named Critic the power over my day. I can float on the joy and power I have when I walk through the door feeling fabulous without the disappointment at the end of the day if it doesn't go well. By paying attention to myself, I can use my curiosity to see how I am feeling. I can acknowledge that I am excited or bored or that I just need a glass of water. I can take my fear and expectation and turn it around into wondering and inspiration. What a way to start the day! What a way to meet new people! And you know, if I forget a name, I can always ask…
There are 6 comments for
Frozen by fear
by Gail Hersey [fbcomments url="http://clicks.robertgenn.com/finding-your-voice.php"]
 Featured Workshop: Firesign Studio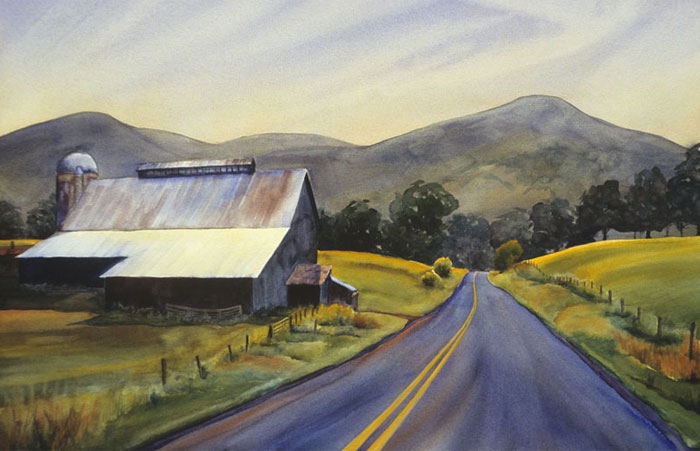 Route 38
watercolour painting by Joan Wolbier, Boulder, CO, USA
You may be interested to know that artists from every state in the USA, every province in Canada, and at least 115 countries worldwide have visited these pages since January 1, 2013. That includes Leslie Tejada of Corvallis, Oregon, USA, who wrote, "A better question is "What do I want to see?" This bypasses more of the mind which wants to work in terms of ideas, and which holds all sorts of worries about who we are, what shall I paint, etc. It's a direct entry into the part of the mind which works spontaneously and intuitively, solely in visual terms. Being attuned to spontaneously paint what we most love, and want to see, in pure visual elements could also beautifully inform representational work." And also Barbara Walter of New York, USA, who wrote, "I found I was gravitating toward a certain style and subject matter after trying out different subjects and mediums. I liked doing it all, but found I enjoy painting local scenes the best for now. The lesson for me was not to give up — inspiration will come." And also Marianthe Pastore of Sarasota, FL,USA, who wrote, "New friends who come to my home think I collect other artists' work, and are surprised to learn that all the paintings are mine. I have struggled for years with this problem and finally have given up." And also Paul deMarrais of TN, USA, who wrote, "Making art is like falling in love. Thinking about your voice will likely produce contrived political painting of some sort. Painting has to come from your heart, not from yet another symposium."
Archived Comments
Enjoy the past comments below for Finding your voice…