Dear Artist, In 1856, Royal Navy Sub Lieutenant Edward Hawke Genn was surveying the West Coast of Canada and happened to have a couple of small islands named after him. The Genn Islands lie in Malacca Passage in the inner reaches of Hecate Straits. My distant cousin was stationed in Canada for only a few years. He died in Calcutta, India in 1872.
Johann Wolfgang von Goethe
) Esoterica: My grandfather looked at my early paintings with dismay. Painting, to him, had little or no practical value and no potential "percentage," as he called it. He once advised me to "get into the liquor business — that's where the real profits are." On the Genn Islands I found no evidence of grandpa's squared-off tree. But I felt another connection. Boulder for boulder, this place has likely remained practically the same since the Ice Age. The various Genn visits were only a late blip on a vast timeline, and I, too, felt like making a small, indelible event of my passage.
Genn Islands
Islands define focus
by James Stewart, Sarasota, FL, USA While it's a great thing to have one's surname attached to one, islands do have an attraction for many people. I use islands without formally addressing their abstract nature. From a distance, they are clearly defined. You can't see them unless you are somewhere else. They are just land above sea level and give great focus to the water around them. We were just in Halifax which has Georges Island visible from downtown. In a very busy city the presence of the island becomes very important.
There is 1 comment for
Islands define focus
by James Stewart
Collectors don't always prefer regional art
by Brenda Behr, Goldsboro, NC, USA Those fortunate enough to live on the coast of a body of water have access by bridge or by boat to what we commonly refer to as an island. Few of us, however, have the distinction of having our family name on an island. As a child, I painted my first oils in a US Air Force base hobby shop on the island of Luzon in the Philippines. Lots of islands there, but I'm not sure I ever painted one. More than forty years went by before I again painted coconut trees. All the paintings I did three years ago in Puerto Rico came back citrus in color. One of my galleries in North Carolina says, "No palm trees." The very first painting I sold via the Internet was a plein air painting I did on Harkers Island, NC. It's interesting that old friends in Minneapolis were the ones who purchased
Harkers Island Trees
. So much for people sticking with regional art when they purchase artwork. I encourage you to explore the fascinating coast of North Carolina. We have a string of islands here referred to as the Outer Banks. Harkers Island, in an area known as Down East, is one of the islands that was cut off from the mainland for so long that many of the inhabitants there still speak a dialect known as "The Queen's English." The "Queen" here refers to the first Queen Elizabeth.
There are 4 comments for
Collectors don't always prefer regional art
by Brenda Behr
Island people
by Nina Allen Freeman, Tallahassee, FL, USA Visiting Newfoundland a few years ago, we were struck by how accommodating the people were. They would stop what they were doing and have a half hour's conversation with a stranger or escort you across town if you needed directions, even if they were on their way somewhere else. We wondered if all islanders were like this, not having any experience living on an island. We left loving Newfoundland and its people.
There are 3 comments for
Island people
by Nina Allen Freeman
Living in on a small island
by Paula Swann, Calgary, AB, Canada Our family of 4 lived on the 4 acre island called Deadman Island in the Ganges Harbour off Salt Spring Island, B.C. during the mid '90s. From Alberta ranch life to the isolation and beauty of the West Coast, we lived in awe. I felt as if there was another dimension to life. We shared such intimate contact with the elements, flora and fauna and of course the constantly changing sea and flotsam and jetsam. We were simply spellbound for 18 months. I felt such ownership of our refuge, every rock, flower and creature. We had no running water, electricity, bathroom or closets. The two simple homes were to be renovated by us. Eventually a generator was installed, bathhouse built but we never missed television or telephones. I guess the most enduring memory was the quality of the light and the ever changing textures on the sea as seen from every window in our little cottage.
Pie Island
by Terry Culbert, Amhurst Island, ON, Canada For the past seven years my partner and I have lived full time on Amherst Island at the head of the St. Lawrence River, a 3-mile ferry crossing from the mainland. Amherst Island was settled in the early 1800's by farmers, fishermen and ship builders from the Ards Peninsula, County Down, Ireland. Today Amherst Island has 400-full time residents, two of the largest sheep farms in Ontario, hundreds of deer, owls, hawks and voles. It is a piece of heaven. Affectionately, it is known as "Pie Island" because of the fabulous bakers.
All eyes are on you
by Pamela Simpson Lussier, Willington, CT, USA For about 10 years my husband and I have been painting and teaching a few weeks each summer on Monhegan Island. When our 6 children were younger we would take them for one of the weeks. They had the freedom to roam around without us in this safe environment. We just asked them to behave well since what they did would be a reflection on us. This summer David's oldest boy, Ben, is working on the island. I was over for the day and we were talking about island life. He told me a friend was coming to visit. I said, "You must be happy about that." He said, "Yes, happy but also nervous. This is a very small island. Everyone will be watching. What my friend does will reflect on me."
Visitors impact island culture
by Michael Fenton, New Jersey, USA An additional thought comes from some folks I met in Dublin, Ireland a few years ago. They were trying to explain to me the Irish character and psyche. These folks were trying to clue me in about taking everything said to me as "accurate." They attributed the blarney as a byproduct of living on an island. They said that living on an island teaches one to not trust outsiders or people from "the land." Blarney was a way of putting a safe distance between the islander and the outsider without causing undue offense. I found this to be interesting advice, often useful, but I am not sure about it being the true reality of things. Over a long history island people must develop a feeling about "the landers" who visit and it probably does impact the culture some. There's a difference between living on an island versus visiting one.
Passion for islands
by Peggy Kerwan, Novi, MI, USA Islands are a passion with me also. There is something about being isolated and undisturbed, surrounded by water. I was fortunate to have lived two years on the island of Puerto Rico. Some other islands I have explored: Boblo (between Michigan and Canada), Long Beach Island (NJ), Liberty Island, Governor's Island (NY) and the island of Manhattan. My favorite so far was a vacation on Isle of Palms.
No artist is an island
by Bill Erlenbach, Edmonton, AB, Canada There is an interesting paradox between our love for Islands, the implied self sufficiency and isolation, and the previous post on master-apprentice dynamics. It highlights the tension we, at least I, feel between withdrawing to the safety of "Island" where I am "king" versus the mainland where I am one among many. Perhaps it is my introverted nature, but I find solace on the islands as if in some sense they reflect my inner being. In the movie
Cast Away
with Tom Hanks, the island looked like paradise and it certainly was a life saving refuge, yet it became a prison. I wonder if this too reflects on our lives as artists. We need to retreat to the serenity of an island for a time, literally or figuratively, but return to the mainland to be shaped by others. On a different note, it is interesting how in the movie, even the little things became significant. Perhaps that is the real beauty of an island. We are forced to fully appreciate the small things. Right now I am thinking of an island I have canoed around on a modest lake in the interior of British Columbia. The island is not much bigger than a small house, insignificant really, too small for anything except finding beauty.
Balance of tutoring, focus and hard work create success
by Marlien van Heerden, Pretoria, South Africa I am a South African artist who studied Domestic Marketing at the University of Pretoria but I loved painting and drawing since childhood. Fortunately, my parents realized the different talents of their five children. They always signed me up for drawing or painting lessons with artists coming and going on the little town in the high fields of Transvaal. Their names long forgotten, but everyone with whom I took lessons formed and shaped the person I became. One of the most important lessons I learned was that drawing is 90% looking and 10% drawing. When I signed up for oil tutoring with Lucy Doran while studying in Pretoria, she opened a new world to me! Involving the viewer's imagination to complete, not to say too much, but just enough; experimentation with different techniques; the living and loving (agony and ecstasy) of being a fulltime artist… and so much more! I realized though even how good a tutor, you can't stay with them – you need to be on your own to develop your own style and signature. Today we get so much information through books and Internet! It's almost overwhelming. But again in the end, you need to work hard, only then will the rewards come. One needs to take the step, take the challenge, sell your work and give yourself a chance. I started with exhibitions in parks and shopping malls, where agents saw my work and I was moved into galleries. Today my work is exhibited by a few selected galleries and I work a lot on consignment. I am so grateful for my clients, what's the use of painting without people to enjoy them. I think the biggest challenge is to be able to create every painting as a unique piece of art in a way that other people look at it and recognize you. I met an aged painter when I just started to exhibit my work and his words were, "An artist never arrives!" The delivery of the three paintings went well and President Kaunda signed and wrote a prayer on the one portrait for old president Nelson. What of it now, I do not know. Marketing, building one's name, that's the catch I guess. It's not the painting, it's the name at the corner which determines the perceived value.
There is 1 comment for
Balance of tutoring, focus and hard work create success
by Marlien van Heerden [fbcomments url="http://clicks.robertgenn.com/islands.php"]
 Featured Workshop: Karin Richter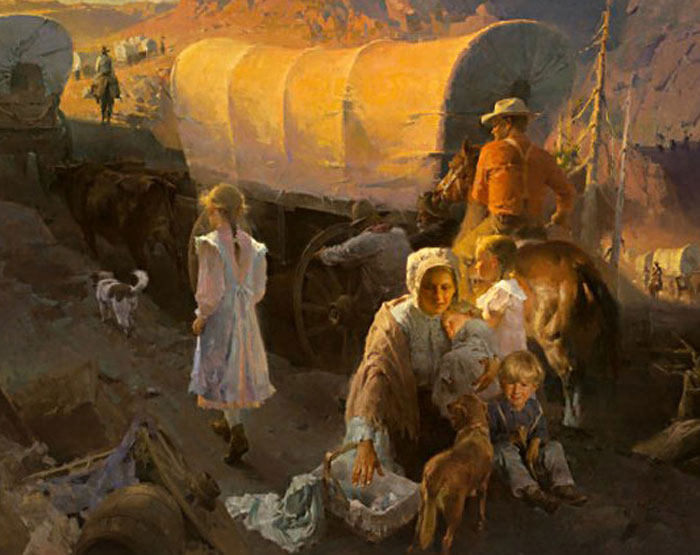 Pursuing a Dream
oil painting by Mian Situ
You may be interested to know that artists from every state in the USA, every province in Canada, and at least 115 countries worldwide have visited these pages since January 1, 2013. That includes Brad Greek of Mary Esther, FL, USA, who wrote, "Too often we take for granted of where we are and what we are doing. On a remote island, I believe it's possible to feel the presence of the past visitors. See what they saw, hear what they heard and smell what they smelt. The timeline is short when it comes to history. I envy your experience to have shared that place in time with your ancestors. Bravo!!" And also Mel Davenport of Diana, TX, USA, who wrote, "Once I had a similar experience in an old saw mill when I touched the very lathe my great, grandfather had used to keep the saws in working order. The experience rose the hair up on the back of my neck and somehow connected me to him though he'd been gone for many a year. There's something to be said for a time and a place to connect you to the past." And also Deena Welde Peschek of Nashua, NH, USA, who wrote, "Islands are romantic. They invite you to explore yourself within a limited perimeter and parameter. Its distance from "the mainland" cuts you off from unruly distractions. Simplicity is easier to discover and absorb. The water around an island becomes a great filter for visitors. Only those who really care will generally make the effort to visit. Islands are sublime hideaways and I've loved them for ages."
Archived Comments
Enjoy the past comments below for Something about islands…
My grandfather, Reginald Genn, on his way to the Klondike Gold Rush in 1897, claimed he went aground on one of the islands. He told us he squared off a tree and wrote his name with an indelible pencil and that's how the Genn Islands got their name. Grandpa was on his way to Skagway, Alaska at the time, with 30 tons of Yakima potatoes bought in Seattle for $3.00 a ton. Reg reportedly sold the spuds in Skagway for $100.00 per ton. He then climbed the Chilkoot Pass and packed on to Dawson City, where he staked at least three placer gold mines and eventually lost his shirt. Last Thursday, rowing out from M.Y. Mareva, I scrambled onto Genn and Little Genn Islands for the first time in my life. A significant tide running between the two islands made landing difficult. Noisy seals, aggravated oystercatchers, Brant, and several species of sandpipers as well as eagles and gulls added to already wild and remote feelings. Of the two, Little Genn is perhaps the more attractive. A protected beach on the north end is surrounded by finely designed rocks and dramatic old trees overhanging. We've illustrated a painting effort at the bottom of this letter. There's something about islands. For one thing, they're not continental. Islands represent the wisdom of isolation and self-sufficiency, surrounded by a common and separating element. Islands promise privacy and the potential for Kingship and Queenship. In works of art they offer a symbolic statement endorsing introversion and the value of keeping your own counsel. Further, there's preciousness. People who live on islands, or even go on them, pick up preciousness as they would seashells or weathered beach wood. Island owners (or passersby) cruise the perimeters to better know their own souls. An island, especially a small one, is something you can get your head around. If you need to feel special, paint islands. Best regards, Robert PS: "He who has never seen himself surrounded on all sides by the sea can never possess an idea of the world, and of his relation to it." (