Dear Artist,
While at a dinner party recently, I mentioned that I often find socializing overwhelming and prefer to stay home and paint. After dropping this dessert bomb, I glanced around the table and noticed the other artist present nodding. A discussion ensued about where people draw energy, restorative activities, creativity and stimulation. The butterflies listened with empathy and acknowledgement, but I went home feeling a little vulnerable about my newly revealed secret.
The following day, I ran into a friend who was desperate to share some news. "Have you heard of the term, 'Highly Sensitive Person?'" he asked. "Yes," I replied. "My Dad diagnosed himself with HSP in 2005 and wrote a letter about it – it's apparently especially common amongst creative people." It turns out my friend had been at another dinner party where a woman he didn't know very well, after chatting with him for a while, recognized something and shared with him an online sensitivity test. He took it there and then, and passed with flying colours. Often bothered by loud noises, attuned to the moods of others, an avoider of violent films, likely to withdraw when overwhelmed and easily startled, my friend suddenly felt as if he had just discovered a new and comforting planet to which he belongs.
Because sensitivity has generally been considered a vulnerability and not a strength, sensitive people have been seen as at greater risk for depression, or at least lacking in resiliency when facing obstacles, grief, maltreatment or other adverse life experiences. Perhaps this is why many HSPs work hard to avoid making mistakes, confrontations or other negative experiences. In this sense, some are perfectionists; while others are avoiders. Many are introverts.
Dr. Michael Pluess, professor of psychology at the Queen Mary University of London, has recently coined a term to describe his theory that sensitive people, while hit hard by discord, also experience deeper benefits from experiences that are positive – much more than their less sensitive counterparts. "Vantage Sensitivity," says Dr. Pluess, is a strength amongst the sensitive. The other 85% or so of the population – the non-HSPs he says, experience what he calls, "Vantage Resistance" – they don't get as much out of the windfall. (If no major positive influences are present, Dr. Pluess says that vantage sensitive and vantage resistant are likely to have similar levels of well-being.) If his theory holds water, HSPs can face both negative and positive experiences knowing that each will hold extra weight, meaning and impact. For an artist, it's a compelling enough reason to continue with the pursuit and creation of beauty; and the sharing of your triumphant expression.
Sincerely,
Sara
PS: "By words one transmits thoughts to another; by means of art, one transmits feelings." (Leo Tolstoy)
Esoterica: "This is a central dilemma for many artists: 'How do I manifest my innate sensitivity in a not-so-sensitive world?'" wrote my Dad in his 2005 letter, Highly Sensitive Persons. "There are many ways. One of the handiest is the simple realization that many we interact with are not so sensitive. They may not know or admit it, but they couldn't get along without our sensitivity. They need us. And we need them. A sensitive person needs to learn how to interact in this lop-sided world. Humour and playfulness are valuable. So is immersing oneself in the history of art and artists. The timeless brotherhood and sisterhood of art (which includes other HSPs) gives us a sense of community and a philosophic balance. The knowledge derived from like-minded companionship gives a feeling of "I'm okay — you're okay." More than that, one finds that the world needs more HSPs — these days, more than ever."
You can take Psychologist and HSP expert Elaine Aron's test, here.
Elaine Aron's 1997 book, The Highly Sensitive Person: How to Thrive When the World Overwhelms You is here.
Have you considered a Premium Artist Listing?  With each letter, an artist is featured at the bottom of this page. The Premium Artist Listings are a means of connecting artist subscribers through their work. Proceeds from each listing contribute to the production of The Painter's Keys. 
"Research studies provide evidence that highly sensitive children benefit especially strongly from positive experiences, such as psychological programmes aimed to improve psychological well-being. The Vantage Sensitivity model is helpful in describing such differences and advances our theoretical understanding of the benefits of high sensitivity." (Dr. Michael Pluess)
No Featured Workshop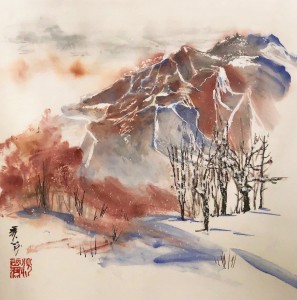 Midwinter Chill
Featured Artist
Los Angeles-based artist Lisa Chakrabarti works in a variety of media: oils, acrylics, pastels, watercolors, graphite and colored pencils. Focusing on a style she calls "romantic naturalism" – impressionism based largely on subjects in the natural world – her works have found their way into galleries in Los Angeles, Florida, Colorado and New York. In 1995, after being introduced to sumi-e and Chinese ink painting by Asian friends, Lisa became captivated by the apparent freedom and subtlety of this ancient medium.  This shift in focus has informed her work ever since.