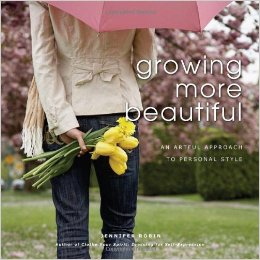 Robin, Jennifer

Growing More Beautiful is a lively, buoyant resource for projecting your essence with creativity and flair. Jennifer Robin's paint box of practical tips, inspiring illustrations, helpful worksheets, and fresh personal insights will open your senses to the beauty of both your inner life and outward appearance, and help make getting dressed a daily act of creation. Image consultant, artist, and author, Jennifer Robin ties it all together in this stunning new book that will help you look and feel more beautiful as you grow into the person you were always meant to be. And, the elements of making art touched on in the book, including principles of design, will help with any creative endeavor, whether it's painting or creating an outfit.
"This hybrid book book about art and style discusses color as self-expression and explains personal color resonance. Filled with the author's pastel landscapes. Truly a unique offering!" — reviewed by Jennifer Freeman.
View more books by Jennifer Robin.
Buy Here