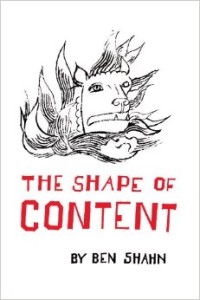 Shahn, Ben

A modern painter discusses meaning and form in contemporary painting and offers advice to aspiring artists.
"A good few years old now (mine's 1963) but as fascinating and useful as ever." — reviewed by Frank Gordon
"This book is one of the clearest explanations of the creative process of an artist available anywhere. Shahn speaks of painting, of course, but his lucid, interesting text, his ideas and explorations, apply to artists in any field. Highly recommended." — reviewed by Phoebe Wray.
"Shahn is a surprisingly gifted writer. His arguments are clearly reasoned and his tone is that of an art historian or philosopher. At the same time, the book is an intimate look at Shahn the artist. It is illustrated with numerous pen and ink sketches by Shahn." — reviewed by Amanda C.
Buy Here