Dear Artist,
Recently, Achola Rosario Odido of Uganda, East Africa, wrote, "Here in Uganda women are supposed to be seen and not heard — a kind of passive doll who only calls attention to herself to get a man and then retreats into the marriage shadows. We have very few women artists. They give up after marriage, or do not put themselves forward. I market myself aggressively. I'm called a show-off, celebrity wannabee, and a 'Westernized Girl' (i.e. spoiled). My hard-hitting socially-conscious painting style, dreadlocks and tattoos on a pretty face do not alleviate matters. Do you have any ideas how the curse of discrimination might be broken?"
Thanks, Achola. It often comes as a shock to Westerners that women in other cultures have such a hard time. We are inclined to believe that our "progress" is more or less universal. Our eyes have now been opened to the injustices suffered by women in countries like Afghanistan. It remains all the more important for Westerners to act responsibly within our own cultures and not allow ourselves to be spoiled or even to appear so.
Cultures that limit free learning or are unable to provide higher education tend to foster and imbed chauvinism and gender prejudice. Some of these tendencies lie deep in tribal roots and traditional practices and cannot be extirpated in one or two generations. In our culture and yours, the only thing we really have to work with is ourselves. Your dreadlocks and tattoos may actually be interfering with the acceptance of yourself and other women artists. It's my personal prejudice that art can be as wild as you want to make it, but artists themselves, male and female, at least need to consider having an understated presence. Curiously, in our culture it's mainly the weaker artists who resort to the likes of dreadlocks and tattoos. Stuck with inability, they resort to showmanship.
I believe that quality art eventually triumphs over all. In the long run it's art that measures cultures. My theory has many flaws, not the least being its complete failure in some environments. Nevertheless, responsibility is our greatest need and obligation — more than ever these days. Our human family needs to work to reduce fear, ignorance, hatred and prejudice. Horizons need to be cleared by enlightenment and education. Beauty and grace need to triumph. It's not just the future of art, it's the future of all of us on this blue and beautiful planet.
Best regards,
Robert
PS: "Whatever women do, they must do it twice as well as men to be thought half as good. Luckily, it's not difficult." (Charlotte Whitton, former Mayor of Ottawa)
Esoterica: I can see my inbox already lighting up with alternate points of view. Among them will be protests from female artists who feel they have a rough enough time in Western cultures. Here in Canada women only got the vote in 1917. In Australia it happened in 1902, the UK in 1928, the USA in 1920. In these countries there are now far more women artists than men. On the other hand, sales success and popular acceptance is closer to 55-45 in favour of men. Cries of "You've come a long way, baby" are still not enough to generate satisfaction all around. In art and in civilization, time and patience are our partners in progress.

Staying true
by Adrienne Stone, Cookeville, TN, USA

I was in a gallery in Alabama where the owner/artist said he thought it would be to my advantage to sign my name with a first initial only so it would not be apparent that a female had done the painting. It was a suggestion I did not take.

Finding success against the grain
by Taurus Burns, Beverly Hills, MI, USA

I am a tattooed, dreadlocked artist who has experienced a relatively steady stream of success and accomplishment over the years due largely to the fact that I am an extremely talented, creative artist. While I can understand your point that being dreadlocked and tattooed can be somewhat of a hindrance in this culture, the point should be made with the understanding that in our American, largely conservative, still white-male-centric society, dreads and tattoos are still taboo, yet they are not in themselves problematic. I imagine that, like mine, her dreads and tattoos are her own personal rebellion against a conservative, oppressive system. It's not her that needs to change, but her culture's prejudiced attitudes.

Blurred identity
by Anonymous

I have a friend who feels she became successful only after she stopped using her first name and started using only her initials. The galleries that represent her are quite vague in their 'blurbs' as to her gender, everyone just assuming she is a man. This has led to some rather humorous situations during receptions. Most men seem fine with it once they get over the shock that, yes, women are fully capable of painting images that are as 'strong' as those done by men. The women, of course, are delighted.

Profitable anomaly
by Linda Blondheim, Gainesville, FL, USA

This is absolutely true in my opinion. Women artists are still considered to be second class in the international world of art. Strangely though, in my town the most successful landscape painters are almost all women. It is interesting. We have a little piece of the landscape market here in north Florida. I have no explanation for this anomaly, but I am glad to be a part of it.

Global change begins with the individual
by Tiit Raid, Fall Creek, Wisconsin, USA

It is interesting to read the comments of Achola Rosario Odido regarding the status of women and women artists in Uganda. Generally speaking, it was not that long ago that female artists in the USA and Canada have been given a more equal status with men. But, there is a ways to go yet. And in developing countries like Uganda the road to equality is much, much longer. Old customs, like old habits, are hard to break.
It seems to me, the only way that we can make progress in changing centuries-old traditions and customs is to realize that they are our inventions. I'm not sure how to bring this about on a massive scale, but I sense that it starts with the individual. And here I rely on one of my best teachers, Jiddu Krishnamurti… "Look what is happening in the world — we are being conditioned by society, by the culture we live in, and that culture is the product of man — there is nothing holy, or divine, or eternal about culture." And, "If we want to change existing conditions, we must first transform ourselves, which means that we must become aware of our own actions, thoughts and feelings in everyday life."

Judging the art, not the artist
by Karl Leitzel, Spring Mills, PA, USA

I have had numerous female artists here in the U.S. tell me that they still have a harder time being accepted as serious artists. Some intentionally sign their work and market themselves in a way that makes it less readily apparent that they are women. I think part of the problem is in subconscious cultural expectations that we all fall victim to in some degree. When we tour a major museum and look at the Rembrandt's, Monet's, Picasso's, etc. on the walls, and virtually all the celebrated artists of old are male, it's easy to subconsciously expect museum-worthy (ie. serious) artists to be male. As you said, these patterns may take several generations to shift. We as artists, especially as artists' organizations and networks, need to be diligent in not feeding that pattern. I do not believe in quota systems to force social change (inherently unfair and can create a backlash of resentment), but we need to make sure that we truly judge the quality of art and artists without prejudice to gender, race, cultural point-of-view, or anything else, but rather on artistic vision and execution. That can be a tall order but, as in many things, we need to help lead the way in this cultural shift.

The marketing of Warhol
by Tracey MacDougall, North Gower, ON, Canada

You've touched on several items that I have strong opinions about. When you say that artists who lack the talent or quality rely on showmanship and things like that, it brings me to the subject of good or bad art. Who determines what is good, acceptable artwork? How can we define that? We can't really. If it is original who can say it is wrong or bad? Everyone is entitled to their opinion. Many critics hate and hated Warhol. They say he really was just another commercial artist. Much of his now famous work was not even actually created by his own hands. But, supposedly, they were his ideas. He was brilliant at marketing himself. He definitely was guilty of showmanship, it seemed. Or maybe he was just being Andy and not even trying to get attention. But, it certainly worked.

Acceptance is irrelevant to art-making
by Carole Ann Borges, Knoxville, TN, USA

While your personal perspective may help this woman artist become accepted, I might suggest that "acceptance" is only one part of art. If acceptance eliminates personal satisfaction and personal choice, then what results can't help but be a fraud. Fraudulent art, (art created mainly for acceptance) is everywhere, but does it move anyone? Does it uphold the responsibility I would hope all artists have to forge ahead into new territories or express individuality?
I think we all have different goals. We can work in a way that comes from a deep urge within or we can work in a way that allows us to get shown in a gallery or published in a high-quality magazine. We might also work to gain the respect of peers we see as masters. Knowing what our own goals are helps us point in the right direction. Perhaps this woman is most interested in expression? Because in spite of her frustration at not being accepted by her conservative culture she has persisted in painting what seems relevant to her. Not every artist has acceptance as a main goal.

Charitable works promote equality
by Patricia Peterson, New York, NY, USA

I believe that artists, as they become ever more accomplished, need to partner with charities supporting education of girls worldwide within their cultures — in other words provide education that acknowledges their cultural heritage and contributes to it.
Artists should find it in their hearts and minds to partner their creativity with charitable and other concerns promoting the education, well-being and peace of mind of every girl. It would foster their ability to provide richly for their children and the culture into which they are raised. And we knit a world less likely to starve the potential of more than half the population commonly treated like a minority.

Only part of the whole
by Cigal, Switzerland

Act and think primarily as human being: your gender is only limited as for the physical reproduction of mankind, it should never interfere with the 'higher motives' of humanity! Contribution, and active contact to societies and each of its members, confronts people with the possibilities to over-think prejudices, drop their fears and to broaden their minds. Naturally this involves much effort and human engagement at no cost at all, but it is personally very rewarding and it constitutes a 'higher' global goal. When I am personally confronted with non-acceptance, it really is a personal chance to over-think, to revise and to get very small and humble. This is (for me…) the best base for a constructive and creative new start. This is of course no recipe for getting rich and famous, but maybe a recipe on how to improve the world by tiny steps?

Don't change yourself, change your approach
by E. Melinda Morrison, Denver, CO, USA

In many cases, men can get higher prices for their work than a woman artist of equal talent. Many of my mentors, successful male and female artists, agree that discrepancies of success between male artists and their female counterparts still exist. The art world still holds to very traditional ways of doing business and is slow to change in their perceptions in this 21st century. So, as women, we need to continue to support each other in this journey and to say it is possible to achieve our goals despite what obstacles we have to overcome. The good news is, with the trend of more women artists entering the art arena, there are also more women gallery directors on the scene as well. Many of my gallery directors, with the exception of a couple, are women and have been huge supporters in my success.
Although I agree with you that personal presentation can influence gallery staff and, to be successful, it helps to understand how to approach a gallery with professionalism, the quality of art an artist brings to the table has the greatest influence of all. A unique, great talent observed in a body of work that might have been painted by a dreadlocked, tattoo-laden artist still has a greater chance of representation versus a body of work that speaks of mediocrity painted by a "professionally, conservatively-dressed" artist. So, if personal presentation becomes an issue, I would advise someone to use the Internet and email to overcome objections that might happen in a personal face-to-face situation. The benefit of the Internet's tools is that the focus is squarely put on the art.

Breaking through the glass ceiling
by Sharon Cory, Winnipeg, MB, Canada

I'd like to pass along something written by the Guerilla Girls:
"The Advantages of Being a Woman Artist
Working without the prospect of success…
Not having to be in shows with men…
Having an escape from the Art World in your 4 free-lance jobs…
Knowing your career might pick up after you're eighty…
Being reassured that whatever kind of Art you make, it will always be labeled feminine…
Not being stuck in a tenured teaching position…
Seeing your ideas live on in the work of others…
Having the opportunity to choose between career and motherhood…
Having more time to work when your mate dumps you for someone younger…
Being included in revised versions of Art History…
Not having to undergo the embarrassment of being called a genius."
There's still a glass ceiling, even in the Art World, but of course some women have broken through and become more than tokens. It's the younger generation of women, like your daughter, who are redefining what it means to be a female artist and achieving success on their own terms and within their lifetimes.

Evaluating the culture barrier
by Lynn Connel, Toronto, ON, Canada

I have just returned from 4 months teaching Art Workshops and participating in local HIV/AIDS and Home Care workshops in Zimbabwe, Tanzania and Kenya. While I encountered much poverty, illness and despair in almost every person and family I worked with, I also experienced a love and exuberance of each other, of community, of life itself… a joy and resilience and strength seldom seen here in our culture.
I was a little dismayed by your suggestion to her that her dreads and tattoos might not be appropriate for her as an artist, (woman or not) presenting herself within her community. We have no right whatsoever to impose our Western views upon people in other countries. We do not understand them, their culture, or the reasons they do what they do. It reminds me on a small scale of what the USA has tried to do in Iraq, in Afghanistan. It does not work. We need to support artists in other cultures; empathize with them and their situation.

Women-only exhibits
by B.J. Adams, Washington, DC, USA

Your letter brought to mind two exhibits here in Washington at the National Museum of Women in the Arts. The current exhibit is titled Italian Women Artists from Renaissance to Baroque. This show has much written about these great painters and why some were never as famous as the men, while many of their paintings were just not shown… many reasons and explanations that I found fascinating. Some became the main supporters for their families or convents.
Last year this same museum had the work of current Aboriginal women painters with descriptions of these women (along with their beautiful artwork) and the fact that they had, since the 1960s become the bread winners of their families… earning more than the men. Maybe these two rare shows are of interest (to me) as these women are of different eras and locations. We can only hope to see more exhibits like these.

Discrimination rooted in ignorance
by Shawn Hardy, Holt, MI, USA

Doesn't this just rehash the age-old question, "What is art?" Groups of artists all over the world have been discriminated against since the beginning of time. Women artists have been discriminated against throughout history — it's why many women authors took male pen names. But it's not just women who were the brunt of jokes, or who were ridiculed for not following the norm. Many famous male artists took a proverbial thunk-on-the-head and caused uproars amongst cultural prudes. James McNeill Whistler, for one — one critic accused him of "flinging a pot of paint in the public's face." What about Marcel Duchamp and his "Fountain?" In 1917 people must have been outraged at the site of a urinal passing as art. What about all the wonderful artists whose work was seized by Josef Goebbels' Reichskulturkammer after Hitler's rise to power, and later exhibited as The Entartete Kunst exhibit, or Degenerate Art Exhibit? There has been much reaction against many kinds of art by men and women — even now, we all have individual ideas of what is good art and what is bad art. It boils down to personal opinion, but there is always going to be a societal norm. In some countries that norm will just be less accommodating to daring artists.
So what is "quality" art? What defines a piece of art as being better than the next person's piece of art? I read the words of Achola Rosario Odido and because I don't know much about her culture, I can't judge anything. But I can say, with a fair amount of certainty, the curse of discrimination will never be broken — anywhere. Discrimination is brought about by ignorance and unfortunately, ignorance will rear its head until the end of time.
Archived Comments
Enjoy the past comments below for Breaking the curse…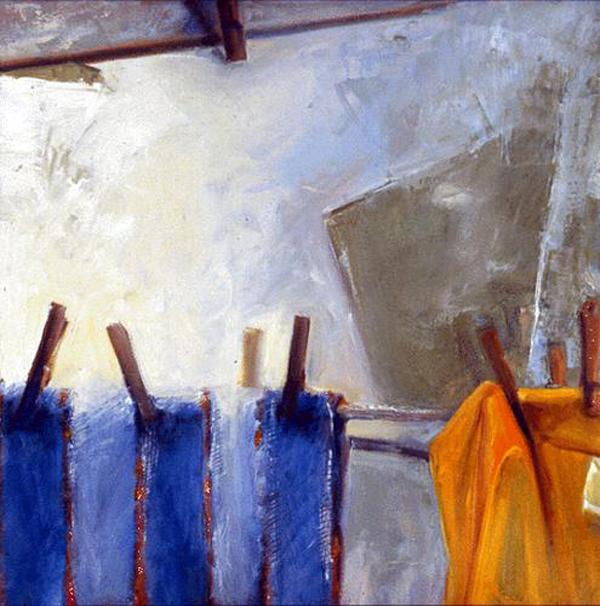 Laundry Day
oil painting
by Aleta Gudelski, Durham, Connecticut, USA
You may be interested to know that artists from every state in the USA, every province in Canada, and at least 115 countries worldwide have visited these pages since January 1, 2013.
That includes Paol Serret of Australia who wrote, "It is a shame that we humans are so stuck in our own prejudice and ignorance."
And also Moncy Barbour of Lynchburg, VA, USA who wrote, "When the beauty of the internal and external woman can be transformed into making art, we male artists have not a chance."
And also Kate Landishaw of the USA who wrote, "I believe Martin Luther King Jr. called that 'the bitter pill of gradualism.'"
And also Jenny Phillips of New Zealand who wrote, "For your interest, women in my country, New Zealand, achieved the right to vote in 1893."
And also Gerri Bradford of Colorado who wrote, "Showmanship is part of marketing oneself, I would think. Artistic ability should have nothing to do with appearance. The only person Achola needs to be twice as good as is herself, striving to produce quality art to the very best of her ability."
And also Lynda M. Kelly who wrote, "You certainly have the gift of the gab as well as a brilliant way with that brush."
And also Lara Huntsman who wrote, "I do like tattoos but yes… artists should be understated. Inability and showmanship are linked. It's compensation."
And also Jane Champagne of Southampton, ON, Canada who wrote, "In Quebec, women didn't have the right to vote until 1940. Interesting, eh?"
And also Sara Jean Gray who wrote, "What do you do when another artist admires your work and wants to trade pieces with you, but you don't want a piece of their work?"
And also Doris Osbahr who wrote, "I noticed many mature women (either divorced or widowed) restarting their lives as artists, usually too late to really make a difference in the art world."
And also Sharon Cory of Winnipeg, MB, Canada who wrote, "Do you think you would be held in such reverence if your name was Roberta Genn?"
And also Euleta Palser of Boulder, CO, USA who wrote, "That would be like me telling you that I really don't like the gray hair and beards and if you would be "more understated" perhaps your work would be better accepted. I think the weaker artists resort to beards and gray hair."
And also Sherry Purvis of Kennesaw, GA, USA who wrote, "As a female artist, I understand the need for tattoos and dreadlocks. Men traditionally can paint flowers and fru fru, but if women go this direction they are looked upon as hobbyist and not real painters."
And also Judie Burge of CA, USA who wrote, "I don't feel a gender gap for artists in the United States."
No Featured Workshop
No Featured Workshop