Dear Artist,
Brooklyn-based designer Ryder Carroll prescribes a generic, blank notebook to organize productivity in a system he calls, "Bullet Journal." Believing that pen and paper are mightier than an app, Bullet Journal's simplicity and artfulness has beguiled some techies and planner junkies. A YouTube video explaining just how to do it has clocked over a million views.
The basic gist of Carroll's system is to jot down your ideas and tasks, date and index them by hand, check things off and asterisk the really meaningful stuff. You're thinking, "Sounds a bit like my sketchbook" — yes, and yours can come in multiples, dotted around home and studio and left in the car and suitcase. Your paper books of wonder can be filled with thumbnails, doodles, black and whites, streams of consciousness, composition mock-ups, graphics, lists, tangents. Drawing is the backbone, but work orders exist. You may even be checking some stuff off in there. A meandering joy ride of effort, private failings, dead ends and perfect conditions, "Sketch Book" makes active the art of looking, feeling, planning and developing. Quotes, a note from an exhibition, tough love, a reading list or a personal memo transforms your "bullet" from taskmaster into the poetic embodiment of a creative process.
Museum man, birdwatcher, ferry passenger, schoolyard kid — sketchbookers can be identified by their regular sacrament-taking. Most devotees simply steal time to draw and dream from within life's pauses. By drifting through blissfully rudderless days of looking around, or catching a bullet of time, you can fill up a swimming pool with summer sketchbooks.
Sincerely,
Sara
PS: "Plan your work and work your plan." (Vince Lombardi)
"Between the idea and the reality, between the motion and the act, falls the shadow." (T. S. Eliot)
Esoterica: Leaking one's inclinations early on in life can keep the sketchbooks coming in the form of gifts of encouragement. I've noticed very young people unabashedly filling them with intercontinental hybrid animals, futuristic cities or wildly subjective self-portraits. Long-abandoned sketchbooks can find a new guardian, too. My grandfather once gave me the set that belonged to my Great Aunt, a reluctant Victorian lady who dreamt and dabbled in the bold strokes of the Expressionists. When I thumbed her pages I recognized her secrets: box canyons, ambition, fear, location-triggered lightning bolts, wonder, wandering, perfect accidents and tactical limitations. When Auntie's drawings abruptly gave way to empty pages, I accepted her silence.
If you find these letters beneficial, please share and encourage your friends to subscribe. The Painter's Keys is published primarily by a team of volunteers, with a goal to reach as many creative people as possible. Thanks for your friendship. Subscribe here!
"To do the useful thing, to say the courageous thing, to contemplate the beautiful thing: that is enough for one man's life." (T. S. Eliot)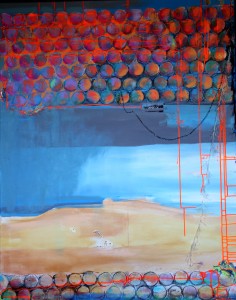 Hurricane
Featured Artist
I'm a contemporary painter who loves to travel the world over finding pictures to paint, and capture on photo…check out my website and travel with me on my blog "The Traveling Artist Blog."  http://www.meljosieart.com