Dear Artist,
The activities of most plants and animals are timed to the cycle of day and night. These natural rhythms are called circadian rhythms. The most obvious example is the sleep cycle. As well, many plants and animals are sensitive to other time cycles. "Phototropic" sunflowers, for example, turn their faces to follow the sun's path. Others make their moves in guaranteed light. Some sea animals time their activities to changing tides. These creatures seem to know such times even when away from their home waters. Yep, if you put clams into your kitchen sink, they will try to feed when the tide is rising down there in the bay.
While I'm a believer in self-management — no matter what the time or tide — I've always been interested in the ways that natural rhythms might affect the production of art. For many artists the art-clock has little to do with Standard Time. Artists, as they say, tend to work when the spirit moves. While there are prerequisites for creative flow — clear conscience, bills paid, etc, it also seems that there are times when the good stuff simply happens easier than at other times. There's definitely a rising tide in creativity — you can feel it. At other times there just ain't no fish. It may be the moon, but I doubt it. It's more likely atavistic, (programmed into the DNA, like the clams) or something to do with morphic fields. Habit must be a factor. I'm going to stick my neck out and say that highly-evolved artists are more likely to be aware of these natural rhythms, and are more often in a position to act on them.
In my opinion, just being there in the studio has a great deal to do with it. I know of no seasoned artist who has not been in a state of perfect lazy indolence, when suddenly, inexplicably, a tool is grabbed and work gets underway. This miracle can happen at 2 a.m.
Some of my interest in this phenomenon has come about in my coaching of a particular type of artist. These are people, generally in mid-life, who have previously worked in a clock-regulated environment. When they parachute into independent art they sometimes fail to understand the self-sensitive nature of creative time. They may be stuck on the office clock. For these folks workmanlike habits and steady production are valuable legacies, but tapping into their natural tides does not come as easily.
Best regards,
Robert
PS: "There is a tide in the affairs of men, which, taken at the flood, leads on to fortune." (William Shakespeare)
Esoterica: Circadian rhythms can be glimpsed and employed with a little planning. On entering the studio — even several times a day — take a seated or lotus pause (do not pace back and forth) and take a few minutes with the question: "What do I want to do now?" Dreams, projects and obligations will float before your eyes. You are tuning in, prioritizing — you may be listening to the "music of the spheres." After a few minutes you will stand a better chance of extracting your higher capability, or at least what is best for you right now.
This letter was originally published as "Circadian rhythms in art" on May 4, 2004.
The Letters: Vol. 1 and 2, narrated by Dave Genn, are now available for download on Amazon, here. Proceeds of sales contribute to the production of The Painter's Keys.
"Action and reaction, ebb and flow, trial and error, change — this is the rhythm of living. Out of our over-confidence, fear; out of our fear, clearer vision, fresh hope. And out of hope, progress." (Bruce Barton)
Featured Workshop
September 7, 2018 to September 29, 2018
Join us and our talented art instructors as we explore and paint in magnificent Tuscany, with it's quaint hilltop villages, cobblestone streets and traditional farmhouses showcasing glorious olive groves and expansive vineyards.
Our painting workshops , Plein Air and Creative Exploration, are suitable for beginners as well as those who want to improve on existing skills. Our experienced tutors and beautiful setting will provide all the inspiration and support you need. Our villa is strategically located between Rome and Florence, with 8 bedrooms, we aim to keep our groups small.
For more information visit here. http://www.artjunctions.com/workshops-2018/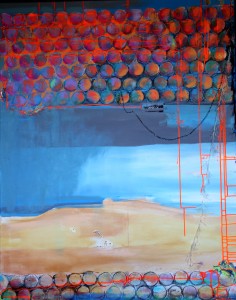 Hurricane
Featured Artist
I'm a contemporary painter who loves to travel the world over finding pictures to paint, and capture on photo…check out my website and travel with me on my blog "The Traveling Artist Blog."  http://www.meljosieart.com