(1) Working on a pinkish ground I'm putting in a pattern of snow.  I've painted the Ramparts in the Tonquin Range (near Jasper, Alberta) several times so I know pretty well what they look like.  Accuracy is not too important.

(2) Here I'm laying on a transparent glaze of Phthalo blue which will have the effect of neutralizing the pink priming and  also make the shadow areas for the snow.  After the roller lays on the glaze it is smoothed out with a clean rag.

(3) Here I've worked up a foreground and I'm thinking what to do next.  There are so many things to get on with at this stage that it's easy to get ahead of yourself and not proceed in an optimum and efficient order.

(4) So I've got a start on the light and shade area of the snow.  I'm sacrificing a bit of form in favor of developing a pattern.  Yet I want the light and shadow to be truthful and to make a focus for the work.

(5) With night coming on I switch to the window.  This permits more standing back and easier raising and lowering. I've started to establish the bluish character of the mountain and repainted the sky with some suggested activity.

(6) I've actually spent quite a bit of time with this foreground, more or less building the forms and working out the patterns.  As a general rule I find it useful to work out the foreground fairly carefully.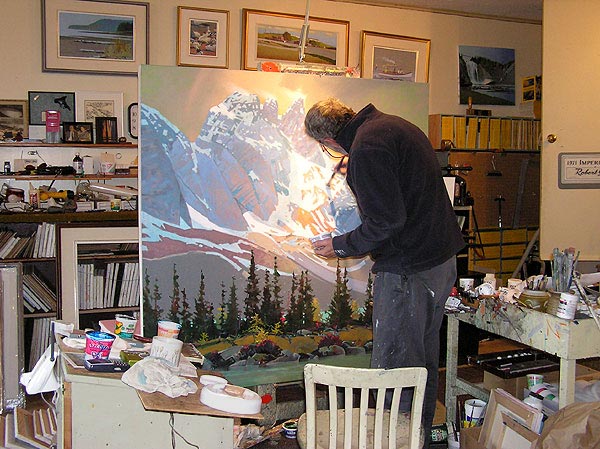 (7) Back on the easel in the morning I'm scumbling white and orange over the top of other mountain colours.  This has the effect of integrating the colours.  I've further laid in an effect in the sky but I know this will be trouble.

(8) Some colours are premixed in yogurt cups.  That way you can go here and there, stop and go on with something else, and then come back in the full knowledge that colours will match.  Acrylic is perfect for this.

(9) Here I'm toning down a jumpy foreground with a glaze of blue and black.  That's Dorothy.  She's Sara's Airedale who has been my support since Emily passed away.  It's early morning and it's still dark out.

(10) The painting is a bit amorphous and wandering so I'm using a straightedge to find lineups that will strengthen the composition.  I'm picking out major design features and picking them up in other places.

(11) The lake that peeks through here and there is actually a device that attempts to give my somewhat linear composition a bit of depth.  Here, I'm overtopping the turquoise to more truly reflect the condition in the sky.

(12) Yep, that's masking tape. I'm using it as a guide to put a little zip and gradation in the water. The space between the tapes will be painted in. The result will be a bit too hard-edged.

(13) Ramparts, Acrylic on Canvas, 60 x 60 inches. A layered buildup of elements and textures, it's really an exercise in trying to defeat the squareness of the format. Right or wrong, rhythms and patterns have, by and large, taken precedence over form.
No Featured Workshop
No Featured Workshop