Dear Artist,
As part of the visitor's tour of the U.S. Capitol building in Washington, D.C., you can look at the recently restored, nearly 200-year-old Capitol Rotunda — a massive, domed, circular room that marks the geographic center of the city and where eminent citizens lie in state and important works of art are dedicated. Constantino Brumidi's The Apotheosis of Washington is painted 180 feet up on the 4,664 square-foot rotunda canopy. The neoclassical fresco shows George Washington majestically ascending to a godly rank, surrounded by Liberty, Victory/Fame, 13 maidens representing the original states and six groups of figures embodying the arts and sciences. Brumidi's $40,000 commission came at the end of the Civil War and took eleven months to complete. For a country still smoldering with devastation, the Capitol Rotunda with its artistic depictions of greatness emerged as an act of hope and permanence. The style of the Rotunda itself was intended to recall the Pantheon of ancient Rome.
Just above eye level, the Rotunda's curved, sandstone walls are divided into eight niches framing large historical paintings showing the landing of Columbus, discovery of the Mississippi, embarkations, declarations and surrenders. The heart-striker is John Gadsby Chapman's Baptism of Pocahontas. It shows the teenaged daughter of Algonkian Chief Powhatan after being captured and held for ransom in 1613 — she is being baptized and given the name Rebecca in an Anglican Church at Jamestown, Virginia. When Chapman painted it in 1839, Baptism celebrated the earliest native conversion to Christianity, with the ceremony and subsequent marriage to tobacco farmer John Rolfe helping to establish peace between the colonists and the Tidewater tribes. Four years after her baptism, Pocahontas would fall ill and die en route from England to Virginia with her husband after a tour of English society to help inspire investment in the settlement at Jamestown. She was twenty.
Sincerely,
Sara
PS: "Aurora borealis
The icy sky at night
Paddles cut the water
In a long and hurried flight
From the white man
to the fields of green
And the homeland
We've never seen." (Neil Young, Pocahontas)
"One does not sell the land people walk on." (Crazy Horse, Oglala Lakota Tribe)
Esoterica: On April 1, 2016, LaDonna Brave Bull Allard, an elder member of the Sioux Standing Rock Tribe, along with her grandchildren, established on her own private land a Sacred Stone Camp to protest the Dakota Access Pipeline, a 1,172 mile-long underground pipeline to carry over 450,000 barrels per day of hydrofracked crude oil from North Dakota, through South Dakota and Iowa to an oil tank farm near Patoka, Illinois. The pipeline, which runs through state parks, public lakes, gravesites, agricultural land, flood land, sovereign land and beneath the Missouri River, threatens the largest watershed in North America and the ten U.S states and two Canadian provinces that depend on it. It also endangers the only water supply of the Standing Rock Reservation and disturbs burial, ceremonial and buried artifact sites there. Allard's Sacred Stone Camp is a center for spiritual resistance and has drawn thousands of indigenous people and their allies from across North America — the largest gathering of Native Tribes in the last 100 years.
"The Red Nation shall rise again and it shall be a blessing for a sick world; a world filled with broken promises, selfishness and separations; a world longing for light again.
"I see a time of Seven Generations when all the colors of mankind will gather under the Sacred Tree of Life and the whole Earth will become one circle again. In that day, there will be those among the Lakota who will carry knowledge and understanding of unity among all living things and the young white ones will come to those of my people and ask for this wisdom.
"I salute the light within your eyes where the whole Universe dwells. For when you are at that center within you and I am that place within me, we shall be one." (Crazy Horse, Oglala Lakota Sioux, circa 1840- Sept 5, 1877, four days before being fatally wounded by a bayonet-wielding military guard while resisting capture and imprisonment at Camp Robinson, Nebraska and four months after surrendering to U.S. troops under General George Crook in May 1877.) "His ferocity of spirit remains a guiding light for all who seek lives of defiance." (Chris Hedges)
Did you know you can sign up to be a Premium Artist for $200 a year? Many artists have found this beneficial. Sign up here.
"I think you learn about pictures in yourself… being true to things that you personally respond to… this is the only way you find your original voice, by following your own instinct." (Edward Burtynsky)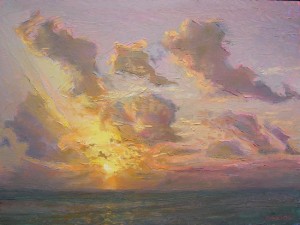 Shining Through
oil 12 x 16 inches
Featured Artist
Capturing the beauty of nature and expressing those impressions in oil paint is a joy. Every hour of the day presents new possibilities and keeps even the same landscape location, same composition, an ongoing and beckoning challenge. For this reason, I love painting series: it is exploration made visual.