Dear Artist, Several artists have written to suggest that the massive growth of digital photography might be de-popularizing fine art. While reports of the decline of painting are suspect, protestors have a point. "Digital photography," said one writer, "is using up everyone's creative energy." The stats are impressive. Last year, one billion mobile phones with cameras were sold around the world. One third of the world's population now owns a digital camera. Facebook alone reports 300 million uploaded photos per day. The recent Queen's Diamond Jubilee resulted in the production of more than 1.3 billion photos. Fact is, people are snapping at unprecedented rates and not taking much time to look and see. "The medium has eclipsed the moment," says journalist
Erin Anderssen
. Unlike the scrapbooks of old, the tsunami of imagery remains, for the most part, ephemeral. Its commonality contrasts with the relative scarcity of paintings. Paintings are handmade. Unlike the old Kodak ad, "You press the button, we do the rest," paintings take hours or even days of contemplation and hard-won private process. The art of painting can be an "event" that is felt by the viewer. Paintings are distinguished by texture. Texture is a mark of integrity and passion that the digital world has not yet mastered. Fine artists abandon texture at their peril. Paintings are tangible. They don't float in clouds. Paintings have pride of place in prestigious museums and noble homes. Framed for strategic walls and inner sanctums, paintings become the love-objects of our lives. Paintings, like bars of gold, are assets of investment and hoarding; a treasury that may span generations. "Artists," noted Salvador Dali, "are manufacturers of wealth." Unlike the grinning and contrived poses snapped at barbeques, or the mug-shot of an uncle whose schnoz is memorable but whose name you've forgotten, paintings are true connections with a singular and real person. That person is you. When people collect art, they also collect the maker. Best regards, Robert PS: "The irony is that having a photo doesn't mean you're going to remember. It only feels like you have a vast repository of memories. A number of photos prompt a certain kind of forgetting." (Martin Hand, sociologist, Queen's University, Kingston, Ontario, Canada — author of
Ubiquitous Photography
) Esoterica: Paintings can convey the slowing down, the trance and miracle of human life. Collectors love this understanding. As a perpetrator of both the reality and the illusion, it's lovely for you too. Recently, one of my staunchest collectors had me to his home as a guest, along with many others. While admiring the human scenery, controlling my desire to distantly snap digitals of some of the more rococo faces, I overheard our host confide to another guest, "I've actually got the best work he ever did. He did this one while freezing in a tent at ten thousand feet." While the guy was mildly wrong on both counts, I couldn't help being impressed with the brilliance of our profession.
Power vs. Force
by Barbara Lammi, Chilliwack, BC, Canada
Power vs. Force
 by Dr David Hawkins shows how to use it to determine the energy of an object. Naturopaths and other alternative healers use it for food sensitivity testing and much more. According to a program called "Genesis" it has a 95% success rate in testing for appropriate foods. People also test strong in the presence of handmade objects — high energy, good energy. Hawkins also says that you can show a picture of Hitler to someone who has no knowledge of him and they will test weak, a print of a painting tests weak compared to an original etc. They have a website that goes into depth about the different ways to use it.
There are 4 comments for
Power vs. Force
by Barbara Lammi
File problems with digital images
by James Stewart, Sarasota, FL, USA Whether the flood of digital clicking will have future revisiting by the clicker, after the online postings of course, will depend on our ability to file and rediscover our pictures in a few years. As a painter and graphic designer I go back through my old, some very old, envelopes of processed prints and pull images as pictorial references for a painting or family images to be made into birthday cards or the like. After six years of storing only digital files I struggle with my filing system when I want a shot of a particular person. The yearly boxes of prints yield more fruitful searches, even with face recognition software. I think I was thriftier when I had to pay for each print. But I'm still hopeful.
There are 2 comments for
File problems with digital images
by James Stewart
Sketches vs. camera shots
by Sandra Chantry, Loughborough, UK When I retired ten years ago I decided to a) travel the World and b) learn to paint. Since then I've done a fair bit of travelling and am still learning to paint. I have carried my sketchbook wherever I've gone and now have several that record my travels. I only have to look at my sketches to recall not only the place, but all that I experienced there… the weather, the people I met, the wonders of new food experiences and a whole host more. Last year I bought a camera and began using it to record everyday experiences on my daily walk and the changing seasons, but it's a very different experience to sketching. It's an accurate reminder of what I've seen, but that's it. The creative energy of it is, for me, the planning and recording of the countryside that one day will be made into some sort of 'film.' So far it doesn't compare with my rough sketches that record something of the life I've experienced.
Painter's don't charge enough
by J. Arthur Davis, Hummelstown, PA, USA I have been a professional photographer for almost 50 years and have been through the film and now the digital world. Currently I work with a lot of artists helping them to reproduce their work to sell in galleries and art shows. As you mentioned in your current article about the time it takes for a painter to produce a piece, why is it that the majority of artists are afraid to charge what their time is worth for that piece of original art? I scanned a piece today for a very accomplished artist for a show she was entering. I know she has put in at least 90 hours and maybe more on the piece. She put a value of $1000.00 on the piece. That's just over $11.00 an hour. She could go flip burgers for that kind of money. I work hard at trying to encourage my artists to get their work out into the market, at prices that will make them a reasonable living. It's difficult. They just don't feel anyone is buying art, much less their art. Is there an answer? (RG note) Thanks, Arthur. Supply and demand seeks lower prices when times are tough. Poor quality work cannot be sold at any time without major ballyhoo. I advise painters to try to build quality during quiet markets so that a deserved harvest can happen when times are good.
There are 4 comments for
Painter's don't charge enough
by J. Arthur Davis
Photos in art shows
by Laura Reed, Sarasota, FL, USA I would like to know what you think about digital photography competing with paintings in juried art exhibits. How can photography be compared to painting or other fine art? Our local and prestigious art center encourages all artists, including photographers, to enter the competitions. And the photographers, many protesting their work is
not
digitally enhanced, are winning the awards. It is a bitter pill… (RG note) Thanks, Laura. Digital work is, of course, a great and growing art. Many juried shows are currently relegating digital work to a separate category, just as watercolours are often separated from oils, etc. The tradition has been to separate all photography and photo-based work from "hand-made" work, no matter how much hand work went into the photography. But the boundaries are blurring, and many modern curators are seeing apples and apples.
There are 4 comments for
Photos in art shows
by Laura Reed
Rationalizing in favour of paint
by Joe Faith, PA, USA A man once told me that painting could not progress any further because photography had rendered it obsolete. I've often contemplated the subject of painting vs. photography, digital and otherwise. The question is, "Why is painting still valid?" Being a painter, I have come up with these (self-serving) conclusions: — Since a painting takes much more time to create, time becomes an intrinsic part of the piece where a photo is a slice of time. — A painting is a topographical work built up from a ground. The layers hold a history of the artists' thoughts and process. — The painter constructs an image where the photographer accepts an image. — Painting is an easier way to represent how I think and what I feel. That said, both painting and photography can be used to make wonderful fine art if in the hands of a skilled artist. I had to say that as my wife is a photographer.
There are 3 comments for
Rationalizing in favour of paint
by Joe Faith
The power a painter has
by Sam Liberman, Sacramento, CA, USA I often feel that one of the purposes of painting is to stop time. Time doesn't really stop, I guess, but I stop moving through time to be at one place sometimes for a long while. I have no feeling of time going by when I am painting until I get tired and take a break. I think photographers have somewhat the same feeling when they are out somewhere taking hundreds of shots, waiting for the light to be perfect, trying for the perfect angle. I prefer painting, because we painters don't have to wait. We can make the light, the angles, the colors, the shapes, the subject to be exactly what we want it to be without waiting for the earth to move. I try to put enough things in a painting so that I will not see them all at one viewing. I think I and the viewer want to take a little time apart and maybe even come back now and then to see what we missed the last time. It helps us to really open our eyes.
There are 2 comments for
The power a painter has
by Sam Liberman
In praise of digital
by Liz Ruest, WA, USA Rather than talk about the negative side of digital photography, let's talk about the positive. It's another medium. Just like painting, there are good examples and horrible ones. It's a medium that might be particularly overcrowded by amateur attempts, but it's still just a medium. It's better when informed by other outputs, by training, by practice — as with any artistic endeavor. It's the medium I'm trying to find a voice in. It takes me lots of tries, lots of layers, lots of adjustments, to get an image that I'm truly happy with, just like painting. It's handmade: I don't buy or borrow images. It's got as much texture as I can portray. It's tangible when printed. (And it has lots of great options for becoming tangible: metal, bamboo, glass.) And I'm tired of it not being called art!
There are 2 comments for
In praise of digital
by Liz Ruest
Making digital tangible
by Bruce Meisterman, Memphis, TN, US]A As a photographer, I initially resisted digital. I suppose I could have been considered a dinosaur, a purist. If an image isn't committed to a medium (canvas, paper, cloth), then it is exactly what you say, ephemeral and intangible, nothing more than organized impulses waiting to be seen. Sadly, as you've written, that is what happens to most photographs these days. In the past, film was developed and made into small prints or contact sheets. They were the first steps of being fully realized. Now that realization is on a computer screen, more often than not, they will only been seen once before being relegated to a file. I made the switch to digital completely in late 2010, tearing down my darkroom. Those wonderful days of hours spent in a dubiously-safe environment are gone, replaced by hours in front of a screen. But, I make sure my images get fully realized by printing them and making them tangible, dinosaur that I am.
There are 2 comments for
Making digital tangible
by Bruce Meisterman
Digitalizing watercolours
by Andree Kuhne, Kingston, ON, Canada I use digital photography for my watercolor paintings. I scan my painting and reprint it either black and white, color or on 4 x 6 inch photo paper. This process gives you the advantage of looking at my work in a different way, in a smaller or larger version, with more or less color hue, with contrast lighting, when flipped vertically and I can also let the software render a quick fix to my painting. I gain lots of input this way. I think of it as someone else looking at my work and giving me ideas of the changes which would be helpful. Because I repeat this function a number of times along the way, I save all the computer printouts each time and attach it to the final copy. The practical side of me needs to know where I am in this project. After I have the current digital photo of my work, I often put it aside for a day or two. When I come back, I know exactly where I was when I left off.
The human imperative
by Ralph Milton, Kelowna, BC, Canada The explosion of photography concerns serious photographers perhaps more so than it does painters, because we have an even harder time explaining the fundamental difference between a cell-phone snap and a work you've been struggling with for a week. I have a number of friends who cannot understand why I spend several thousand dollars on equipment when the pictures they take on a 25 dollar camera is "just as good." Because a snapshot of a two year old covered in chocolate is, indeed, just as good. Along with some of my photographer friends, I distinguish between a snapshot and a photograph, even though that distinction is lost on most of my family and friends. I tell them I often doodle while listening to a speaker, but that doodling is far from art, even though sometimes it does show some artistic elements. I entered the world of photography when I retired (well, not totally) from my life as a writer. Most people have no idea that a writer's art is very hard, intensive and exacting work, just as most people have no idea what goes into a fine painting or sculpture or photograph. On one occasion, I had a conversation with a surgeon who told me he planned to do some writing when he retired. What I didn't have the wit to say then, was that I planned to do some surgery, just for the fun of it, when I retired. I don't worry too much about the proliferation of cheap cameras. I don't worry about the many people who have more money than good sense and who go and buy really high-end cameras. For most of them, the novelty soon wears off. The urge to create something of beauty or something of meaning is there for artists of whatever medium and will always arise because we are humans and are ourselves a work of art.
There are 3 comments for
The human imperative
by Ralph Milton
Before the chaos sets in
by Brad Michael Moore, Perrin, TX, USA For me, what my digital photography represents is everything you didn't mention digital photography was to everyone else. A single work I may create may also take me days to complete — sandwiching dozens of layers of photo film shots, digital paintings, and drawings, and acting out hundreds if not into a thousand keyboard actions (including the time needed for pre- and after-thoughts), all these efforts to reach one conclusion — to create a single image. It is not suppose to be, or replace, or even compete with a painting — but it's sure no snapshot either. Snapshots are for memories, and documentation of times, and places, and the occupying people there. My digital effort is an artifact, and I believe the final analysis of its value is still a determination to be made in the future. I never thought, or believed, that painting could be categorized with photography, film or digital, anymore than you can compare sculpture to weaving, lyric, prose, dance, glass, clay, or acting. Art concentrations are still what they have long represented, and painting, like other forms of art, is comparable only to other paintings. It all is part of life's other many wonders — both man-made, and the art of what nature has provided humankind to caretake. That is where value is being forever lost at incredible rates. I am glad I will not live to experience the world of my great grand niece. At some point, I fret that the value of all great things from the past will become kindling for a future human race of new Hunter/Gatherers. Gloomy, I know, but this world I live in — it seems to me like the folks who care, and try to be Wards towards the future are fighting losing battles — some against corporations, and governments, others to healthcare and world hunger, and finally, all of us shall suffer for the ignorance of those who had the power — but not the will, to have fought against Global Climate Change — instead of profiting short-term from ignoring its solutions. Let's enjoy making our art while we still live in a world of values 50 to 100 years before the inevitable chaos.
There is 1 comment for
Before the chaos sets in
by Brad Michael Moore
Archived Comments
Enjoy the past comments below for What digital photography isn't…
 Featured Workshop: Rock Gardens Inn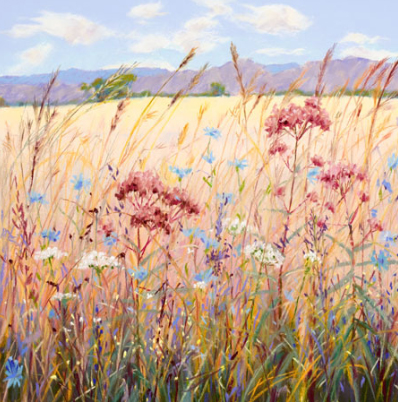 Roadside Flora

pastel painting, 16 x 16 inches by Rodrica Tilley, PA, USA

You may be interested to know that artists from every state in the USA, every province in Canada, and at least 115 countries worldwide have visited these pages since January 1, 2013. That includes Teena Robinson of Santa Fe, NM, USA, who wrote, "Painting digitally is not a lesser medium than watercolor, oil, acrylics or wax."