Dear Artist,
Yesterday, Tony Max wrote, "I have dozens of galleries handling my work. How do you prevent dealers from giving significant discounts when they sell your consigned work, thus depreciating it in the eyes of your other dealers and your trusting followers?"
Thanks, Tony. You might consider asking your discounting dealers to phone you when they're thinking of giving someone a deal. This request makes dealers aware of your ownership rights and often helps them to make sales. My limit is about 10%, and there are four main reasons I consider giving a discount:
The customer is buying more than one of my paintings.
The customer is a regular and loyal supporter of the gallery.
The customer is a registered charity or non-profit entity.
The customer is my mom.
Since the advent of the Internet, savvy customers soon find an artist's standard prices and scout the best prices across an artist's stable of dealers. Further, they quickly note dealers who offer work with the prices fudged up. This false pricing or profiteering is defended by some dealers to give them wiggle room for further discounting. It may seem like smart marketing, but the practice tends to make it more difficult for the fudging dealers to do business. Gently encourage your dealers to stick by your standard, published prices.
Many folks who collect art are hardwired for deal-making. Particularly these days, some tough customers feel both artists and dealers are vulnerable and try to get them to really sharpen their pencils. Very often these customers can be satisfied if the dealer throws in the frame or absorbs any sales taxes or shipping charges. To their credit, some dealers never budge. Good dealers manage our mutual business with integrity.
Further, quite a few cash deals are floating around these days. Folks, particularly those who receive cash in the underground economy are walking in with bundles and demanding discounts. I feel this is the dealer's business, and I don't interfere with it, but I still expect to be paid the proper amount by cheque. Genn's Law No. 1 says, "When taxes are seen to go high, buyer morality is seen to go low." Incidentally, Genn's law No. 2 says, "The more you pay your accountant, the less you pay the government." It's really a very pleasant and balanced world when you think about it.
Best regards,
Robert
PS: "I'm quite encouraged at our success and have to thank you for the good management that has produced it." (Winslow Homer to his dealer, Gustav Reichard)
Esoterica: One of my dealers recently had a customer who low-balled one of my better paintings. I suggested we take the painting off the market, and the dealer reluctantly sent it back to my studio. The customer, with all his bluff, came back to the gallery, found the painting missing from the place it had hung for several weeks, and hastily bought another and paid the full price. Two excellent things a dealer can say to a customer are, "Yes, you can have it," and "I'm sorry, it's gone."

Power game
by Norman Ridenour, Prague, Czech Republic

There are people who are only marginally interested in the art but highly concerned with the discount. It is a game of power, control and status. Many of them live in the most affluent neighborhoods.

Always have a contract
by Carol Lyons, Irvington, NY, USA

Read the latest book, The Artist-Gallery Partnership by Tad Crawford and Susan Mellon. Everything related to the business aspect of art is in it. Bottom line: have a written contract. Plus you, as the artist, may be able to add any other provisions that will clarify understanding and the gallery may accept them.

Gallery out of business
by Amy Haratani

Recently, a gallery that handled my paintings went out of business without informing me. I was able to retrieve the paintings that had not sold, but have not been paid for one that sold at Christmas. How do I get the gallery owner to pay me what he owes me? The agreement stated that he would pay me within thirty days after the sale.
(RG note) Thanks, Amy. Could be dodgy. When this has happened to me, I've tried the gallery owner's sense of good will and fair play, sometimes to no avail, particularly if there's a bankruptcy. Bankruptcy permits people to walk away from honouring obligations. At the slightest hint of trouble ahead you need to warn your similarly affected colleagues, go and get your work, get written evidence that debts will be paid, and try to be understanding of the dealer's situation.

Have we created this monster?
by Bonny Current, Wolcott, CT, USA

It's interesting that people will come into our gallery and ask if we can "do any better" on a piece, as if it is an understood practice. Have we done this to ourselves by giving the occasional 10% off or offering any sort of special "pricing" for a day? I wonder. I don't go to a doctor or any other professional and ask if they can do any better on their fee. The question comes then, have we created this monster and should we all take a stand and say no more!? Then the artist in me says — I just want to paint and I need to move my work to make room for new and buy more materials. It is a puzzle.
There are 5 comments for Have we created this monster? by Bonny Current

What to do with the leftovers?
by Marsha Hamby Savage, Smyrna, GA, USA

So, I do get the point of this letter but what do you do with all the leftovers? I mean those paintings that you think are good, the ones that have been to the galleries and did not find their owner? Or those paintings you did as demonstrations, plein air pieces or the half done work you really like that way. I am a prolific painter and accumulate many pieces that are too good to destroy. I do donate some work to charities but only a couple a year. I have given them to family and even sold them to extended family for very low prices because they are "dirt poor."
I am planning a "clean out the studio" Internet sale. I don't do this very often. Maybe I did it five years ago. Do you think this is wrong? I don't.
(RG note) Thanks, Marsha. You need to be very careful about cleaning out the studio. I'd rather get rid of them in the fireplace than sell them directly, particularly at fire-sale prices. Save the ultra personal ones for your estate or give them to appreciative friends or relatives.
There are 3 comments for What to do with the leftovers? by Marsha Hamby Savage

Sell like you don't need the money
by John Ferrie, Vancouver, BC, Canada

Unlike you, Robert, most of us don't have galleries clamouring to carry our work. Nor do we have a steady income where we can count on our income from being an artist. Sometimes a paying client is a luxury and especially when the economy tanks, it can be like an oasis in the desert. I represent myself and market and promote all of my own work. My mom happens to be my best sales man and brings me more clients than I can count. So, Mom gets better than 10% off.
First of all, you have to sell like you don't need the money. I have my art listed on my website and I present my latest paintings in a yearly exhibition. But sometimes when I look at my old inventory, I have a few simple solutions to move the work and make some cash. There is the Eastside culture crawl in Vancouver where thousands of people come through 300 open studios in Vancouver in November. I know that these people are art lovers, but most are not art buyers. For this, I lower my prices. From there I have been known to put my work on Craigslist and have even found people looking for my work there.
And finally, when my rent has been due, and I need the money, a cash sale is a welcoming thing. They say to never sell yourself short, but as an artist, you can always paint another piece. Being evicted because your rent is short is a difficult bell to un-ring. Lucky enough, my hand to mouth days are a thing of the past.
You have to stick to being an artist and paint like nobody is watching.
There are 3 comments for Sell like you don't need the money by John Ferrie

The thrill of the chase
by Brigitte Nowak, Toronto, ON, Canada

I don't have Tony Max's "dozens of galleries" though I found it interesting to visit his website to find a bold "35% off" banner on his home page! I have the good fortune of having several galleries that represent my work, and I give my dealers the discretion to discount my work up to 10% without contacting me. My feeling is that if that 10% discount is the difference between closing a sale and taking the work back to sit in my basement, I'd rather have the sale, and I should be able to trust my gallery to make the right decision for both of us. Above that 10% I'd like to be kept in the loop. That said, I have also left a gallery that sold my work at a discount on the opening night of a show!
I had an interesting conversation once, with the owner of one of my galleries. She told me that for some collectors, "the thrill of the chase" fuels their art-buying. Their acquisition is more "valuable" to them if they feel they have gotten a discounted "bargain," even if they are millionaires and their "competition" is a poor garret-dwelling artist. Outside the gallery/artist relationship, I've willingly given discounts for multiple purchases, and I happily give discounts to people who collect my work.
There are 3 comments for The thrill of the chase by Brigitte Nowak

Discount on a Monet?
by Rick Rotante, Tujunga, CA, USA

Where did this phenomenon of discounting art come from? I will need to try this method when next I go shopping to the grocery store or the clothing store. I might even try this with the Internal Revenue on my taxes this year. "Would you accept less? I seem to be a little short this year." Is this uniquely an art thing? Do we feel we are getting a bargain if the sale price is lowered? Or is art so ephemeral that its pricing is considered up for grabs? I once considered, as a joke, marking all my work as "marked down from $1,500.00 to $500.00 with a red slash through the $1,500.00 or "buy one, get one free!!" Strange how all this stops when the artist reaches a certain level of fame or notoriety. Can you imagine asking for a discount on a Monet, or Picasso?
There are 6 comments for Discount on a Monet? by Rick Rotante

Dangerous sales
by Don Sinish, Essex, MD, USA

I have struggled with the issue of multiple prices for 40 years. It is a complex and emotion laden issue. We all want to sell our art. Everyone wants to feel like they got a good deal in buying, as much as each of us wants to feel that we received a fair price in selling. My current resolve to this issue is that I do not consign any work ever. If a dealer wants work, they pay outright and the selling price is their business.
For me, wholesale prices are earned by being a wholesale customer. I recognize volume customers. To me a dealer wanting to buy one piece is a retail customer, the same as any individual. A couple wanting 5 pieces for their new home is a wholesale customer. They get a deal that we negotiate, usually buy so many, get one free. Thus the integrity of my pricing structure is preserved, and everyone gets what they want. I would love to hear discourse on the vagaries of consigning art.
(RG note) Thanks, Don. Selling outright to dealers leaves your ultimate prices in the hands of the scallywags and scissorbills. Smart artists control the final price of their work and help their dealers, and themselves, stick by them.
There is 1 comment for Dangerous sales by Don Sinish
Archived Comments
Enjoy the past comments below for Discounting your art…
 Featured Workshop: Helen DeRamus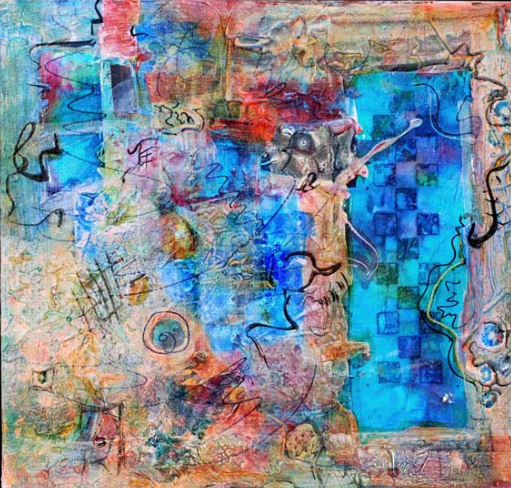 Sedona Sunrise
mixed media painting
by Pat Viles, NC, USA
You may be interested to know that artists from every state in the USA, every province in Canada, and at least 115 countries worldwide have visited these pages since January 1, 2013.
That includes Joseph Jahn of Nibe, Denmark, who wrote, "My discount for more than one painting is 10%, about the same as yours; otherwise you end up being a horse trader not a painter."
And also Thomas Tobin who wrote, "Sorry, Robert, but it's an odd concern for an artist as one usually understands an artist-gallery relationship and all that goes into creating individual pieces. There is more than the money difference that doesn't add up."
And also Jocelyn Ball who wrote, "I realize we are not talking about an artist represented by a commercial gallery, more frame and print places that just let artists hang work or prints and hope they sell. Dozens of galleries representing an artist, just makes no sense at all, it seems very odd."