Dear Artist,
Mentors come in two kinds: those who advise you about your work and those who will use their influence to advocate for you as sponsors. Like most meaningful relationships, both grow organically, one perhaps into the next, and the benefits are meant for both parties. Rather than "Get a mentor and you will excel," think, "Excel and you will get a mentor."
In Sheryl Sandberg's 2013 leadership manifesto, Lean In, she advises would-be mentees to look for solutions to specific problems rather than give vague help or hand holding. Do not, says Sandberg, seek out a mentor with the idea that you will be whisked away on a white horse to live happily ever after. Your mentor is not your rainmaker — that person is you.
For artists, progressing can be slow, and it can feel like a solo project. This lone road is crucial to discovery and skill building. But along the path, there may be someone sparked by your potential. This happens when you're talented, discovering, using time and feedback productively, and if you're both feeling it. Here are a few ideas:
What do you want to do?
What do you want to get out of a mentor?
What do you have to offer, as a mentee?
Mentors may already be in your circle — perhaps in a different age group, gender or discipline.
Study them and tailor your inquiries to capture their attention.
Before you ask, can you find the answer on your own?
Can you be specific, focused and gracious? Avoid the risk of dependency and permission granting. "Artists lead, hacks ask for a show of hands," said Michael Fassbender, while playing Steve Jobs in the movie by that name.
"A mentee who is positive and prepared can be a bright spot in a day," says Sandberg. Will you give your mentor the gift of information, fulfillment, new perspective, inspiration and pride? You need only say "Thank you" by following up with your results — so you both may flourish.
Sincerely,
Sara
PS: "I mentor when I see something and say, 'I want to see that grow.'" (Oprah Winfrey)
"All advice is autobiographical." (Author unknown)
Esoterica: You may be mentoring someone without knowing it. The best connections happen organically, with a mutual desire to grow. People unite when they share common interests but improve most when coming from differing perspectives. Whether you're mentoring or being mentored, try scheduling one hour per month to have a conversation. If you're a mentee, supplement with periodic training like a workshop, plein air excursion or an artist's talk. Growing outward and inward requires placing ourselves in the path of insight. A breakthrough is when this insight is followed by immediate and decisive action. "Asking for input is not a sign of weakness but often the first step in finding a path forward." (Sheryl Sandberg)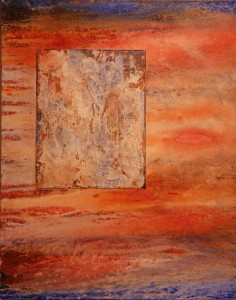 Transition
Featured Artist
Painting is my passion and joy.  My process is intuitive, though informed by good composition and design principles.  I paint what I remember, or think about, or feel, or just what comes off my hands to the brush to the canvas.  Texture and color are of primary importance to me.  I typically choose my support, texture it, select my palette, and go.  There is nothing more satisfying to me than watching paint run and move.  I love the surprises. I experiment and learn constantly.  It is a remarkable journey.  One I am pleased to share with you.