Dear Artist,
"If you can't paint, paint big," said American photorealist Audrey Flack. My dad, a student of the classical school and reducing grand themes onto 8 x 10 mahogany panels, quoted Audrey when he visited me at art school and noticed a syndrome of sizes going up and quality going down. We discussed how size could have its merits, and I reminded him that Monet's most ambitious and groundbreaking work was huge — work he didn't begin until the apex of his creative maturation when he was in his 70s and 80s. While perhaps partly a compensation for failing eyesight, Monet's mural-sized water lilies presented their own unique technical challenges and pushed him into the innovation of abstraction. When I got home that summer, a dozen amusingly large, primed canvases waited for me in the basement.
Yesterday, a studio visitor asked just how large I was planning to go. "Work expands to the space allotted," I replied, gesturing at the ceiling and the door-width of the exits. "It's getting a bit overwhelming in here," he said, and I took it as if that was a good thing. I offered that it was irresistible not to try. Blowing up paintings can advance skills and understanding and if the results are satisfactory, can radicalize the immersive visual and physical power of composition and colour work. Here are a few ideas:
If you're going big, increase the size of everything: your subject, your brushes, your paint load, your flourishes and the heft of your overall concept. Big paintings, said Dad, require grand subjects and powerful ideas.
Technically, I've noticed that everything becomes exponentially more difficult after a certain size — usually the size that's bigger than your person. A thumbnail — first, a sketch and after, a snapshot — are the bookends for good design and will guide you to problem spots.
A commitment to size, materials and time can be daunting. When failure happens, as it does for me daily, I secretly tell myself that I'm a bit like Thomas Edison and remove my staples with his zen-like mantra: "I have not failed. I've just found 10,000 ways that won't work."
Sincerely,
Sara
PS: "Nearly every man who develops an idea works at it up to the point where it looks impossible, and then gets discouraged. That's not the place to become discouraged." (Thomas Edison)
Esoterica: Size matters — for every painting. Take a photo of your current work with your smart phone and look at it, postage stamp-sized, on the screen. This tiny, perfect version of your painting can reveal compositional strengths and weaknesses, issues with value and where design can be strengthened. Every painting has an ideal size and format. If you work enough, you will begin to intuitively feel it without much deliberation. A tiny, perfect 8 x 10 panel, constructed well, can hold and captivate the world.
"It really is appallingly difficult to do something which is complete in every respect, and I think most people are content with mere approximations. Well, my dear friend, I intend to battle on, scrape off and start again." (Claude Monet)
The Letters: Vol. 1 and 2, narrated by Dave Genn, are available for download on Amazon, here. Proceeds of sales contribute to the production of The Painter's Keys.
"Growth comes from activity, not from intellectual understanding." (Maria Montessori)
Featured Workshop
August 26, 2019 to August 30, 2019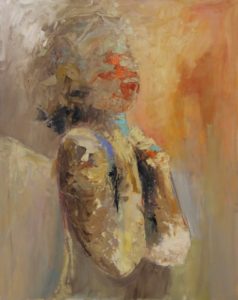 Have you ever wanted to take the essence of the figure and present it in a way that is sensual and thought provoking? When you are abstracting the figure you don't have to worry about anatomy but are more concerned about shapes, value and color.
Held at Gwen Fox's private Art Sanctuary in Taos, New Mexico.  Her 100-year-old adobe home is the perfect environment to inspire and renew your creativity.
There will be private critiques that empower, glorious breakthroughs while basking in a safe environment in which to grow as an artist.
This workshop will fill fast. Limited to 10 artists. Each artist will have their own table.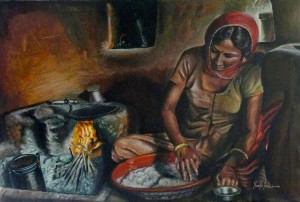 Woman preparing chappaathi
oil painting
Featured Artist
I, Ramya Sadasivam, have been practicing art since 2006. I so love to portray Indian culture, customs, day to day chores of the hard-working laborers, happy village life and life of women. I love to capture the difference in values between the shadows and bright light and also I like to capture genuine emotion.