Dear Artist,
There's a museum in San Francisco where children and adults run wild. Holding an eclectic, ever-changing variety of interactive exhibits, the Exploratorium shows visitors how to see possibilities and better understand the nature of things. This museum was founded by the noted scientist and educator Frank Oppenheimer.
Born in New York, Frank and his brother Robert worked together on the genesis of the atomic bomb. Both had their careers destroyed by the Red Scare. Frank at first took to ranching in Colorado. Later, as a professor of physics, he conceived the Exploratorium as a "museum of human awareness." He wanted to combine art and science while encouraging play, experimentation, and a sense of wonder. Its success has inspired an ongoing transformation in museums around the globe. It was Frank's answer to the atom bomb.
Frank Oppenheimer believed that artists and scientists were cut from the same cloth, destined to be the sensitive eyes and ears of mankind and the creators of human progress.
More like a Montessori kindergarten than a traditional museum, the Exploratorium lets you play with whatever turns your crank. Like the natural museum of Earth that rides within our magnificent cosmos, our studios and laboratories are microcosms with us as the central players. Freedom to move this way and that in a "messy" environment is key to understanding our world and discovering new things. Oppenheimer knew that people need to exercise their curiosity.
By contrast, the Singapore National Museum is an example of the opposite kind of museum. Visitors are required to grope through the darkened building's acreage and stand on numbered spots, listen to a short lecture through mandatory earphones and then, and only then, do the lights come up on what they want you to see. Left with little chance to follow their own interests or to take advantage of serendipitous opportunity, visitors can be seen looking for the exits so they can turn in their headsets and check out.
In studios and laboratories, artists and scientists who truly run their own scenarios find it difficult to check out. Life and art are edits, and we each need to have Director's Cut.
Best regards,
Robert
PS: "Something incredibly wonderful happens." (Frank Oppenheimer, 1912-1985)
Esoterica: While there are a few numbered spots in studio life, they are generally spots of your own choosing. Your studio is an Exploratorium. The work you produce within this free environment also becomes a series of assays, experiments and edits. Every self-educating investigation, every tool's movement gives further knowledge of what could be. "Something incredibly wonderful happens" describes those studio epiphanies. It's also the title of a remarkable biography of Frank Oppenheimer by my friend K.C. Cole, the result of a lifelong friendship that explored the outer limits of creative imagination.
The Exploratorium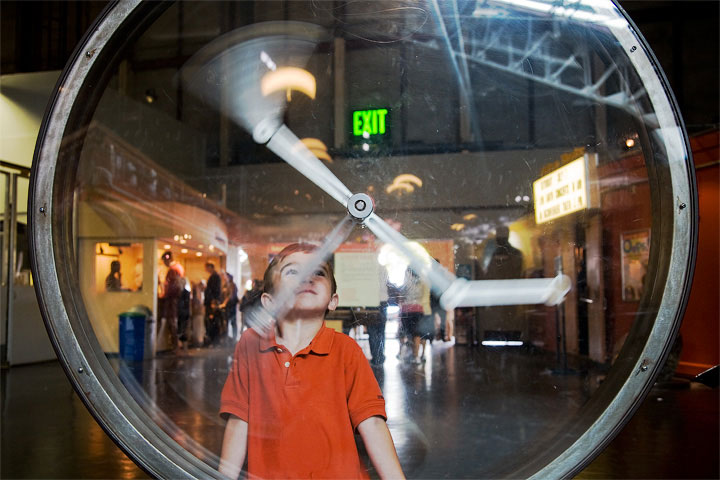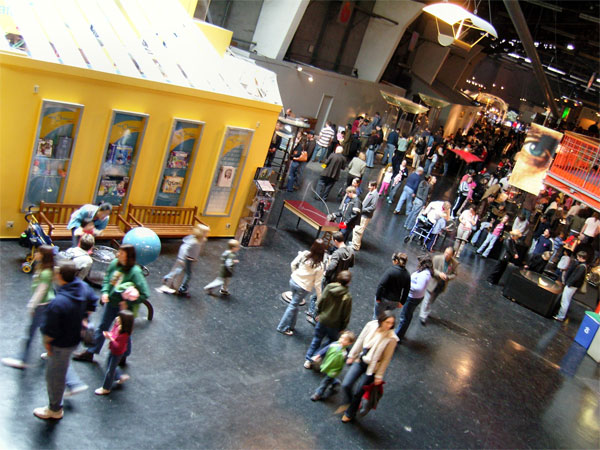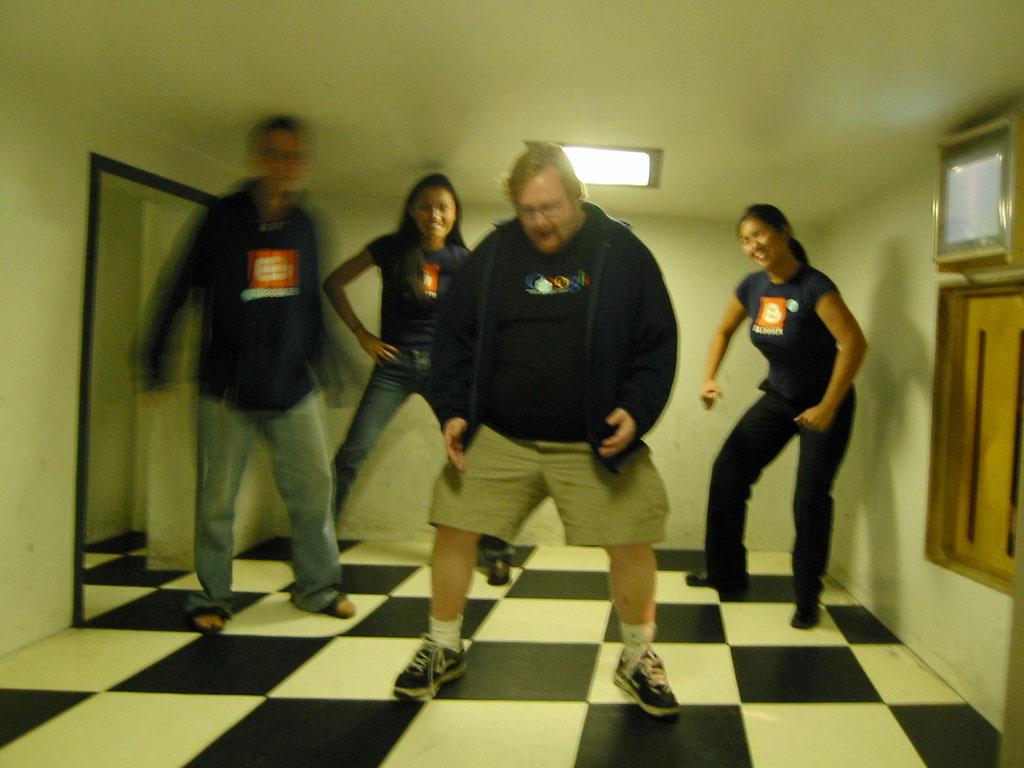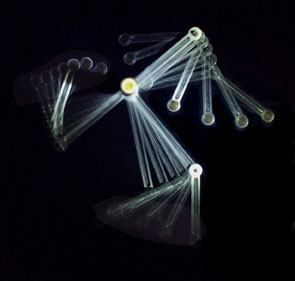 'Bean blast' — Art or science?
by Rhonda Bobinski, Red Lake, ON, Canada

Yes! Artists and scientists are definitely cut from the same cloth, following a muse full of wonder and getting excited in the element of surprise. As a Visual Arts teacher, I used to tease the Science teacher by saying that I thought the propulsion of an airplane in the sky was "pure magic" and dismiss the logic and physics of it all. Yet, he agreed, flying is magical. We combined our interests one year in the now famous "Bean Blast." He was showing his physics class something about the projection of a can of beans using heat and pressure, and I put a large sheet of paper in behind as the "canvas" and was more interested in the action of the beans splattering on the canvas in a modern Action Art painting. Heck, we even made the newspaper that week. Well, it is a small town……but it was one small idea that allowed for exploration and variance in perspective. Art and science united, yet again.
There is 1 comment for 'Bean blast' – Art or science? by Rhonda Bobinski

K. C. Cole's books inspire
by Helena Tiainen, Berkeley, CA, USA

When I was a student at the San Francisco Art Institute I had a chance to participate in a humanities class called "Art and Science" that took place at the Exploratorium and was taught by Frank Oppenheimer and his assistant. This was in the early 1980's. I remember being very influenced by the curious nature of this class that clearly explored the similarities and connections between art and science and emphasized play and creativity. Frank Oppenheimer was a remarkable teacher and a wise man whose stand against nuclear weapons was unshakable. The Exploratorium was then and remains today a totally fascinating museum unlike any other I have ever frequented. Both of the text books used for the class were written by K. C. Cole: Vision: In the Eye of the Beholder and Facets of Light: Colors, Images, and Things that Glow in the Dark. These books altered my life and I still have them.
There are 2 comments for K. C. Cole's books inspire by Helena Tiainen

Interactive museums now all over the world
by Edna Hildebrandt, Toronto, ON, Canada

In Toronto we also have "The Ontario Science Center" with the same concept where visitors can experience the displays by being able to touch or handle them following instructions that are provided. Children especially enjoy these interactive displays and learn hands-on how things work and operate. They are very exciting and enjoyable. In Ottawa there is the Museum of Civilization. They have the Children's Museum where children are allowed to do things with the displays and are given a chance to make crafts and are provided with the materials and can bring them home. They have all kinds of activities to pretend activities of daily living.

Art and science closely linked
by Ann Chaikin, Bellingham, WA, USA

That place has been a favorite of mine since I was a child growing up in the Bay Area. We went there often. There is an interesting connection with my father, Edwin McMillan. He went with Frank's brother Robert Oppenheimer to select the spot in New Mexico for the Manhattan Project. Our family moved to Los Alamos when I was eight weeks old. We stayed until the end of the war and then returned to the University of California at Berkeley. Dad was a physicist but he loved art too. He created the first logo for the radiation laboratory at Berkeley and dabbled in other media as well. My brother Stephen McMillan became a print maker after making the choice between mathematics and art. I went the other direction and had a career in computer science before returning to my original love of art to become a painter. I've always known that science and art are closely linked.

Museum design projects
by Rene' Lynch, Tallahassee, FL, USA

I smiled when I opened your letter this morning. My interior design students just completed their first studio project designing interactive displays for the Exploratorium. They based their work on various musical phenomenon detailed on the Exploratorium's website. Their next assignment is to design a children's museum space that houses all the displays created by each team. We are so fortunate to have access to such interesting and creative places!

Another Exploratorium
by Dick Termes

This is kind of my own Exploratorium. Thought you might like to see it here.
There are 3 comments for Another Exploratorium by Dick Termes

The common thread of experimentation
by Joe Murray, Jefferson, IA, USA

I have often wondered about the "left brain" — "right brain discussions when trying to capsulize or compartmentalize people of scientific processes or artistic processes. A few years ago I ran into a physics researcher at a art show showing his art. We had a long discussion about the brain concepts and how some feel artists and scientists live in different worlds. As a result of our discussion I came to believe — as time passed — that most of it is pure hype and not true at all. We both reach a conclusion through experimentation. So why is it important which reasoning processes we use to get there? I think it is a vast area where common ground and approaches of both disciplines could help each other out and help mankind.
There is 1 comment for The common thread of experimentation by Joe Murray

Creativity in science
by Cathy Harville, Gambrills, MD, USA

When I was 18, I wanted to go to art school, but my parents would hear nothing of it. So, I went to college and majored in Chemistry. I did well, and went on to work in an experimental lab for 20 years.
I always thought that taking to art after my career in science to be a bit odd, mainly because other people thought it a bit odd. But after a time, I have realized that creativity is present in many activities and vocations. During my career with a major chemical company, one had to be creative. The success of the company stood on the next latest and greatest product. Even the experimental disasters were fun! I never minded cleaning up the gigantic messes we made, and I loved getting my hands and lab coat dirty.
Now I paint, and I still love to get my hands and apron covered in all sorts of colors. And I don't mind cleaning up the messes — most of the time!

The interference of mystiques in science and art
by No name on email

You're absolutely right. Look at Leonardo, Eakins, Peale, etc. I have a masters degree in zoology and am also a free-lance illustrator/painter. I have traveled in both circles, so to speak, and have been amused at what I have seen in both disciplines. There is a "mystique" associated with being a research scientist (hope of being the next Darwin, Einstein, etc.) as well the visual arts (and music as well). Quite honestly, there is a lot of garbage being produced in both disciplines because people simply get caught up in the previously mentioned mystique and like to think of themselves as "scientists" or "artists." Whenever anyone calls me an artist I tell them I prefer the term illustrator or painter because I can't stand all of the associations that tend to come with the label (i.e., the pompous beret-wearing egomaniac smoking cheap French cigarettes who very likely couldn't draw water for his or her bath). Many accept what they do as "art" in the hope of being perceived as cerebral and open-minded.

Generating energy for artists
by Win Dinn, Creston, BC, Canada

I love the concept of the Exploratorium — I may just re-name my studio! It's the excitement of playing with different mediums, the mouth-watering juiciness of colour, and the pushing of known boundaries that fuels my passion for the artistic life. Without the pull of infinite possibilities, I'd be snoozing in front of the television. Let's hear it for the Exploratorium that generates the energy for artists everywhere!

Problems with 'discovery' in schools
by Julie Trail

The Exploratorium is that wonderful hands-on place where my curious son was able to observe the dissection of a cow's eye among other hands-on experiences when he was a kid. Now a successful businessman/scientist he does much to give his own children the same kinds of experiences. When curiosity is allowed to explore and expand, it continues down through the generations to give all that follow the "aha" moment of joy at discovery.
Such eye-opening, mind-expanding experiences are monumentally important in school classrooms, as well, and that is where I fear the public schools have been bereft. Discovery is not allowed, being too hard to control, too messy, too open to abuse. Science is reading an experiment, possibly watching a teacher do an experiment, and being tested on results.
Even art lessons have been either erased or diminished to a lecture on dead artists' work. In too many classrooms, Art is the process of following a teacher's directive, with a model displayed of the expected outcome. If only children could truly find their own expression by being given supplies and a minimum of direction to Discover something new in the possibilities! The discovery in art, as with discovery in science, opens the mind to all possibilities and leads to creativity of thought in reading, math, and basic understanding. The process of Discovery is mind-opening and leads from "aha" into "WOW!"
My studio is filled with boxes left over from my years as an elementary school teacher (private schools, where I was free to develop my own curricula and methods). I seldom use all the supplies, as I'm caught up in the desire to develop my craft of painting to a place I can admire. As I work to perfect my skills as a painter, I've left all the supplies for "free exploration" as wonderful possibilities for another day.
The Witness
acrylic painting
by Heidi Berger, Barbados
You may be interested to know that artists from every state in the USA, every province in Canada, and at least 115 countries worldwide have visited these pages since January 1, 2013.
That includes Terrie Christian of Plymouth, MN, USA, who wrote, "I became a pharmacist but I was always an artist. I love experimentation."
And also Frau Bloom of Fairfield, CT, USA, who wrote, "A wonderful museum for hands-on art for kids and adults is the 'Frist Museum in Nashville, TN. What a wonderful place to learn about art while doing."
And also Jacob Goldstein of London, UK, who wrote, "The artist's studio is a room like no other. It is a miraculous place of exploration, invention and self-replenishment."
And also Philip Tuley of Clearlake Oaks, CA, USA, who wrote, "Frank Oppenheimer taught a class on Art and Science for the San Francisco Art Institute. I was one of his students. He became great friends with all he met. I was fortunate enough to go from a student to an employee, and he was still great."

Archived Comments
Enjoy the past comments below for The Exploratorium…
No Featured Workshop
No Featured Workshop