Dear Artist,
It's a matter of getting an olive into your martini from across the bar. According to the handbook for "extreme bartending," this sort of performance excites clients, alleviates boredom, speeds consumption, and sells liquor. Recently, while witnessing an example of extreme teriyaki, I was reaching for the wasabi when a flaming cleaver landed dangerously close to my hand. In any case, the next morning I had to have my suit dry-cleaned.
While I was waiting for this to happen I was realizing the value of extreme painting. Pollock, de Kooning, the Expressionists. Secretly, you can do it yourself. Like extreme naked rumba, it's also okay to do it alone.
Try squeezing out four times your regular amount of colour. Dig out that giant brush you've never used. What's wrong with dribbling anyway? Who said you couldn't flick a ball of paint across the studio? What else is there around here? A good elbow, a whole sweater, the dog's tail?
Anyway, we're talking "warm up" here. And seriously, it's valuable. It's valuable because pushing yourself to extremes blows out the cobwebs of trusted habit. It shakes up what you know to be reliably safe and substitutes the miracle of insecurity. Going pantless over the ski-jump does something for the blood. Speed alone gets the red stuff coursing. Here's an exercise: Make a big painting — complete right down to the signature — in the morning before your coffee gets cold. A great big whatever. Do this every morning for a week. What you'll find is that it'll have a positive effect on your regular work. You'll do better and you'll do more. You'll start to process ideas faster, work more efficiently, and you'll be more generally inventive. The blast of excitement will invigorate, and you'll be less tired at the end of the day. You don't have to show this stuff — they may even turn out to be sorry sights — but you never know. Life's an exercise where we have the choice to test extremes as well as to work the tried and true. Both have value. But if we never test the extremes — well, we'll never know.
"C'mere Dorothy."
Best regards,
Robert
PS: "It's better to be sorry for what you did, than for what you didn't do." (Anonymous)
Esoterica: It's useful to make a list of potential tools. Take a few minutes in your contemplation-chair, casting your eyes around your creative space. Your list may turn out to be longer than you first thought: Spritzer, roller, scraper, stick, comb, brayer, sieve, spatula, feather, gravity, that sort of thing. An open-minded, non-food trip to the kitchen will reveal a bunch more. Down in the basement that old box of "bought-but-never-used" art materials may be a treasure. "Puff paint — how totally extreme."
This letter was originally published as "Extreme painting" on November 23, 2004.
If you find these letters beneficial, please share and encourage your friends to subscribe. The Painter's Keys is published primarily by a team of volunteers, with a goal to reach as many creative people as possible. Thanks for your friendship. Subscribe here!
"Your best work is your expression of yourself. Now, you may not be the greatest at it, but when you do it, you're the only expert." (Frank Gehry)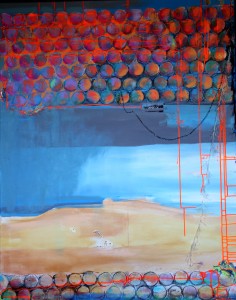 Hurricane
Featured Artist
I'm a contemporary painter who loves to travel the world over finding pictures to paint, and capture on photo…check out my website and travel with me on my blog "The Traveling Artist Blog."  http://www.meljosieart.com