Dear Artist,
Last Tuesday was my birthday. I was getting ready for my day in the studio when the phone started ringing. For some reason it has become popular to sing "Happy Birthday" to people over the phone. The sentiment was pleasant and very much appreciated. Over and over I was enjoying the familiar lyrics. I put on my headset to fully grasp the beauty of the singing. Michelle, who is helping us out for the summer, eventually got my attention by sign language and asked if there was anything I needed for my birthday.
I needed to get out of the studio. We jumped in the car and disappeared into the local forest. I set up and made a little painting while Michelle set up and made a little movie. "Forest Spirit" is another of those Shoulder Clips that we have shown you before, but this one is in real time, a bit languorous and laid back. For her first flick, I think she caught the feeling. It takes six minutes.
I'm not pretentious or even that proud of the stuff I do in the bush. But there's something mind-bending about the outdoor act of art. I recommend it to anyone on any day, birth or otherwise. First, there's the grace that overtakes you when you leave your other world and get onto the bosom of nature. I often think it's more a matter of inhaling than rendering. When you find the spirit of a place, you need to honour it — and you bend your mind to do so. The brush slows but the heart quickens.
Second, there's the ease in which things flow when there's nothing riding on the outcome. It's pure play when you let it happen. For some inscrutable reason, the "zone" is more happily found when the lone painter has nothing much to lose.
Third, there's this remarkable sense of event. It's like catching a wild salmon as compared to buying one in a fish shop. There are sounds, odours, movements — I'm sure the very air contributes to composition. The outdoor art event builds parameter and anecdote and carries more memories per minute than any incandescent room. I'm not saying plein air is everything, but it's more than a breath of fresh air. It's the most fun you can have with your clothes on. For the maker of art, it's the breath of life.
Best regards,
Robert
PS: "What's the good of a birthday if you can't get what you want?" (Gracie Fields)
Esoterica: Incidentally, this time I used. While I've grown used to and believe in the superb quality of Golden Paints, and I couldn't live without their Jenkins green, Graham's have something going for them too. They definitely stay wet longer — the palette was still useful back in the studio after some time outside. Graham's are remarkably smooth and fluid while not lacking in body. I suppose the price you pay for this smoothness might be a sacrifice in opacity. The Titanium white did not cover as well as I'm used to — but at the same time, who needs it when mixing and moving it around can give such joy. Brilliant, strong colours too. A thumbs-up for Graham's.

Artistic cleansing
by Veronica Funk, Airdrie, AB, Canada

This past year has been a time of questioning for me, as an artist. I have basically removed myself from the gallery scene to spend time just remembering the joy of painting for painting's sake. At times I have wondered if this is my purpose in life, and now, after some cathartic burning of work (a past recommendation of yours — after the initial trepidation, it was wonderful) and allowing myself to experiment once again, the joy has returned tenfold.

Painting plein air embraces life force
by Sandy Davison, Lansing, MichiganI, USA

My own compelling attraction to working en plein air is swamps. I discovered one last fall, just nearby and just a month before both my favorite uncle and my father passed, is filled with life force, crazy so. In August last year I was the main attraction for flirty little green herons who came within twelve feet to raise their crests and eye me before swirling around to the other side (twelve feet seeming safe) and flirt from there. Sitting one day with my feet a few inches from the water, I was abruptly startled by a large dark shape moving through the fabulous pond scum — a few inches from my feet and out of the corner of my eye. The startled reaction in me produced an equally startled reaction in the beaver. After several apologies to it and admonitions to not cross the busy road it took several minutes to get back to my work. On several occasions that month I arrived and worked among egrets who hunted in the back of the swamp or played like the overt stalking of Peter Seller's Inspector Clouseau, between trees. Two dozen of the ghostly white things fed and floated about the air in August when I arrived there. So all magical, and very distracting and somehow all included in the "event" and the capture on paper.
The life force was so helpful in pushing my work, and recharging me so that I was clear as I danced my uncle and father out and I so appreciate the free way you share your spirit. Like the swamp, it is a connection in the life dance that we all share.

Acrylic paint brand reviews
by Judi Gorski, San Francisco, CA, USA

I appreciate you speaking about the pros and cons of different brands of paint. I have been exclusively using Liquitex acrylic paints for more than 20 years and have grown used to the colors. What has been somewhat frustrating is that the consistency has changed: soft body, heavy body, medium viscosity, and the paint sometimes seems to have an inability to stick to the canvas. I like that the Liquitex comes in 2 oz. plastic jars with screw on plastic caps that make it easy to put the paint back into the jar if there is leftover paint from a session. I am not familiar with M. Graham Acrylics but will look for that name and will try it if I can find it.

Embracing art through music
by Darrell Baschak, Manitou Beach, SK, Canada

I personally love working outdoors, there is nothing that matches the freshness of a piece that is done outdoors, or has its genesis outside. While reading your letter I was reminded of two songs I listened to on my satellite radio while traveling to Saskatoon yesterday. The first was by John Denver, called Rocky Mountain High, and it speaks of an individual walking in the forest seeking "grace." I had a mental picture of you doing the same thing, in your own way. The other song was called Vincent and is about Vincent Van Gogh and his life as an artist. Both are wonderful testaments to painting in the great outdoors and finding the "spirit" of place and time.

Automobile easels
by Laurel McBrine, Toronto, ON, Canada

I couldn't help but wonder if you chose that gorgeous car more for the convenient tailgate than its sex appeal. It is thrilling to find a new, creative use for an object rather than the purpose for which it was intended. Watching you lay in those thick, bright lights behind the trees was almost as satisfying as doing it myself.

Natural connection
by Ann Heckel, Lambertville, NJ, USA

I grew up in the forest. I was a typical tomboy and would roam through the woods just inhaling the treasures, surprises, and miracles I found there. I could go to the woods for comfort when things at home got a little sideways. I bought a house that perched on a small mountain and was surrounded by this beauty. After a major back operation, I was in for a fairly lengthy recovery period but I had the view of my forest and felt protected. The beauty and energy of the trees, leaves, and ferns and creatures stayed right by my side.

Achieving the real deal
by Marie Louise Tesch, Rapid City, SD, USA

Just yesterday I received word that I have been accepted as an artist for the Spearfish Arts Center — that's a little college town about 45 minutes from where I live. It's a benchmark for me, after five years of learning. Along the way I have benefited from the generosity of friends who have allowed me to display work at their restaurant/ gallery. I've had a few single pieces accepted for juried shows. However, this is the real thing: a body of work to be on display and sale for three months in a gallery that exhibits some of the areas top artists. The committee was most interested in my fruits and flowers — a method I had started with five years ago. A little validation is a great thing. I am absolutely giddy with delight and terrified that I won't be able to keep up. I'd better stop talking and get to painting.

Embracing the painting process
by Jane Champagne, Southampton, ON, Canada

Graham paints are excellent, there is such a juicy, free-flowing quality in all of them.
In the middle of my sixth melanoma operation the other day, the surgeon began asking questions about our profession. I tried to describe what happens when the process of painting brings more joy than the end result and lo and behold, you did it today, better than I could under local anesthetic. I sent him the relevant quote, and your site of Artists' quotes — Coincidence? I think not. The surgeon would make a good painter or sculptor himself, given the elegant new nose he has created for me.

The public spirit
by Theresa Bayer, Austin, TX, USA

In my experience, painting en plein air is somewhat like real estate: Location, location, location. A beautiful site where you feel safe, secure, and have plenty of solitude is wonderful indeed. I've also done it the other way: in a public setting. One of two things happened: either I was blissfully ignored or I ended up being a sort of performing artist. Since I draw caricatures at events, I'm used to having people watch and question me etc., as I draw, so I figured a populated setting couldn't be much different. At a popular wildflower park things got a little lively when a video photographer filmed me. At the same time kids kept trying to wade in a very deep, clear pool where I was perched on the edge with my paints — with a "No Wading" sign clearly posted. Actually the photographer was no problem, but oh, those parents! Where are they when their kids want to take a dive? Still, it was a fun adventure and I plan to go back there. I enjoy both spirits: the Forest Spirit and the Public Spirit.

Finding inspiration behind a strip mall
by Dennis Marshall, Paterson, NJ, USA

I love painting landscapes and abstracts. Every time I think that I am going to get back into the abstracts, landscapes pull me in. My favorite landscape subjects are trees in settings such as the ones you painted in. In 1992 I was out looking for painting ideas. I turned off RT 80 and eventually while traveling towards Hackettstown NJ I came across a stand of trees behind a strip mall. The sight was absolutely breathtaking — the sunlight shone off the yellow leaves. I went back after a week or two only to find that the trees were cut down. I then became determined to honor these trees and since then trees have been a constant theme in my painting. I then began the series "Hackettstown Trees" and though I no longer continue to label paintings under that title I keep going back to that subject. While some actions have been taken to stem this practice it seems that over the last few years the official government policy has been to pave over paradise & put up a parking lot.

Remembrance
by Lia Grundle, Campbell River, BC, Canada

The timing of the film was special for me as today I was thinking about how much Jack and I loved to be outdoors and every journey was one of discovery. A rock, a tree, a bush, a cliff, and water (even puddles) took on a whole new meaning for me as I saw them through his eyes and would see them again in a painting. It's good to know there are others who enjoy that world and can pass on what they see to others. Our world moves so fast and I feel such sorrow for those who walk the city streets and never even visit the parks because they are so caught up in their busy lives. They miss the truly important things in life. Jack's been gone three years now, but the wonderful memories fill me.

Focusing on the forest
by Andrea Harris, Chicago, IL, USA

For almost two years I have been focusing on the forest, and my paintings evolved into a series of two large bodies of work, In the Forest 2006-2007. Many of the "series" paintings are "blown up" from smaller paintings that I created on-site, while others are from childhood memories of time spent exploring the wooded areas near my aunt and uncle's mountain cabin.
Archived Comments
Enjoy the past comments below for Forest Spirit…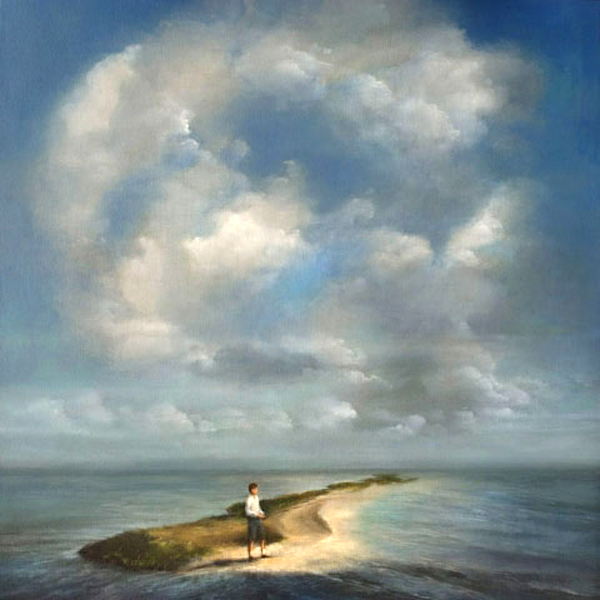 The Center & the Edge
oil painting
by Susan Downing, Mobile, AL, USA
You may be interested to know that artists from every state in the USA, every province in Canada, and at least 115 countries worldwide have visited these pages since January 1, 2013.
That includes Tatjana Mirkov-Popovicki of Port Moody, BC, Canada who wrote, "So you do plein air with your clothes on… that's what I was doing wrong all this time!"
And also Ben Howell Davis who wrote, "Paintings ALWAYS look better indoors if they have been painted outdoors. Always. No exceptions. Light is better outdoors, always. No exceptions."
And also Marsha Finney of Dallas, TX, USA who wrote, "A picture is worth a thousand words… speaking of words, your words are pretty darn wonderful, too!"
And also Rita Putatunda who wrote, "I agree with everything except the fish metaphor."
And also Pixie Glore of Andalucia, Spain who wrote, "Funny how the colors one sees from nature creep their way back into the studio."
And also Carol Chapel of Corvallis, OR, USA who wrote, "It was also great to hear you praise M. Graham paint. I think it's the best. I've met Art Graham a couple of times and he seems like a sterling individual."
And also Lindsay Watson of Vancouver, BC, Canada who wrote, "I feel refreshed from my visit to the woods, and energized to try the same. Inspirational on all counts!"
And also Mardy Grothe of Raleigh, NC, USA who shared this quote by Jean Paul Richter: "Our birthdays are feathers in the broad wing of time."
And also Lori Farmerof Brandon, MS, USA who wrote, "With the help of my husband and son, I am working a new art studio in my son's former bedroom. Once the finishing touches are done, I'll be able to create. I've put my creativity on hold for most of my life, and I am now ready to pour myself onto canvas and paper. It needs to come out."
And also Sue Smith of Redmond, OR, USA who wrote, "Even though I've got all the materials to go outside and paint, I've been resisting because I was afraid I couldn't find that "perfect" scene. I'm reminded that the real purpose is to paint without having to worry about the results… something ironically I tell my students all the time but forget to tell myself."
And also Moncy Barbour of Lynchburg, VA, USA who wrote, "As for me, where I live the outdoors is shrinking and giving away to suburbs or the city lights of night. However, I do sit on my upper outdoor deck and enjoy the songful sounds of the native birds as well as watch them and squirrels play around with their day."
No Featured Workshop
No Featured Workshop