Dear Artist,
Earlier this week, a person whose opinion I respect came into my studio and made some remarks about the surface quality of my paintings. While deeply encouraging, the following day I found myself longing to make my work better. Ways of refining an already technical process suddenly became apparent to me and, like a door opening to an unknown room in my house, the new idea expanded in discovery and play.
Belief, like a swig of brandy, gives courage. My moment of fleeting praise may have steadied me for the difficult task of letting go. "Something must die in order for something else to be born," says the first rule of story writing. "The human heart is so delicate and sensitive," wrote Maya Angelou, "that it always needs some tangible encouragement to prevent it from faltering in its labour."
The difference between perfectly adequate and magical is about five percent. I removed a couple of hundred staples and re-stretched a 72 x 60. Only from working again and again within this five percent have I come to a deeper understanding of how my materials and ideas function. On top of this, ceding a good execution in pursuit of something otherworldly yields more fleshed-out creative goals. Here are a few ideas:
Consider, if only for today, that you are in the business of producing the very best example of what you do in the world. Maybe it's bird anatomy. Or boat anatomy. Maybe it's as simple and also tricky as a gradation in acrylic. Might you elevate the skill of flawlessly moving up and down the colour wheel to the realm of mastery?
Next, there's always an opportunity to tweak and polish ideas, to add to their intrigue so that they elevate your work beyond its initial offering. A plein-air mountain rendering can become a humbling meditation on receding glaciers, for example. How do you get there? Resist the temptation to generalize your subject, but rather reveal its universal, human truth by sharing your personal lens. Title, time and location accuracy and signals of the self hold strong against more generic alarms.
Lastly, in painting, the magic we seek is an ineffable cocktail of technical mastery, intention, idea, composition and personal élan that lifts our work beyond perfunctory, picture-making rote. Are you in there? Is your heart? Because you are the magic. "Mastery is the rudder, mystery is the sail," said singer-songwriter Jack White, "and magic the wind to move you in your chosen direction."
Sincerely,
Sara
PS: "Quality is never an accident; it is always the result of intelligent effort." (John Ruskin)
Esoterica: Whatever it is you are doing in art, do it as well as possible, with your heart, knowing that it takes a lifetime to improve. While you're at it, you'll notice a moving target in front of you. This is the fun part. "It's neither contrived, nor surprising and smart, not baffling, not witty, not interesting, not cynical, it can't be planned and it probably can't even be described," wrote Gerhard Richter. "It's just good."
"Shall I tell you what I think are the two qualities of a work of art? First, it must be indescribable, and, second, it must be inimitable." (Pierre-Auguste Renoir)
The Letters: Vol. 1 and 2, narrated by Dave Genn, are available for download on Amazon, here. Proceeds of sales contribute to the production of The Painter's Keys.
"Correction does much, but encouragement does more." (Johann Wolfgang von Goethe)
Featured Workshop
August 31, 2019 to September 5, 2019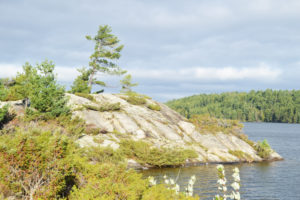 Six days in the Near North of Ontario Canada. Killarney and the La Cloche Mountains were a favourite location the Group of Seven visited to paint. Rugged, with granite cliffs thrusting hundreds of feet out of the water. Northern forest, islands, bald rocks and only accessible by boat. We travel to most locations on a sturdy pontoon boat. Whether it's setting up on a rock face, a low lying island, or sitting at the base of a waterfall, every view is worth capturing. You stay in rustic cabins, each with its own cooking facilities. There is a large room we can paint in if the weather turns against us. Your instructor is Keith Thirgood who has been teaching adults to paint for 12 years. He will show you a step by step approach to painting en plein air, which makes capturing a scene easier than you might have thought possible. He'll also teach Modern Colour Theory with a limited palette, which makes colour mixing easy.
For more information, visit www.wilsonstreetstudios.com.
Featured Artist
Monique Jarry is a Canadian and a graduate of the Ecole des Beaux-Arts de Montreal.