Dear Artist,
In 1898, 28-year-old Charles Frederick Goldie returned to his hometown of Auckland, New Zealand after studying painting at the Academie Julian in Paris. He moved into his former art teacher's studio in Auckland and the two began co-working on a large-scale, historical painting – like The Raft of the Medusa – depicting the arrival of the Māori people to New Zealand.
After receiving some praise for the scope of the work, and swayed by the popular Victorian attitude that the Māoris were a dying race, Goldie set to painting a series of Realist portraits of the Māori Chiefs and elders. He moved into his own studio and made trips to befriend and sketch the Chiefs at their homes, inviting those who were visiting the Native Land Court in Auckland to sit for him in his studio. By 1900, over 3 million hectares of Māori land would be acquired, titled and sold by the New Zealand government on behalf of Queen Victoria. The Native Lands Act of 1865 and the forcing of Chiefs to collectively attend court in person to defend their communal land rights is what many historians now characterize as an "act of war."
The avant-garde Auckland art world was hard on Goldie's Realism. In 1934, Goldie defended himself in the Auckland Herald, writing that Cubism and Impressionism were "cloaks for incompetency." Sixty-three years later in 1997, The Auckland Art Gallery held a retrospective of Goldies, where a second generation of critics complimented his draughtsmanship and likenesses, but still described him as a "complete conservative" lacking in "originality or invention."
The modern public, however, seemed to recognize the deeper mysteries and magic of the Goldies. Sixty-six thousand museum-goers came to see the Māori portraits – thirty percent of them Māori. The gallery contrasted this with the average Māori visitor rate of about three and a half percent. The wizened, tattooed faces and delicately threaded, draping robes of Goldie's Chiefs and elders had become to many a kind of treasured, ancestral record.
When he was 70, Goldie stopped painting after a decades-long, on-and-off struggle with lead poisoning — he had a habit of licking the end of his brush in order to get a finer tip. After numerous accolades, Orders and medals, exhibitions at the Royal Academy in London and the Salon of the Societe des Artistes in Paris, and with his paintings fetching stratospheric prices during his lifetime and beyond, the Auckland Herald conceded that Goldie was "easily the best-known and most-admired painter in the history of art in New Zealand."
Sincerely,
Sara
PS: "Whāia te iti kahurangi ki te tūohu koe me he maunga teitei – Seek the treasure you value most dearly: if you bow your head, let it be to a lofty mountain." (Whakataukī, or Maori proverb)
Esoterica: In 1984, after being arrested, fined and sentenced to community service, small town real estate agent Karl Feodor Sim legally changed his name to Charles F. Goldie. He'd been forging Goldies and selling them from his antique shop in Foxton, New Zealand. Sim signed his fake Goldies "CF Goldie," wrote a memoir about his escapade in 2003 and called it, Good As Goldie.
The 2017 exhibition, "Charles F. Goldie, Revealing The Painter and The Subject," is on view at the Auckland Art Museum until May, 2018. "Whatungarongaro te tangata toitū te whenua – As man disappears from sight, the land remains." (Whakataukī, or Maori proverb)
Download the new audio book, The Letters: Vol. 1 and 2, narrated by Dave Genn, here. Proceeds of sales contribute to the production of The Painter's Keys.
"Ko taku reo taku ohooho, ko taku reo taku mapihi mauria – My language is my awakening, my language is the window to my soul." (Whakataukī, or Maori proverb)
Featured Workshop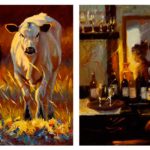 Painting Light With Cheri Christensen: Oil Painting in The Russian Impressionist Tradition II
April 6, 2018 to April 9, 2018
Location: Fredericksburg Texas This workshop is designed for students who understand the basics of value, color and drawing and want to take their art to the next level. The emphasis will be on creating your own personal style, and continuing your development as an artist.
The class will be limited in size to allow each student more individualized attention. Each student will have a private question and answer time with Cheri to help them discover their own direction as an artist.
She will discuss choice of subject, path of light, composition and edges, needed to create your own artistic painting.
For more information, please Click Here
Featured Artist
I am a self taught artist, I work in oil, Acrylic and watercolour also in Pastels. Started painting In Ashcroft with Mr. Campbell. I taught my self how to paint by studying professional artists' work through reading, TV programs, educational DVD and work shops.