Dear Artist,
A subscriber wrote, "What are harvest tools? You say they're tools to help extract more value from ideas, but can you be more specific?"
Beneath autumn's extravagant moons, I've been mulling over the same question. Art season's cotillion boogies under these gibbous globes — it's reaping time. For all the summer plantings, think of your harvest tools as multi-pronged — in both your equipment and your means of distribution.
The first part is easy: Like the farmer's plow, yours must include the basics; including the fierce carving out of space and time for dream, work, polish and release. Your sketchbook, easel, eyes and unique language for the world are an implement to be regularly oiled and sharpened.
The second kind of harvest tool requires a second generation of imagination. Galleries and art professionals are part of this space, and the good ones reap value from your work through their enthusiasm and hustle. "I have ideas," a gallery associate recently nudged, locking eyes. My heart swelled at the mutuality of our endeavour. And what else is possible? In 1999, electronic artist Moby became infamous for being the first to have all eighteen tracks licensed to film, television, advertising and non-profit for his album, Play. It was a means of getting his otherwise radio-unfriendly music heard, but the maneuver geisered to a watershed for artists and listeners who could now understand the potential for art to be leveraged and re-purposed.
You may, at this moment, be hatching a multi-media masterwork, as an artist friend is currently doing with his dance/play/album/film. He's a harvesting pro. Or perhaps you're considering that offer to convert your paintings into carpets and dinnerware. There are leggings, cell phone skins, book jackets, show homes, fashion and throw pillows, too, not to mention hospitals and libraries, mentoring, workshopping and blogging, even architecture. Your harvest is up to you.
After more than forty years and eighteen albums, Bruce Springsteen released this week his memoir, Born To Run, and with it another full-length album of music — an "audio companion" to the story of his life. Including five previously unreleased tracks, the album attends to and cohabitates with the themes and sections of the book. And like the book, Chapter and Verse opens with a teenaged Springsteen on guitar and vocals, waxing. "Walk tall, or baby don't walk at all." (Bruce Springsteen)
Sincerely,
Sara
PS: "You can't start a fire
Worrying 'bout your little world falling apart
This gun's for hire
Even if we're just dancing in the dark" (Bruce Springsteen)
Esoterica: A simple concept for "harvest tools" is collaboration. Your team is the co-lover, co-maker and co-producer of dreams too big for your singular brush. Collaboration can also be thought of as the cornucopia of applications and media for the realization of your ideas. In harvesting, you needn't always be a one-man-band. "I'll love you with all the madness in my soul." (Bruce Springsteen, Born to Run)
Did you know you can sign up to be a Premium Artist for $200 a year? Many artists have found this beneficial. Sign up here.
"You can't be afraid of getting old. Old is good, if you're gathering in life. Our band is good at understanding that equation." (Bruce Springsteen)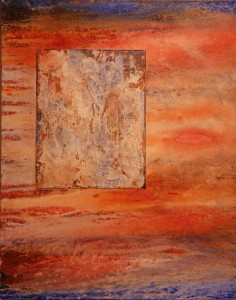 Transition
Featured Artist
Painting is my passion and joy.  My process is intuitive, though informed by good composition and design principles.  I paint what I remember, or think about, or feel, or just what comes off my hands to the brush to the canvas.  Texture and color are of primary importance to me.  I typically choose my support, texture it, select my palette, and go.  There is nothing more satisfying to me than watching paint run and move.  I love the surprises. I experiment and learn constantly.  It is a remarkable journey.  One I am pleased to share with you.