Dear Artist,
I'm frequently asked whether it's best to go back to school or back to work. I've been on the board of directors of a prominent art college, and I've also been an advocate of do-it-yourself for life — so I'm coming from both sides of the fence. Fact is, even if you attend what you think is the best art school in the world (like I did — Art Center) it doesn't make you into an artist. You're the one who has to do that.
Learning a skill or a trade is a hands-on game. As well as the instinct it requires a commitment to the materials and an attention to detail. It's called passion. It's mostly self-taught. It's got more to do with character than with conversation.
Contrary to popular wisdom, the principal currency in the world of art is work. The idea is to get joy from your hands. When that happens everything else falls into place. What you have to figure out is how to best make this happen.
If you are in need of a look-see into a lot of media, variety of approach, opinion, attitude, life-style, then perhaps a school is for you. But if you have a need to get passionate — perhaps you ought to go to your room.
No other generation has been blessed with so many brilliant books. There have never been so many professionals who are willing to share. There have never been so many opportunities for creative people. There has never been so much variety, specialty, information, and wonder. It's a shame, but we ought to be granted many lives.
Best regards,
Robert
PS: "The artist who gives up an hour of work for a conversation with a friend knows that he is sacrificing a reality for something that does not exist." (Marcel Proust)
Esoterica: Epiphany. There's a feeling you get when you see for yourself for the first time an effect, a technique, a creative event. I often think of the day when I saw what burnt sienna did when propitiously flooded with ultramarine blue on rough watercolor paper. I was eleven. I was by myself in the basement.
This letter was originally published as "Higher education" on June 23, 2000.
The Letters: Vol. 1 and 2, narrated by Dave Genn, are now available for download on Amazon, here. Proceeds of sales contribute to the production of The Painter's Keys.
"The principle of all successful effort is to try to do not what is absolutely the best, but what is easily within our power, and suited for our temperament and condition." (John Ruskin)
Featured Workshop
July 7, 2018 to July 8, 2018
Brushes of Barriere recently announced they will be hosting an acrylic painting workshop with well-known B.C. artist Marilyn Timms on July 7 and 8, 2018, at the North Thompson Agriplex.
Timms is a highly respected artist and has been facilitating popular painting workshops for many years.
Brushes of Barriere has room for 14 participants with "any level of painting experience."
Accommodation available at the Fair Grounds for a number of RV's.
Cost is $180 for the two-day event. Deadline to book a spot is June 15, 2018. For more information or to reserve a spot contact Bob Bambrick at: 250-672-9541 or email: robertbambrick@hotmail.com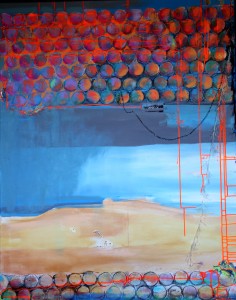 Hurricane
Featured Artist
I'm a contemporary painter who loves to travel the world over finding pictures to paint, and capture on photo…check out my website and travel with me on my blog "The Traveling Artist Blog."  http://www.meljosieart.com