Dear Artist,
"Tell your own story and you will be interesting," wrote Jerry Saltz last week, borrowing from Louise Bourgeois. He used her quote as Number 2 in his 33 Rules for How To Be An Artist, an article he wrote for New York Magazine, the publication for which he's been the senior art critic and columnist since 2006. Some of Jerry's other tips: "Prize vulnerability, make an enemy of envy, learn to deal with rejection, and accept that you will likely be poor." In his Rules, Jerry is full of idealism, artist myth-making and scrappiness. Living on what he calls, "the other side of the critical screen," Jerry feels he's in a special spot to help artists be — and stay — artists.
Jerry Saltz grew up in the Chicago suburbs with a leather-strap wielding father, Polish Catholic stepmother and a couple of up-to-no-good stepbrothers. Art was not a part of the equation, and his biological mother, who had committed suicide when Jerry was ten, was made invisible. After a few turns at petty crime and the subsequent beatings by his father, Jerry enrolled at The School of Art Institute of Chicago and moved into a cold-water, 6-floor walk-up studio in the city. There, he bushwhacked a path to righteous re-invention by way of what he felt was a new language and identity. He made hundreds of pastel and pencil crayon drawings — admitting he was too lazy and insecure to learn how to paint — and worked on what he thought would be a life-long calling: illustrating 100 cantos of Dante's Divine Comedy, complete with wall-based, opening-and-closing alter pieces. Jerry toiled at his masterwork while eating from a hotplate and showering at friends' places — for a dozen years. He also showed in Chicago and New York and received critical, positive reviews in not-unimportant art rags. Jerry was living the dream.
"On the outside, things were great," he said. "On the inside I was in agony, terrified, afraid of failing, anxious about what to do next and how to do it. I started not working for longer and longer periods. Hiding it. Then not hiding it. Until all I had left was calling myself an artist." Jerry says he listened to the demons. "I never made it to the inside, I never made it further. I quit making art in the early 80s and felt miserable, became a long-distance truck driver," he said. "Behold the failed artist."
Sincerely,
Sara
PS: "Every artist does battle, every day, with doubts like these. I lost the battle. It doomed me. But also made me the critic I am today." (Jerry Saltz)
"You never fail until you stop trying." (Albert Einstein)
"I miss art terribly." (Jerry Saltz)
Esoterica: Jerry Saltz, after a couple of sell-out shows, winning a National Endowment for the Arts Grant and using the money to move to New York, was eaten alive by self-doubt and envy. He dropped his art making, never to pick it up again. He started writing about art for The Village Voice and, later, Art in America, Flash Art, Frieze, Modern Painters and New York Magazine. Today, a winner of the 2018 Pulitzer Prize for criticism, Jerry says he approaches his writing and teaching as a failed artist; suspending cynicism and maintaining the belief that every artist means everything she's doing, sincerely, even if the end result is not his cup of tea. "I didn't have the ability and fortitude. That's why I always look for it in others — root for it in others — even when the work is ugly or idiotic. I want every artist, good and bad, to clear away the demons that stopped me, feel empowered, and be able to make their own work so we can see the 'real' them." Jerry's other tips for being an artist include: "Work, work, work, Art is a form of knowing yourself, Don't be embarrassed, Start with a pencil and Be delusional."
The Letters: Vol. 1 and 2, narrated by Dave Genn, are now available for download on Amazon, here. Proceeds of sales contribute to the production of The Painter's Keys.
"Being an artist also made me realize that I wasn't built for the type of loneliness that comes from art. Art is slow, physical, resistant, material-based, and involves an ongoing commitment to doing the same thing differently over and over again in the studio." (Jerry Saltz)
Featured Workshop
August 17, 2019 to August 25, 2019
Join award-winning Plein air painter Sharon Rusch Shaver as she conducts her next exciting workshop in the south of France. Van Gogh's bronze foot-steps dot sidewalks in the exact locations for his paintings in this beautiful city lined with rows of towering chestnut trees. Painting daily in your chosen medium: oil; watercolor; pastel; pen and ink artists as well as photographers will find plenty of inspiration in this city bathed in Mediterranean sunlight. Daily demonstrations and one-on-one help will be provided for those wanting to learn how to speed up and work quickly capturing that fleeting light and color in their paintings and with photos.
Chef prepared gourmet meals are served in the shade of the mulberry trees in the garden of this large comfortable country Farmhouse Maison only a few miles from the city where you will have a well-appointed ensuite room with views of the countryside for your stay. All-inclusive* 9 nights accommodation, transfers, meals, and instruction. Go to: Adventure-Artists.com
Join us!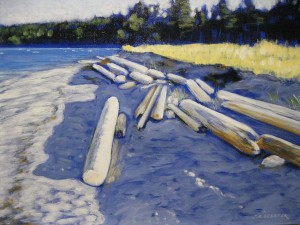 The late afternoon sun on the tip of Savary Island's Indian Point highlights the design elements of the logs and the summer surroundings of the island.
Featured Artist
My enjoyment in representing the beauty of our world with strong design and bold colours is what drives my passion for my landscape painting of Savary Island and other parts of our amazing planet.