Dear Artist,
When I was a five-year-old girl growing up in Canada, I remember opening the basement door of our 1959 split-level ranch house to tiptoe barefoot through the rain puddles to my dad's studio. Inside was a world creatively ordered for one — an intimate deluge of feathers, beach stones, vintage English car parts, every size of nail, frame, canvas and brush and hundreds of partly squeezed tubes of paint. A giant, north-facing picture window was all that separated this universe from the nests of herons and eagles.
Half a lifetime later, California has dropped her own hints about how to be a painter. Her southern sky, mostly cloudless, bounces colour like an infinite reflector dome during the day and winks pinholes after dark when the moon climbs up and cranks her blaring spotlight. Fluttering with hummingbirds and Monarchs and ribboned with jet streams, California suggests a new exercise in a new visual language. "Our task is not so much discovery as re-discovery," wrote Chinese writer and translator Lin Yutang.
This glass-walled house, not so different from the one I grew up in, was designed by an architect who specialized in 1950s affordable tract homes. His ethos was to bring the outdoor environment into interior living spaces with breezeways, clerestory windows and shady, covered patios — a dream spot for painting. Fifty-nine years after its construction, I'm here pouring colour into 12-ounce, toothy, cotton duck. Depending on the time of day, I move a 7-foot canvas to the opposite side of the house, chasing ambient and reflected light like a mountain painter who stalks shadow patterns creeping across a glacier. Now, instead of the old nightlights of lower Manhattan, the sunlight invites an unapologetic clarity. I wonder what my totems signify: a longing to materialize and honour a purpose-built environment and perhaps a chance to try for visual excitement without violence or conquest — to clobber only with immersion. "The work of the eyes is done," wrote Rainer Maria Rilke to Franz Xaver Kappus in Letters to a Young Poet. "Go now and do the heart-work on the images imprisoned within you."
Sincerely,
Sara
PS: "Throw your dreams into space like a kite, you do not know what it will bring back, a new life, a new friend, a new love, a new country. (Anaïs Nin)
Esoterica: Here, the activity of painting has had the chance to grow and occupy all the space and energy that surviving in New York City used to command. This extravagant single focus has also sparked a kind of monastic, spiritual simplicity. "The function of art is to renew our perception," wrote Anaïs Nin. "What we are familiar with we cease to see. The writer shakes up the familiar scene, and, as if by magic, we see a new meaning in it."
Sara Genn: New Alphabet opens this coming Thursday, September 12th, 2019 at Dimmitt Contemporary Art, 3637 West Alabama Street, Houston. If you're in the neighbourhood, I would love to see you there. 
The Letters: Vol. 1 and 2, narrated by Dave Genn, are available for download on Amazon, here. Proceeds of sales contribute to the production of The Painter's Keys.
"I bring you with reverent hands / The books of my numberless dreams." (William Butler Yeats)
Featured Workshop
October 3, 2019 to October 6, 2019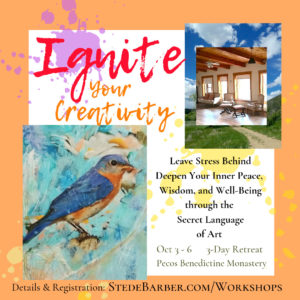 For artists of every level who want more from their art.
Practice creative habits from Julia Cameron's The Artist's Way.
Explore your creative voice, colors, materials & symbols.
Access the wisdom of your creativity on a Soul Art Journey.
Gain confidence and trust in your unique expression.
Art washes from your soul the dust of everyday life.  – Picasso
Held near Santa Fe, New Mexico at the beautiful Pecos Benedictine Monastery.  Price includes workshop, private ensuite room, art supplies, and meals.
Stede Barber is a gifted artist, educator, and certified Soul Art guide with a Doctorate in "Art as an Expression of My Soul."

For further information and to register: StedeBarber.com/Workshops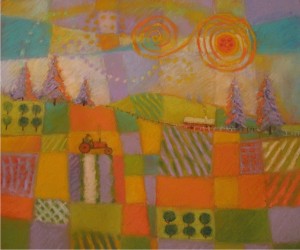 Sunrise Over the Farm #2
original pastel 15 x 15 inches
Featured Artist