Dear Artist,
Rumour has it that when J.D. Salinger died in 2010 at the age of 91, his heirs found an elaborate filing system in his Cornish, New Hampshire writing shed. Though he'd stopped publishing in 1965, Salinger continued quietly working for what he described as his own pleasure, free of the "damned interruption" of publishing for an audience. There were, according to his neighbour, 15 unpublished novels in his shed. But Salinger hadn't entirely abandoned the idea of a public destination for his ideas. His daughter, Margaret, described discovering his system of marks in red and blue, with red meaning, "if I die before I finish, publish this 'as is,'" and blue meaning, "publish, but edit first."
The rabid fans his debut novel, The Catcher in the Rye created, plus the PTSD he suffered from after landing on Utah Beach on D-Day and liberating a Nazi concentration camp steered Salinger toward the teachings of Buddhism and the isolation of a cabin in Cornish. After his yogi guru promised enlightenment by way of family life, Salinger married his second wife, Claire and had two kids. Ultimately, he defaulted to a singularly-focussed seclusion and maintained it until his death.
Here in 2020, artists can quietly slip into their own sheds without much consternation. Unlike Salinger's rejection of the world, however, or the angst of Holden Caulfield — the alienated, misanthropic hater of phonies trying to get through the Christmas break in The Catcher in the Rye — consider your retreat as the proactive receiving of a gift. Embrace the scarcity of social amusements while appreciating the specialness of them — and any lack of destination or attention for your work as a golden opportunity for its development. "Are you willing to write without the expectation of anything in return?" asked Salinger's mentor, the publisher Whit Burnett, in Danny Strong's 2017 biopic, Rebel in the Rye. "Then, you are a writer."
Sincerely,
Sara
PS: "It is my rather subversive opinion that a writer's feelings of anonymity-obscurity are the second most valuable property on loan to him during his working years." (J.D. Salinger)
Esoterica: Like many of you, I read The Catcher in the Rye when I was in high school. When I asked my friend, an English teacher about the book recently, she told me the kids are still reading it, though they no longer worship Holden as an anti-hero, but rather, merely diagnose him with anxiety and depression. J.D. Salinger struggled with PTSD and was also, by all accounts, a neglectful husband and father, plus unforgiving, litigious, uncompromising and a belligerent recluse. The Catcher in the Rye, published in 1951, redesigned the modern novelistic form, partly because of its first-person 1940s vernacular, narrated by a traumatized teenage protagonist. It was named by Modern Library as one of the 100 best English-language novels of the 20th century and has sold over 65 million copies, with one million books still sold annually, worldwide. Between 1961 and 1982, Catcher was also the most censored book in high schools and libraries in the United States — said to inspire violence, sexual promiscuity, blasphemy and for being part of a communist plot.
Kenneth Slawenski's 2010 biography, J. D. Salinger: A Life is here.
Danny Strong's 2017 biopic, Rebel in the Rye is available to stream, here.
Have you considered a Premium Artist Listing?  With each letter, an artist is featured at the bottom of this page. The Premium Artist Listings are a means of connecting artist subscribers through their work. Proceeds from each listing contribute to the production of The Painter's Keys.  
"There is a marvelous peace in not publishing. I like to write. I love to write. But I write just for myself and my own pleasure." (J.D. Salinger)
Featured Workshop
September 14, 2020 to September 17, 2020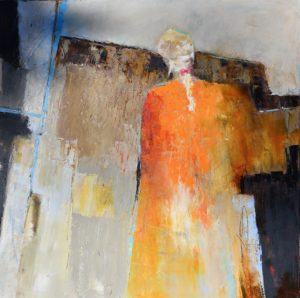 Painting Deep From the Heart
You know your paintings are good but you want them to be great. You want to be able to connect to a deeper source within you and then put that onto your canvas or paper.
To become aware of your depth, calm and genius that lives within your heart.
You will discover ways to go within your heart and soul in order to tap onto that special energy that is yours and yours alone.
This workshop will be a live virtual event. I will be there with you during the entire four days. I can't wait as I am excited. Please email me if you have any questions….gwen@gwenfox.com
September 14 – 17, 2020, Location…Online
Register here: https://gwenfox.com/retreat/painting-deep-from-the-heart/
Featured Artist
Essentially I am representational painter, with a real appreciation for the design aspects of abstract art.  By emphasizing strong shape relationships and connecting bands of textural color, I am able to paint the natural world in two dimensional patterns while striving to create interesting three dimensional compositions.  Andrew Wyeth, a realist who has influenced my work, painted very abstract watercolors that helped him explore the possibilities for unusual compositions.  Like him, I value the drama of a strong composition, solid drawing, complex textures, and sumptuous, rich color while attempting to ground the painting's design in essential, free form shapes.  Past Masters who have shaped my artistic direction are: Joaquin Sorolla, John Singer Sargent, Richard Diebenkorn, and the California impressionists. Richard Schmid is a contemporary painter whose instruction has contributed greatly to my ability to capture the light, intimacy, and subtle textures of the hidden landscapes.
I have found painting landscapes in the field to be an adventure of the mind, spirit, and body. It is a personal record of a distinct moment in time that captures an emotional response to a physical reality. Nature is exciting, unforgiving, yet always spiritually rewarding. I am grateful to be able to share this natural beauty with fellow wanderers hoping to discover those special moments.