Dear Artist, Those who take an interest in calligraphy and the art of typeface are aware of the value of simplicity and elegance. With the consistent formation of individual letters, close attention is also paid to the spaces in between — a Zen-like process known as kerning. This was an early study of college dropout Steve Jobs. One of the iconic creators of our time, Jobs persisted through product after product as a perfectionist guiding hand. Starting in his parents' garage with his high school buddy Steve Wozniak, he exacted a demanding regimen of quality from his associates and employees who, at the time of his death, amounted to 40,000. Jobs, a multi-millionaire in his early twenties, claimed not to be interested in money. Philosophically clean and motivated by the greater good, his commencement remarks to Stanford graduates in 2005 are worth repeating: "Remembering that I'll be dead soon is the most important tool I've ever encountered to help me make the big choices in life. Because almost everything — all external expectations, all pride, all fear of embarrassment or failure — these things just fall away in the face of death, leaving only what is truly important. Remembering that you are going to die is the best way I know to avoid the trap of thinking you have something to lose. You are already naked. There is no reason not to follow your heart." "No one wants to die. Even people who want to go to heaven don't want to die to get there. And yet death is the destination we all share. No one has ever escaped it. And that is as it should be, because Death is very likely the single best invention of Life. It is Life's change agent. It clears out the old to make way for the new. Right now the new is you, but someday not too long from now, you will gradually become the old and be cleared away." "Your time is limited, so don't waste it living someone else's life. Don't be trapped by dogma — which is living with the results of other people's thinking. Don't let the noise of others' opinions drown out your own inner voice. And most important, have the courage to follow your heart and intuition. They somehow already know what you truly want to become. Everything else is secondary." "A designer," said another great American visionary,
Buckminster Fuller
, "is an emerging synthesis of artist, inventor, mechanic, objective economist and evolutionary strategist." Steve Jobs was all of these. Best regards, Robert PS: "Design is not just what it looks like and feels like. Design is how it works." (
Steve Jobs
, 1955-2011) Esoterica: Backsliding quality is one of our haunting specters. It permeates our thinking, our products, and the conduct of our lives. In the arts, while daily beaten and defeated, it's still rampant and viral. It will take new creative minds to re-design the spaces in between. "People don't know what they want until you show it to them." (
Steve Jobs
)
Tweaking your product
by Brenda Behr, Goldsboro, NC, USA We are all students. The moment we believe we have "arrived," we're in trouble. Just as Jobs continued tweaking his products, we need to make each new painting an improvement on the last. Jobs never rested on his laurels. When we finally find satisfaction with our results, it is perhaps time for a new approach. Our minds yearn to play.
Finding our unique gifts
by Paul deMarrais, TN, USA Death makes life more important. Author
Carlos Castaneda
called it 'using death as an advisor.' When we act as if today might be our last day, there is no way we are likely to fail. That, however, is a difficult attitude to acquire and to keep going. We usually fall back into thinking that there will be another day, another year or another decade for us to get going. Another helpful attitude is to feel grateful for every day you are alive and healthy. Pair these two attitudes and a person would be unstoppable, like Steve Jobs. We would find our unique gifts and send them out into the world. The world would notice and we'd make a living.
There are 2 comments for
Finding our unique gifts
by Paul deMarrais
Show them what they don't know they want
by Nina Allen Freeman, Tallahassee, FL, USA I love
Steve Jobs
' quote, "People don't know what they want until you show it to them." I see this is true when it comes to art. Most people could describe something they would like in their house, certain colors or a certain subject. But they usually buy (if they buy) a piece of art that speaks to them emotionally. A scene that reminds them of a special place, or a painting that just makes them happy. In Jobs' case, He made things we didn't know we needed until he made them; then we couldn't live without them. What an amazing thing for one person to impact the world in this way!
There is 1 comment for
Show them what they don't know they want
by Nina Allen Freeman
Rolf Harris
by Debbie Field, Capetown, South Africa I saw a wonderful clip today, on the post of "The Telegraph" news, about 81-year-old Rolf Harris, and his new exhibition showing at the Clarkedon Gallery, Mayfair, United Kingdom. (There is also a great bit of writing about it.) I felt prompted to draw your attention to it because there is so much fodder for discussion there. He is the most exuberant and honestly enthusiastic person in all that he does. It struck me that there is much for all artists – even those who are dealing simply with the art of existing — to learn from his way of being. (RG note) Thanks, Debbie. Yes, Rolf is a unique human being, whether playing the didgeridoo, wobble board, composing great songs or painting the Queen of England. I once attended one of his performances where he painted a huge painting — about forty feet long — on stage. After he painted it — which took about ten minutes — he auctioned it off for charity and I bought it. In a fit of Rolf-inspired generosity and enthusiasm, I cut it up into small and medium-sized pieces and gave the whole thing to a bunch of goofy friends. "Tie Me Kangaroo Down, Sport"
There is 1 comment for
Rolf Harris
by Debbie Field
David Hockney using iPad
by Shirley Erskine, Toronto, ON, Canada I've just finished writing an article about British painter
David Hockney
and his use of the iPhone and iPad in his drawings. He has a show at the ROM (Royal Ontario Museum's Institute of Contemporary Culture) here in Toronto, called "Fresh Flowers: Drawings on the iPad and iPhone." It features his brilliantly colourful flowers and still life works. David was losing his hearing when he discovered the iPhone to send text messages to his friends. His lifelong love and curiosity of technology soon led to the use of the iPad for drawing and sketching. He is losing his sight and the back lit iPad makes it easier for him to work at any time of day or any light. David Hockney, in his 70s, is still productive and creative and his work is being viewed around the world. Steve Jobs would have been proud!
Buckminster Fuller
by Gins V. O. Doolittle, Vancouver, BC, Canada Steve Jobs was a great American visionary, as was
Buckminster Fuller
. I studied under Buckminster Fuller for a term at University. He was a walking wizard. You could hear his mind grind out angles of logic, observing everything while thinking! Seeing in the fifth dimension, he processed everything. Like Jobs, his life was simple and quality was essential. (RG note) Thanks, Gins. While I was at Art Center School in California, Buckminster Fuller "Bucky" showed up several times and gave us demos in design theory and exploration. I remember not knowing what room I was in, nor could I find my car in the parking lot when the lecture was over. An early manifestation of my boggled mind.
There is 1 comment for
Buckminster Fuller
by Gins V. O. Doolittle
The difference between success and significance
by John Seccombe, Ottawa, ON, Canada John C. Maxwell's
Your Roadmap to Success
 has some valuable insights: I know a lot of people who believe they are successful because they have everything they want. They have added value to themselves. But I believe significance comes when you add value to others — and you can't have true success without significance. I came to this conclusion while working on my book
Your Road Map for Success
, in which I wanted to define success. I habitually file good quotes and stories I come across, and then reference them when writing a book. In preparation for the book, I pulled out every quote I ever filed — 137 quotes to be exact — on the topic of success. I laid them out on the table and carefully thought through them. After six months I came to understand that success is: knowing your purpose in life, growing to your maximum potential sowing seeds that benefit others. The big question is: Once you've learned something, do you have a heart to share it with others, or do you hold it for yourself? Success is indeed a journey, but if you stop at adding value to yourself, you miss the reward of significance. Here are a few of my observations about the journey to significance:
This journey takes time.
It is a process that requires patience and commitment.
Success is usually the steppingstone to significance.
There has to be a certain amount of success in people's lives before they are willing to take the step to significance, where they ask themselves, "What else is there in life beyond professional and monetary success?"
Pursuing significance takes us out of our comfort zone.
Significance is not attainable in a natural way. Let me describe to you the difference of what I think natural and unnatural is: I don't think you glide or fall into significance. You don't wake up one day and say to yourself, "I'm significant." Significance takes us out of comfortable territory into uncomfortable territory.
Rusty Rustenbach
 in his pastoral article
Giving Yourself Away,
hits this topic out of the park. He writes, 'You and I live in an age when only a rare minority of individuals desire to spend their lives in pursuit of objectives which are bigger than they are. In our age, for most people, when they die it will be as though they never lived.'
Once significance is sensed, nothing else will satisfy.
I think
Katharine Graham
, author of
Personal History
, put it best: 'To love what you do and feel that it matters — how could anything be more fun?' I know a lot of people who love what they do but don't feel it matters much. And I know some people who don't love what they do but do feel it matters. But when you can love what you do and feel that it is making a difference in the lives of others, now you have the right combination.
1. Motives
With success, my motives may be selfish; with significance, my motives cannot be selfish. Significance and selfishness are incompatible. When I was a young pastor, I would go to a church and look at my laypeople, and my first thought was — wrong as it could be — 'What can they do to help me?' As I matured, it turned around where I would think, 'What can I do to help them?' In my experience, motives matter: Selfish people seldom find significance. When you help others, you help yourself. When you help yourself, you may not help others. As Solomon wrote in Proverbs 23:7, 'As [a man]thinketh in his heart, so is he.'
2. Influence
With success, my influence is limited; with significance, my influence is unlimited. Here's an anonymous quote I found that will help illustrate this: 'When you influence a child, you influence a life. When you influence a father, you influence a family. When you influence a leader, you influence all who look to him or her for leadership.'
3. Time
Success can last a lifetime; significance can last several lifetimes. People who desire significance value time. They evaluate what they do with their time, and they invest their time wisely.
M. Scott Peck
said, "Until you value yourself, you won't value your time. Until you value your time, you will not do anything with it."
4. Focus
Success asks, 'How can I add value to myself?' Significance asks, 'How can I add value to others?' My evolution from selfishness to significance went something like this: What can others do for me? What can I do for myself? What can I do for others? What can I do with others, for others?
5. Reward
If I pursue success, my joy is the result of my success; if I pursue significance, my joy is the result of others' success. Very frequently I'm asked what motivates me. And I tell you, I crossed the line a few years ago where the success of other people is a higher reward to me than my own success. Why is it so rewarding for me to add value to others? First, it's my calling. Second, it's so productive to get beyond myself and to help people grow and develop. And third, it's rewarding for me because it pleases God.
A pocket tribute to Steve Jobs
by Margaret Wilson, Vernon, BC, Canada How great the invisible presence That moves the trees with ease A breath of life instilled in eternity My inspiration flows in this stream Filling me with dreams Morning songs and evening sighs Carried in a pocket and filled to overflowing! Namaste!
Archived Comments
Enjoy the past comments below for Intelligent design…
Featured Workshop: Wimberley Artist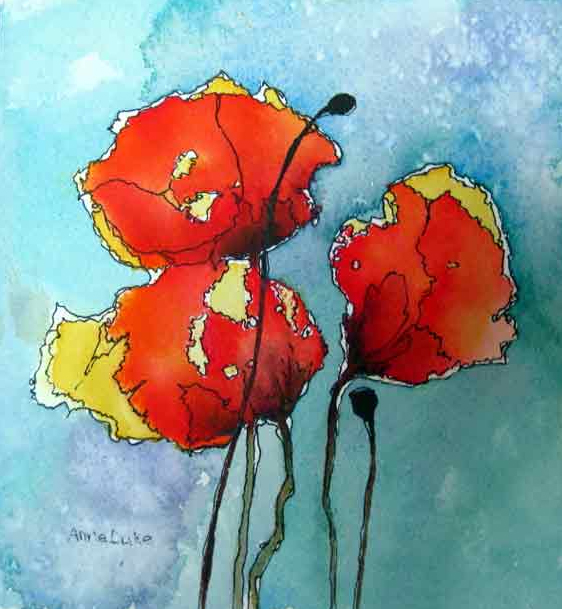 Poppy pose
watercolour painting, 7 x 7 inches by Anne Duke, Needles, CA, USA
You may be interested to know that artists from every state in the USA, every province in Canada, and at least 115 countries worldwide have visited these pages since January 1, 2013. That includes Alex Nodopaka of Lake Forest, CA, USA, who wrote, "Your memoriam was appreciated by someone who worked for 33 years in the same geographic silicon triangle. Steve Jobs' social status was no less than Einstein's in the ways they both changed everyone's life." And also Charles Peck of Punta Gorda, FL, USA, who wrote, "Even with Steve Jobs' faults accounted for, which simply humanize him, he is still a fine paragon for inspiration to 'be all you can be.' "