Dear Artist,
Where I live, the spiders come out in autumn. They're in my face when I bend to turn on the garden hose. Going about their sky-harvest and their devious mating-games, they spread their webs across my larger windows. In the nearby forest there's a surprise of mushrooms. The longer, darker nights bring the owl's call closer. Even by day the night birds are more active, silently moving between the tall cedars. It's time to step out into a season — something to do with what John Muir called "washing your spirit clean."
John Muir (1838-1914) was a Scottish-born naturalist, author, and early advocate of the preservation of wilderness. His essays and books were fresh with the spell of wilderness, particularly of the Sierra Nevada in California. Muir popularized the idea of nature as healer. Yosemite and Sequoia National Park, the Sierra Club and the modern environmental movement, are direct results of his gentle insight.
With the influence of a rigid, biblically-minded father, Muir, by age 11, could recite most of the bible by heart. Words and turn-of-phrase did him well, and while he escaped orthodox beliefs with little apology, he wrote well and often of a universal view of the power of deity through attention to nature.
When painters take their paints to the forest, they feel this presence. While the hiker, jogger and even the photographer can get some of the benefit, the richest spirit is released to the ones who sit in a spot for some time. Fitting in and adapting to the scene, we become part of nature's furnishings. Alone, or with a quiet friend, with simple, timeless tools and procedures, we honour the privilege. Consistently, the surroundings that attracted us in the first place give up more secrets as we sit.
I wasn't sure if Dorothy was bored or restless. She kept sniffing the air, alternately standing and sitting down. It was beyond squirrels; something deeper, something bigger. Suddenly she jumped up and took a rigid stance. It was a coyote — a rangy fellow about the same size as her, but skinny and ragged, as if his life might be a tough one. From not far away, he looked back at us with light yellow-grey eyes and some wild thought. Then, without notice or approval, he silently disappeared back into the mystery.
Best regards,
Robert
PS: "Everybody needs beauty as well as bread, places to play in and pray in, where nature may heal and cheer and give strength to the body and soul." (John Muir)
Esoterica: For woodland work, a small set of Golden Open acrylics is a delicious choice. While I wouldn't want to eat them, they seem less toxic than some other media. A test box of six "modern" colours (¾ ounce, 22ml), or something similar, is perfect for delicate mixing in an understated autumn. The paint stays maneuverable for a long time and cleans up neatly, leaving no evidence that anyone was there.

Photographers get joy too
by Kathy Neudorf, Langley, BC, Canada

I am a formally trained painter who now makes photographs. During my schooling, my 14 years as a painter, and my transition into photography, I frequently encountered the view that photography is not art, and by association, photographers are not artists. Some think we just point, and shoot, and the camera does it all. Not so. When out with my camera, the hours melt into minutes. I frequently spend extended periods at a single location, taking picture after picture, moving this way and that, experimenting with setting after setting. This is a whole body experience — sometimes I'm perched on a tree limb, other times I'm on my belly. Do I feel connected to my subject? Absolutely. Do I slip from the present into the subconscious, intuitive state that brings forth true creativity? Without question. Not surprisingly, I felt this way about painting too. Is my photography art? I believe so. It's certainly every bit as satisfying as brushes and paint.
There are 2 comments for Photographers get joy too by Kathy Neudorf

Being painterly fit
by Jacqui Chapman

Regarding your letter this week about seasonal change and John Muir's spiritual connection to being quiet in nature, I have worked my socks off to get a body of work done for my next exhibition, entitled "Coast." This is about the memories and longing I have of my homeland, South Africa, as I live on the Wirral in England in the North West. I am a mother first, and a painter second and a wife somewhere in-between! So I am often frustrated at not having a long run open ended to paint. However with a deadline to deliver work for a group exhibition opening on the 15 October, I had to get myself painting fit again. Being disciplined, I walked the dog or went to the gym and painted my work for "Coast" looking back over my shoulder to landscapes I remember that moved me and which I miss. It was hard. And then one night, as if in a trance out-poured a different painting. It's not blue, it's about Autumn mist and slow thinning sun, berry picking and hot crumble and cream — it is about here and now. For me, it is a breakthrough. Freedom and chance happens when you are painterly fit.
There are 3 comments for Being painterly fit by Jacqui Chapman

Allowing art to take over
by Vera Smith, São Paulo, Brazil

I enjoy your letters and am keeping for myself the feelings and the thoughts they bring me. Today`s was too much and I really want, almost need to reply, mostly to thank you, for this particular letter and for your book. Since I first saw Love Letters to Art I felt accompanied. Maybe I should look at you and your writings like a master. But the way you write is from a friend, with lots of magic, at least for two reasons: the themes are always appropriate for me at that very moment and it comes from someone I never met personally. Magic. I am a Brazilian, ex-professor, ex-psychologist, ex- a few other things, that late (not too late) went to an Art school. I am now allowing art to take over.

Food for the soul
by Ellie Harold, Norcross, GA, USA

Last week I completed a three-week stay at the Sleeping Bear National Lakeshore in Northern Michigan — my first Artist-in-Residency. As I was already accustomed to painting outdoors on a regular basis, I'd not anticipated how profoundly I'd be affected by this immersion experience. The farmhouse where I lived was isolated — no phone, television, radio or Internet service. I chose to leave CDs behind so canvas and paint were the only media available. With no outer diversions, I had only to contend with inner distractions. With tremendous gratitude for the opportunity, I discovered I really do want to spend my days painting. I painted well and left knowing I have what it takes for my life to be a work of Art. Driving back home to Atlanta yesterday, however, I felt depressed. After hours delighting in the landscape of the agricultural Midwest, I succumbed to bad food and endless reports of plunging stock prices before finally arriving in the traffic-jammed city. Seen in the relief of my residency, everything from the relatively "enlightened" NPR programming to on-the-road meal offerings seem designed to satisfy superficial whim rather than deep soul needs. I'm reminded of Neil Postman's book Amusing Ourselves to Death.
Painting outdoors gave me what I need most: absorption in the world that existed prior to our crazy culture.

Come paint with me
by Joan Polishook, New York City, New York

Communing with nature is something I do on a daily basis; I live in a rural area where the outside is as much a part of everyday living as the indoors. Each week for 21 sessions, spring, summer and fall, I orchestrate a group of plein air painters, taking them into Mother Nature's Studio at a variety of sites here in the Northeast region of Pennsylvania. It is in this atmosphere that we connect with nature, while discovering the elements that lead to our creativity. Yesterday, for example, we observed the mist and our first light snow over the upper Delaware in nearby Narrowsburg, NY. The wind whipped up to chill us as we went searching for gloves to warm cold hands. But we painted just the same as we went from a stormy sky to some afternoon sun that warmed us as we lunched outdoors on the deck above the river. My group which has been around since 1997 (and grows with new interest each year) is called Come Paint With Me.

Benefits of sitting still
by Kathy Weber, RI, USA

I know that my landscape paintings are not my strongest suit, but I enjoy doing them. I love it when the birds decide to ignore you and land in the grass just a few feet away, to hunt around for bugs or worms. One time when I was painting, a mole or vole (or some little thing) crashed into my foot. Apparently I was standing in a path that he'd traveled many times before without interference. And then there's the humans, possibly annoying but not always, as when a troop of Cub Scouts out for a walk in the woods saw my friend and I painting and came running to see what we were doing. They were so excited to see people painting outside! What an idea.

Method for keeping going
by Len Platt, Sooke, BC, Canada

One of the main ways I like to keep my creative pump primed and prevent painters block is by not letting myself have less than 2 paintings on the go, with 3 or 4 giving me a comfortable buffer. Being an oil painter I can afford to let some work dry, or give myself time to resolve a problem, or go on a creative tear, as long as I have at least another painting to go to. If my brush is active, even on a small painting, then the creative ideas seem to keep flowing and starting something new doesn't intimidate me as much. The only time I start to panic is when I finish all of my paintings fairly close together and I haven't nailed a final decision on what my next painting will be. I also like to mix it up between landscapes and portraiture… as I find they both have things about them that spark my interest if I find I am lagging with creative ideas in one or the other.
There are 2 comments for Method for keeping going by Len Platt

Interactive acrylics
by Ronnie Romeo-Maziarek, Naperville, IL

I noticed your mention of Golden Acrylic Paints and I'd like to suggest another acrylic our readers might have fun trying. They are Chroma Interactive acrylics by Atelier and have the same 'open' properties of Golden, but go one step further. When they dry, and until they cure in approximately 5 days, you can 'reopen' them with their unlocking formula and keep working wet in wet instead of wet in dry like the slow dry acrylics after they've dried. It's absolutely fabulous, almost like working with oil… you have the slow drying properties of the Golden paints but the added versatility of going home, if you're painting plein air, to continue working even after the paint is touch dry.
There are 5 comments for Interactive acrylics by Ronnie Romeo-Maziarek

Inspiration on TV
by Natalie Italiano, Philadelphia, PA, USA

We just watched the first installment of Ken Burns' new National Parks History documentary series last Sunday night, and there was about an hour on John Muir. I highly recommend the series. It's on for the next 5 Sundays. We were lucky enough to hear Ken speak to a packed house in Philadelphia about this new series recently, and it was apparent that the muse is with him. I found it very inspiring to listen to him, even thought he isn't a painter. He has definitely tapped into something deeper and bigger than himself. There is a lot for painters to learn from listening to artists from other disciplines speak about their work. The visual beauty of this documentary series should inspire any landscape painter!
'This is my place'
by Loretta West, Spokane,WA, USA

Having just returned from Yoho and O'Hara in B.C., I heartily agree with your sentiment. At one point early on in our hiking/painting journey I sat down on the ground in the Yoho Valley for a break and thought, yes, this is my place, where I am most at home, close to the earth observing and absorbing all she has to offer in nature. A year ago I had some major surgery and used field sketching as a way of healing by redirecting my attention and allowing the earth to enter my soul. She has done her job well as I am mended now, and very grateful for the journey and to have not only survived but to have grown and thrived. While away I read Lisa Christensen's book on J.E.H. MacDonald and his journeys to O'Hara.
She quotes a letter he wrote: "I feel like a bear or an old pack horse recuperating, nothing highly spiritual but a bodily satisfaction. Perhaps that is being in 'toon with the infinite.'"

On the trail of John Muir
by Marianne Post, Vacaville, CA, USA

As an avid backpacker, a plein air painter and native Californian, I have personally experienced the influence of John Muir. I have fond memories, as a child of annual family stays in Yosemite National Park. But it was just within the last year that I had the opportunity to visit John Muir's home in Martinez, California. A mere 30 miles from where I spent most of my youth! The special part about that visit was that I was as an artist to paint, to capture the place he called home. How fortunate we are as artists to be able to paint the generosity of nature preserved by the vision of Muir.

Encounters with nature
by Darrell Baschak, Manitou Beach, SK, Canada

Although I always enjoy your musings, this latest one really struck a chord with me. Maybe it was because of the manner in which you composed your thoughts on paper or maybe because painting out of doors really is one of my fondest endeavors pertaining to my art. I was recently out for a walk with my two sheltie dogs and we by chance encountered a number of different species of birds, (Stellar jays, magpies and ravens) interacting in a most amazing and engrossing manner. They appeared to be trying to occupy a large nest and my dogs and I spent practically a half an hour just watching and listening to this spectacle. It also was amusing to watch my dogs with their sniffing noses and twitching ears, part of this spectacle. Such a seemingly simple thing to do, maybe even a waste of time for some people, but for me it was something I will always remember and cherish because in a strange sort of way I was involved in that drama before me.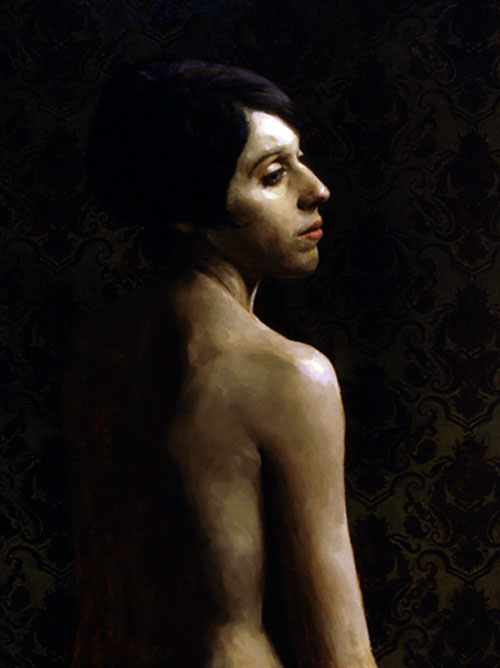 Sibyl
oil painting, 24 x 18 inches
by Edward Minoff
You may be interested to know that artists from every state in the USA, every province in Canada, and at least 115 countries worldwide have visited these pages since January 1, 2013.
That includes Kate Jackson of Merced, CA, USA, who wrote, "I loved that you mentioned and quoted Muir. I live in Merced which claims to be the only 'all weather' gateway to Yosemite. Your readers might like to know about a fabulous art competition held every year in Yosemite which then travels throughout the state for a year. It is called Yosemite Renaissance and there is still time to enter for next year's show. They like all sorts of interesting and unique representations of Yosemite and the surrounding Sierras.
And also Angela Treat Lyon of Kailua, HI, USA, who wrote, "If I ever wonder about the glory of whatever enormity created all this, all I need to do is go down to my beach and get reminded and revitalized."

Archived Comments
Enjoy the past comments below for Tune up…
No Featured Workshop
No Featured Workshop