Dear Artist,
On the value and importance of drawing, teachers often ask, "Why is it most people don't sign up for drawing classes? Painting classes are always more popular." Also asked, "Is it true that John Ruskin used to run drawing classes for factory workers?"
He did. Ruskin believed in drawing. He thought it was part of the informed life and good for everybody. One of the most eloquent art advocates and critics of all time, Ruskin himself made thousands of fine and sensitive drawings. He carried drawing into his utopian politics. He endowed drawing museums and drew model tea shops. He set up lodgings for the poor and had his pupils design and build roads for the betterment of the country. He promoted model industries and pride-filled workshops along socialist lines. His four goals of art and life were "truth, nature, purity and earnestness." In the face of the Industrial Revolution, craftsmanship and traditional modes of creativity were to be mankind's salvation. Ruskin Societies sprang up all over England as well as overseas. His curious energy, soon sullied by the arrival of creative meatballism, is with us yet.
John Ruskin (1819-1900) felt that artists had a calling to be inspired as prophets and teachers. He demanded a freely accessed, naturalistic style and a grounding in love of nature and mankind. This led to questions of social morality and reform that occupied his middle years. He attempted to link art with the daily lives of working men and women. To him, the arts were a visible sign of national virtue. "Life without industry is guilt," he said, "and industry without art is brutality."
Precocious and almost unbelievably prolific in his youth, (the first volume of Modern Painters was written and published when he was 24) Ruskin later suffered from bouts of mental illness. After years of active travel, professorships, lectures and countless publications, he withdrew to Coniston in the Lake District of Northern England, where he wrote little and spoke hardly at all. It seems his mind was forever sharp. Perhaps this was for him a time of recapitulation: to review the brash endorsements of youth, and to quietly welcome the wisdom that the fortunate may gain with age.
Best regards,
Robert
PS: "What distinguishes a great artist from a weak one is first their sensibility and tenderness; second, their imagination, and third, their industry." (John Ruskin)
Esoterica: There is a bit of Ruskin in all of us. He bears the invitation to slow down and smell the honeysuckle. He told us, "There was always more in the world than men could see, walked they ever so slowly; they will see it no better for going fast. The really precious things are thought and sight, not pace." To be like Ruskin requires a sense of awe and a profound realization of ignorance. These qualities have us all holding hands with the Romantics. "I would rather teach drawing that my pupils may learn to love nature," said Ruskin, "than teach the looking at nature that they may learn to draw."
This letter was originally published as "John Ruskin" on August 4, 2006.
Download the new audio book, The Letters: Vol. 1 and 2, narrated by Dave Genn, here. Proceeds of sales contribute to the production of The Painter's Keys.
"The art of drawing which is of more real importance to the human race than that of writing… should be taught to every child just as writing is." (John Ruskin)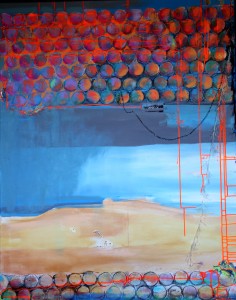 Hurricane
Featured Artist
I'm a contemporary painter who loves to travel the world over finding pictures to paint, and capture on photo…check out my website and travel with me on my blog "The Traveling Artist Blog."  http://www.meljosieart.com