Dear Artist,
When I was a student at Art Center School in Los Angeles, California, I used to lift the odd glass at a certain suburban bar. One evening I was sitting next to an elderly gentleman who looked vaguely familiar. When he said something to the bartender I knew immediately it was Stan Laurel. Stan, if you remember, was part of the comedy team of Laurel and Hardy. We struck up a conversation. Stan told me that Oliver Hardy, the round one, had died some years before. He also told me that he was now living in reduced circumstances, having, he said, "sold my rights to the films for a low price."
I told Stan Laurel that I thought his films were classics. He informed me that they were all dated anyway: "In black and white, you know, people want color now. Some of them don't even have sound. I doubt they'll go anywhere." He also told me, "We put a lot of care into those old movies, and if we didn't get it right, Hal Roach would let us shoot the scene again in the morning." Poverty stricken though I was, I bought Stan Laurel a gin and tonic.
At the easel it's a good idea to pay attention to the possibilities. Everything made with love and craft has the potential to become classic. In a way, we fine artists have it the best of all because we have control. We are writer, director, cameraman, actor and editor. Things can get messed up if we get lazy, sloppy, thoughtless, impatient, or, like Ollie in his movies, stupid. That's why it's all so very important that we bring to each work our personal best. That's just one of the reasons to sit back every so often and take a look at where this thing is leading. Trust your own value. Look into the future. This stuff has legs. You will hear yourself saying, "It's worth the effort." Sometimes you might even have to shoot it again in the morning.
Best regards,
Robert
"Our doubts are traitors and make us lose the good we oft might win." (William Shakespeare) "What a fine mess you've got us in now Ollie." (Stan Laurel)
Esoterica: Stan Laurel died soon after I met him. His films live again through a medium he could not have foreseen in the '20s and '30s. They have been restored, revived and put into cans for an eternity of laughs. "Ars longa, vita brevis. Art is long, life is short." (Seneca)
This letter was originally published as "Know your value" on April 23, 2002.
Download the new audio book, The Letters: Vol. 1 and 2, narrated by Dave Genn, here. Proceeds of sales contribute to the production of The Painter's Keys.
John Ruskin: "The labour of two days is that for which you ask two hundred guineas?" Whistler: "No. I ask it for the knowledge I have gained in the work of a lifetime." (James Abbott McNeill Whistler)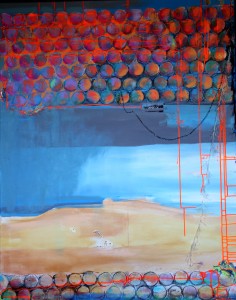 Hurricane
Featured Artist
I'm a contemporary painter who loves to travel the world over finding pictures to paint, and capture on photo…check out my website and travel with me on my blog "The Traveling Artist Blog."  http://www.meljosieart.com