Dear Artist,
Certain thought circles are taking a new approach to the creative rut. Instead of blaming the usual villains of fear of failure and fear of success, feelings of unworthiness, lackadaisical motivation or a run-of-the mill shortage of ideas, the new culprit is the 2022 phenomenon of "burnout." "Burnout," currently poisoning everything from parenting, idealism, sports and work to surviving a never-ending global pandemic, is that state of emotional, mental, and physical exhaustion brought on by prolonged stress. And if staying alive was not enough, burnout is also exacerbated by a non-stop culture that glorifies productivity; or what the young people call, "hustling," "grinding," and "monetizing."
If you're an artist, you may not even recognize this new, deadly problem as a form of creative rut. It may just feel like an awful way to live. Because Painter's Block, often characterized by not painting, doesn't look much like overworking, it's not immediately apparent that its cause is burnout. A quick browse around the internet can shed some light on the theory: If overworking is accompanied by a lack of ideas, a would-be creative person is merely spinning emptily in the production of idea-bereft content. The energy expended, the stress, the interminable demand for work sends the artist hurtling towards burnout, while her idea-generating cerebral cortex languishes.
If I'm sounding a little dramatic, consider Hustle and Float, digital anthropologist Rahaf Harfoush's 2019 treatise on the existential rut. The antidote, she says, is in recognizing that creativity is a cycle for a reason. Artists were, in fact, never designed to apply an industrial model to work. In other words, if daydreaming – what neuroscientists call the default mode network – is the portal to accessing the brain processes that allow us to form new associations and therefore ideas, then continuous productivity is the antithesis of art-making. And if we're all creative, as Harfoush insists we are, then none of us were ever designed for such a grind.
Sincerely,
Sara
PS: "We have evolved into an unsustainable hybrid state, trying to be both productive and creative, when that might not be effective—or possible." (Rahaf Harfoush, from Hustle and Float: Reclaim Your Creativity and Thrive in a World Obsessed with Work)
Esoterica: Creativity happens when the mind is given time to wander — artists need to stop and rest in order to restart the processes by which they advance their thoughts. Many creative people, influenced by a culture that fetishizes the two conflicting values of creativity and capitalism, feel guilty when they're not producing. As a result, stopping to rest, or "float," says Harfoush, can be difficult. Her two solutions are both obvious and deceptively simple. First, take a walk. If you haven't got the inclination or ability to do this, stare at a blank wall for 15 minutes. This de-stimulation activity is akin to turning off a screen, silencing the stereo or TV, and temporarily removing the inputs we've all become accustomed to processing, all the time. If you do this, your hippocampus will come alive with its own programming. "The tree that is beside the running water, wrote Saint Teresa of Avila, "is fresher and gives more fruit."
Have you considered a Premium Artist Listing?  With each letter, an artist is featured at the bottom of this page. The Premium Artist Listings are a means of connecting artist subscribers through their work. Proceeds from each listing contribute to the production of The Painter's Keys. 
"Poetry arrived in search of me. I don't know, I don't know where it came from, from winter or a river. I don't know how or when…" (Pablo Neruda)
Featured Workshop
January 23, 2022 to January 30, 2022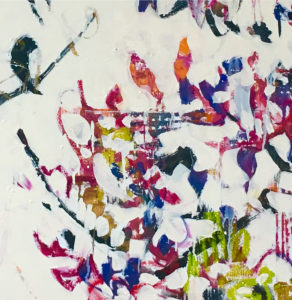 Join Ellie Harold for "Intuitive Painting: Permission to Paint Expressively," designed especially for mature women artists of all skill levels who wish to explore this medium for soulful exploration. The retreat provides attractive accommodations (your own room!) along with lightly structured activities for centering, relaxation and low stress art-making. You'll have plenty of free time to muse, paint, write and reflect while enjoying the colors, textures and flavors of San Miguel. This Retreat has the potential to transform not only your art but your life! You'll return home with a specific art "care plan" to assure support for further creating. Details at www.EllieHarold.com.
Featured Artist
My statement is pretty short. I love all kinds of paintings and I think Robert Genn is Canada's finest painter. A great feature of his work are his designs — so beautifully conceived.