Dear Artist,
Yesterday, Bob Whistler of Brainerd, Minnesota, wrote, "I've been a painter for nine years and I sign my work 'Whistler.' I put my full name and date on the back. James McNeill Whistler, a distant relation, signed his paintings in different ways during his lifetime. Early works had his full name and date. For a while he signed Whistler with date and lastly with the abstract 'W,' which became the butterfly. How should I sign my work?"
Thanks, Bob. Unfortunately, most people who have the name of a great one are thought to be imposters. However, when handled wisely, you can reap the Whistler benefit and still be your own man. Not that you were thinking about it, but it's important not to adopt any device or logo that is anywhere near Whistler's butterfly. The best idea is to be straight up and sign your whole name. You don't want anyone to think you're coat-tailing. Whistler alone is not enough. I suggest a clearly lettered Robert W. Whistler. No confusion. Honest goods.
Nowadays, with so many artists out and about, your name is mighty important. I believe in including first names so there is at least the suggestion of familiarity and friendliness. Further, in a name like Joseph Smith, a third or middle name will distinguish him from the Mormon guy and make him findable on the Net. Joseph Gascoyne Smith.
Clarity of signature is valuable too. While mystery is fine, and it's dynamite to have folks recognize your "signature" by looking at your work, to be able to see and read clearly is an appreciated courtesy. Even a roaring ego like Picasso valued clarity, and he wrote it large to match. Only later, when he was a household name, did he reduce to initials. Singular names, monikers and avatars like Cosmos, Crumpet and Christo (Christo is a combination of two artists) can appear smug and artificial nowadays. Singular names work better for rock stars where glitz is more important than content. In my experience, a return to quality art is taking place, and names are cooperating.
I'm not saying artists should join the flock — we need to maintain our individualism at all costs. Who can blame Mary Brown for signing "Paintergirl"? On the other hand, while cute, "Paintergirl" has a slight odour of merchandising. Maybe she should think twice. Signatures should be neither condescending nor vernacular. After all, it's called "fine art" — and it's getting finer. Unless your genuine name happens to be George Stink, it's best to hang your life on what you were given. Incidentally, some of the Stinks I used to know put it all behind them and changed their name to Stunk.
Best regards,
Robert
PS: "Remember always that you have not only the right to be an individual; you have an obligation to be one." (Eleanor Roosevelt)
Esoterica: Back in the old days, John Singer Sargent got away with an inept scrawl, barely legible on some of his works. It was part of his calculated mystique of appearing casual. "Genius," said Elizabeth Barrett Browning, "is the power to express individuality." A name may be ordinary, but these days, as long as someone can google it up and discover work that vibrates with individualism, you've got it made.
This letter was originally published as "Whistler's dilemma" on January 20, 2009.
Have you considered a Premium Artist Listing?  With each letter, an artist is featured at the bottom of this page. The Premium Artist Listings are a means of connecting artist subscribers through their work. Proceeds from each listing contribute to the production of The Painter's Keys. 
"A picture is finished when all trace of the means used to bring about the end has disappeared." (James Abbott McNeill Whistler)
Featured Workshop
January 23, 2022 to January 30, 2022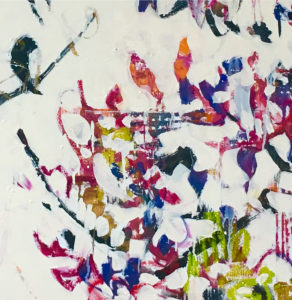 Join Ellie Harold for "Intuitive Painting: Permission to Paint Expressively," designed especially for mature women artists of all skill levels who wish to explore this medium for soulful exploration. The retreat provides attractive accommodations (your own room!) along with lightly structured activities for centering, relaxation and low stress art-making. You'll have plenty of free time to muse, paint, write and reflect while enjoying the colors, textures and flavors of San Miguel. This Retreat has the potential to transform not only your art but your life! You'll return home with a specific art "care plan" to assure support for further creating. Details at www.EllieHarold.com.
Featured Artist
Gardens are my enduring inspiration, and getting to the heart of the flower, my passion.