Dear Artist,
Recently, Margaret Atwood suggested that writers probably envy no more than other people. "It's just that they write about it more, because they're writers," she said. "Fairy tales are full of envy."
I posted the interview on our family text thread. My big brother Dave, a professional musician and music producer replied right away: "Substitute 'musician', 'director', 'artist', 'ad exec' or 'television personality' for 'writer' and this rings the bells loud and clear." He'd even given me a less shameful name for it years ago – instead of the word "envy," he used "doomspiration" – that feeling of melancholy, of longing, of inadequacy, even rage – when you have an aesthetic experience you wish you would have somehow mustered yourself. Given the circumstances – the aforementioned professionals belonging to the text thread are all deep in the vortex of mid-life striving – Dave's remarks spoke for all of us. No one else replied. "We envy those who are near us in time, place, age, or reputation…those whose possession of or success in a thing is a reproach to us," wrote Aristotle in his 4th century BCE's Rhetoric. "These are our neighbors and equals; for it is clear that it is our own fault we have missed the good thing in question."
As ugly as envy may feel and as much as we may try to suffocate its embers with Buddhist-like detachment, or the rejection of some misguided, primordial entitlement to our own recognition, or a false-god motivation in the first place, envy is perhaps just an unpleasant interloper as part of the clinging to any ambition – creative or otherwise. Instead, try just making art. "We didn't expect to be successful in popular terms. If you have low expectations, everything else is a surprise," Atwood remembered of her first major literary triumph, after 12 years of minor gains. "Whereas if you have really high expectations and suddenly, as you graduate from creative-writing school, the six-figure advance does not materialize — that's when you get resentful." If success does find you, don't be what Atwood calls a "jelly bean." Be gracious, and temper your exploding, inner joy with some sensitivity for your comrades still on the field.
According to Atwood, now 82, it all softens, anyway – you only need to grow old. "Your old enemies may become pals because there's only the two of you left who can remember the Dark Ages," she wrote. "Before there were computers. Or pantyhose. Or plastic bags."
Sincerely,
Sara
PS: "The heavier crop is ever in others' fields." (Ovid, 43 BC-AD 17)
Esoterica: I searched Google for the difference between "envy" and "jealousy." Merriam and Webster, those productive rivals who finally joined forces in 1847, differentiate the terms this way: "Envy means discontented longing for someone else's advantages. Jealousy means unpleasant suspicion, or apprehension of rivalship." "The good luck of others and their unwarranted success can make people crazy, induce voluntary isolation, or motivate in a positive way," wrote my Dad in his 2010 letter to you about envy. The best antidote for both creative and professional envy, he advised, was to get to know the apparently talented ones, including their faults and weaknesses, and to work harder to make better work in the face of strivers who appear luckier. So ashamed are we of envy that psychology professor at the University of Toronto, Paul Bloom, who had taught a seminar at Yale on the seven deadly sins, said this to Jennifer Senior for her recent story on friendship in mid-life for the Atlantic: "Envy," – what Socrates called "the ulcer of the soul," – "was the one sin students never boasted about."
If you're still plagued by it and need a redirect, there's always, in addition to my tips above, revenge. And it can be done in art. "If you look at the beginning of my book Negotiating With the Dead: A Writer on Writing, I tried to look for motives [for writing], and they ranged from "to justify the ways of God to man" to "getting back at the people who were mean to me in high school." And there's no reason why it can't be both." (Margaret Atwood to Jennifer Senior, in Margaret Atwood on Envy and Friendship in Old Age)
Have you considered a Premium Artist Listing?  With each letter, an artist is featured at the bottom of this page. The Premium Artist Listings are a means of connecting artist subscribers through their work. Proceeds from each listing contribute to the production of The Painter's Keys. 
"Nothing sharpens sight like envy." (Thomas Fuller)
Featured Workshop
March 21, 2022 to March 27, 2022
March 21-27, 2022
San Miguel de Allende
Painting Mentor – Amit Janco: Artist, Author, Labyrinth Designer, Founder of Heartshops and Retreat on Your Feet (Creativity and Walking Retreats)
Join this 7-day journey through self-expression to unleash your bottled-up creativity, with a brush in hand – and openness in your heart. Calling non-artists too! Each day, you'll stand up to paint; yes, you'll be painting on your feet, and moving about – thereby activating the brain, the body and ALL senses. No need to come with a plan; watch the colors and brushstrokes come alive; and see the magic and mysteries unfold, as you greet your square of paper anew, every day. Our accommodations and studio are in an enchanting former bordello, just a stone's throw away from San Miguel's historic center, with its gardens, cobblestoned alleys and marvelous colonial architecture. Inspiration abounds!
Details at https://amitjanco.com/uncorking-your-creative-core-paint-walk-write-in-mexico/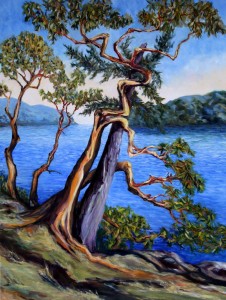 Southern Gulf Islands Afternoon 48 x 36 inch oil on canvas by Terrill Welch
Featured Artist
I am a landscape painter exposing the mystery in an ordinary day.