Dear Artist,
When the invention of photography transformed portraiture from luxury art item to affordable record-keeping, portrait painters found themselves slightly freed from the vanities of their sitters. Once used solely as an instrument of power, portrait painting was quickly replaced by photography, democratizing the representation of people. Instead of just portraying the wealth, importance, taste and virtues of its narrow swatch of subjects, portraiture inched its way towards a wider characterization of the human experience.
Almost 200 years later, portrait painting has — this week at least — taken photography's place. In an effort to connect the most intimate links to our collective cultural experiences and to aesthetically disrupt the tidal wave of photographic imagery we all now see on a daily basis, two big-time magazines — ones in recent history almost exclusively reliant on photography, used portrait paintings for their Fall covers. For Vogue's September issue, portraitists Kerry James Marshall and Jordan Casteel were each given carte blanche to make portraits of any subject, real or imagined, with the only stipulation that the subjects wear dresses by one of four designers chosen by the magazine and that the portrait embody the theme of "hope." In this very same moment, Vanity Fair commissioned Michelle Obama portraitist Amy Sherald for a painting of 26 year-old Breonna Taylor who, in March, was shot by police while asleep in her Louisville, Kentucky apartment. For Sherald's portrait, she included the engagement ring Taylor hadn't yet received from her boyfriend, Kenneth Walker, and posed her in a Lady Liberty-style gown in the colour of her birthstone. In her signature style, Sherald colour-blocked her subject's environment and painted Taylor's skin en grisaille — her way of challenging colour's multi-layered vocabulary, especially in how it describes race.
Both magazines have received praise and criticism for their commissions, accused of concealing a truthful portrayal of the violence of Taylor's death with the decorative — in the case of Sherald's portrait, and the opulence, elitism and opportunism of Vogue's use of highly bankable artists to scrabble at relevance while it gasps for air and sales amidst the death of print publishing. But art and representation are about looking and seeing. In this moment, a way to go beyond just being present in our reality is to try to harness its meaning through the handmade. Painting, through its archaic technology, strives for intimacy and if successful, can point towards what is possible in the imagination, including justice and fairness and invention. Portrait painting, in the ineffable magic of its strokes, its interpretation and human lens, holds the potential for a kind of advanced, futuristic storytelling. Like 1826's new paradigm of photography, the new, new paradigm of portraiture ushers in not just new seeing, but perhaps a vision of something not yet photographable.
Sincerely,
Sara
PS: "The hand on the hip is not passive, her gaze is not passive. She looks strong! I wanted this image to stand as a piece of inspiration to keep fighting for justice for her. When I look at the dress, it kind of reminds me of Lady Justice." (Amy Sherald)
Esoterica: Because painting cannot be mistaken for journalism, it still holds onto a special context and power in transmitting our experiences. We accept painting's fantasy and fiction while recognizing our universal human truths in its depictions. Is Goya's 1814 historical tableau The 3rd of May, 1808 any less real than the story a photojournalist could have told of the same violence? When Goya painted it, the world's first photograph would not be made for another 12 years. And in true human mutability, since then, our most beloved and iconic photos insist on residing in our imaginations as works of art — lionized and more emblematic now than even the sharpest details of their subjects. What we do with our dearest images is store them in our hearts and mythologize them as folkloric markers of meaning. "If you say, 'Black is beautiful,' you have to show it. And what I'm doing is showing it to the extreme. Yes, it is black — very black — and it is very beautiful." (Kerry James Marshall)
Have you considered a Premium Artist Listing?  With each letter, an artist is featured at the bottom of this page. The Premium Artist Listings are a means of connecting artist subscribers through their work. Proceeds from each listing contribute to the production of The Painter's Keys.  
"There are not enough images of us." (Amy Sherald)
Featured Workshop
September 12, 2020 to September 17, 2020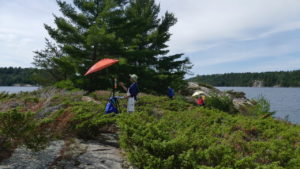 The Killarney are of Ontario is in what is called the 'near north'. The landscape is wild and rugged. Giant granite cliffs plunging deep into the glacial lakes. There are no roads leading to our painting locations. We travel by a large, sturdy pontoon boat. This is a self-catered retreat. You bring your own provisions and cook your own meals in our fully equip cabins at a northern camp. Our instructor, Keith Thirgood, has been teaching artists his own unique approach to painting for over 12 years. Learn how to find order in the chaos, control your colours and create paintings that work. Learn modern colour theory, values, shapes and lines, what makes for a good painting. This retreat is suitable for beginners wanting to learn to paint in a fun, outdoor location, as well as more experienced studio artists who want to try plein air, plus artists who are looking to loosen up and paint in a more post-impressionist style. To find out more and register, please visit www.wilsonstreetstudios.com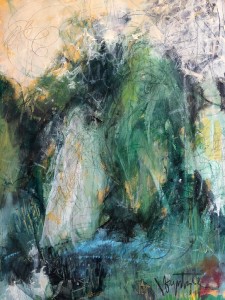 The 23rd Psalm, 2019
30 x 24 inches
Featured Artist
I grew up on a farm in Ohio, and that experience gave me a love of nature and the seasons and a deep belief in personal independence, as well as a love of experimentation. These have been the foundations of my work as a painter. I believe that learning in art or any subject is lifelong, and that the most important lessons we learn are through our personal interests and experimentation. After my husband's death in 2018, I visited Israel the next year, and was inspired by the amazing landscape colors, and especially the old city of Jerusalem, with its crumbling walls, and its deep religious importance. I found my way out of grief by painting the Eight Gates of the old city.