Dear Artist,
On Monday, I was a member of a jury. All of the entries, 777 of them, had been previously juried by slide by a single outsider juror. The selected show of 55 paintings was now hung and five of us had to decide which were to be in the money. There were cash prizes ranging from $1500 to $250, as well as several prizes in kind of $1000. For a while we wandered silently around with our clipboards and made a tentative list of our favorites. After that we chatted about the works, variously picking holes in and singing the praises of some of them. Everyone had a say. Though there was a wide range of juror disciplines and tendencies, there was remarkable consensus.
I'm always interested in what jurors are thinking and saying. While some jurors tend to be blindsided by their education, and consequently speak a bit of nonsense, it seems to me that justice often prevails. But the old conflicts about the various camps of art — modern versus traditional — simply don't exist in what I call "evolved" juries. All flags can now safely fly.
These days I'm noticing that juror's eyes are attracted to casualness. Work that is overly stiff, no matter how well rendered, is passed by for works that have a more relaxed and easy-going delivery. This observation goes for abstract and realistic works, landscapes and mindbenders alike. Art with some bravura, that makes art look easy, gets the bucks. Fact is that people who paint well, generally with a few acres of canvas behind them, tend to be casual. In this particular collection, an understated, abstracted figure-study of limited range and shallow virtuosity attracted votes because of its casual simplicity. It aimed low and hit the mark. Other, more ambitious works, on closer examination, revealed too many flaws.
We all agreed on a large, complex and realistic oil of a Manila vegetable market in sunlight and shadow. It contained intervening dust and atmosphere, translucency, reflected light, counter-light, multiple figures in animated activity, even aerial perspective. Cruising up close, our eyes glazed with admiration, my fellow jurors and I caught ourselves saying that it was "casual."
Best regards,
Robert
PS: "Perform with elan, brilliance and dash." (Mihaly Csikszentmihalyi)
Esoterica: Time and again artists ask me what it is that jurors are looking for. This of course varies by juror, art trends and geography. But these days I've noticed that often, just as "rock breaks scissors and scissors cuts paper," composition beats colour and colour beats drawing. Unusual treatments of standard subjects will generally turn heads. Boring is still boring and out of style in all genres. But raw talent and razzle-dazzle still bamboozles jurors. And maybe next year it will be different, but right now — it's casual.
This letter was originally published as "On being casual" on August 27, 2004.
Have you considered a Premium Artist Listing?  With each letter, an artist is featured at the bottom of this page. The Premium Artist Listings are a means of connecting artist subscribers through their work. Proceeds from each listing contribute to the production of The Painter's Keys. 
"Don't show me that what you are doing is difficult." (Pierre Parisien)
Featured Workshop
September 14, 2020 to September 17, 2020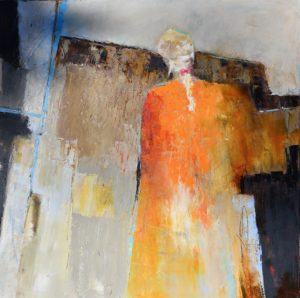 Painting Deep From the Heart
You know your paintings are good but you want them to be great. You want to be able to connect to a deeper source within you and then put that onto your canvas or paper.
To become aware of your depth, calm and genius that lives within your heart.
You will discover ways to go within your heart and soul in order to tap onto that special energy that is yours and yours alone.
This workshop will be a live virtual event. I will be there with you during the entire four days. I can't wait as I am excited. Please email me if you have any questions….gwen@gwenfox.com
September 14 – 17, 2020, Location…Online
Register here: https://gwenfox.com/retreat/painting-deep-from-the-heart/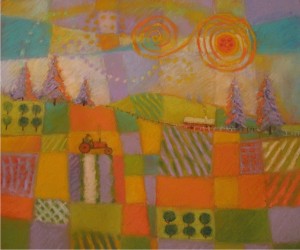 Sunrise Over the Farm #2
original pastel 15 x 15 inches
Featured Artist
Mary's interest in pastel painting began during her years at Whitworth College in Spokane, WA where she majored in art and elementary education. Though she has worked in watercolor and oil as well as calligraphy, her interest has consistently turned primarily to pastel because of the medium's potential for glowing, vibrant color and the harmony achieved in bringing together lights and shadows.